With the increasing health awareness in Indonesia, the food supplement market in Indonesia triggers the interest of foreign investors. Similar to the food and beverage industry, food supplements are regulated by the National Agency of Food and Drug Control, known as Badan Pengawas Obat dan Makanan (BPOM) with the Directorate of Health Supplement Evaluation being the primary body responsible for the food supplement registration. According to the regulation, only Indonesian companies registered in the following fields can import dietary supplements to Indonesia:
Food sector
Traditional drug sector
Pharmaceutical sector
Legal entities operating in different fields, as well as overseas businesses, are forbidden to register their food supplements in Indonesia. However, there are several ways how foreign entrepreneurs can successfully penetrate the market with the help of a local agent.
Food Supplement Registration Indonesia with Cekindo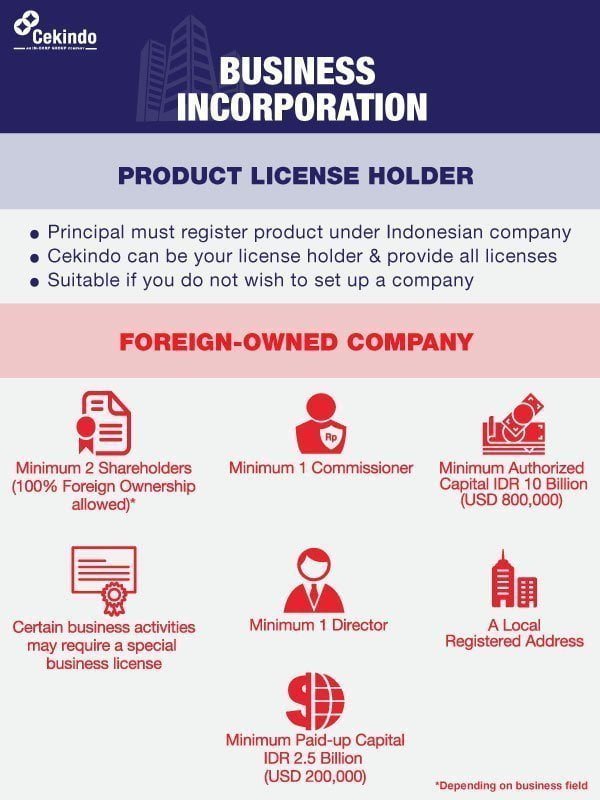 Company Formation
Foreign investors in Indonesia can start a foreign-owned company. The Negative Investment List sets the maximum foreign ownership based on industries they operate in such as 100% for import and export companies and 67% for distribution companies.
Therefore, a local partner such as Cekindo is mostly required not only to assist during the process of company registration but to own the compulsory local share of the company.
With Cekindo, investors can either establish a foreign company or a special purpose vehicle (SPV) based on a special-purpose agreement. In this case, no foreign ownership is limited as Cekindo becomes its legal owner without any intervention in the company's operation.
Last but not least, the fastest way to start business activities in Indonesia with an incorporated legal entity is to purchase one of Cekindo's ready-made shelf companies.
Product License Holder Service
Investors who are not interested in setting up a company in Indonesia can appoint a product license holder service provider such as Cekindo. Your food supplements will be registered under Cekindo with no exclusivity. It means that you can appoint as many distributors as you wish and terminate cooperation without fear of non-compliance with local regulations.
Registration of Health Supplement
Only companies in industries mentioned above and with an import license are allowed to access BPOM's online registration system.
BPOM later conducts a pre-assessment (inspection of your facilities) to make sure that your products comply with all safety and standard requirements.
An assessment will result either in rejection or approval with a registration number of your dietary supplement.
Cekindo will validate your document and submit the application dossier on your behalf.
Extension of the Food and Beverage Product Registration
A registration number of each product lasts five years and can be renewed before it expires.
However, there is a specific timeline that should be followed — not sooner than 6 months before its expiration day and not later than 10 days before it expires.
In any case, it is recommended to contact Cekindo well in advance to avoid delays in the process.
Are Your Products Halal? Do Not Forget about Halal Certification
By law in October 2019, all imported food supplements that are considered halal in their home countries but have not been certified in Indonesia yet become non-halal. Due to the prevailing Muslim population, the lack of halal certification significantly influences food supplement sales in Indonesia.
Contact Cekindo to certify your halal products immediately after their registration process finishes.
---
Fill in the form below and get the updated information on food supplement product registration in Indonesia.
Our legal teams are available offline as well. Visit us in our offices located in Jakarta, Semarang, Bali, and we will be happy to answer your questions.