Retirement Visa Indonesia: When Will You Need One?
If you are a foreign citizen aged 55 or older and wish to retire in Indonesia, you need a retirement visa. This type of visa allows you to stay in the country for a long period. Once you have obtained your visa, you can still visit your home country, as an Indonesian retirement visa allows you to enter and exit the country as many times* as you wish.
*Due to the Covid-19 pandemic, Indonesian immigration policy and travel advisory are prone to changes. Contact our visa specialist to keep updated with the latest regulations.
What Are The Requirements for A Retirement Visa in Indonesia?
Even though a retirement visa or retirement KITAS in Indonesia allows you to stay in the country for a long period, it does not permit you to work and generate income. Thus, it requires you to provide proof of deposit or a pension account with annual funds of USD 2,000 and a bank statement for the last three months.
In addition to a pension fund, you need to have life and health insurance, leased a place to stay for at least 12 months, and hire a local helper or maid once you settle down.
However, it is important to note that Indonesia currently only allows foreigners from 60 countries to obtain retirement visas. Ensure that you are eligible for an Indonesia retirement visa by contacting our visa specialists.
Obtain Your Indonesian Retirement Visa With Cekindo
As a trusted visa agency in Bali, Jakarta, and Semarang, Cekindo's visa agents will manage both applications or extensions of your retirement visa in accordance with the latest immigration policies. We also have a travel agency license, which permits us to act as your sponsor for a retirement visa in Indonesia if you do not have one.
Notice | Due to the Indonesian regulations, we are not able to provide visa services to the following nationals: Afghani, Guinean, Israeli, North Korean, Cameroonian, Liberian, Nigerien, Nigerian, Somalian
Understanding The Different Types of Visas in Indonesia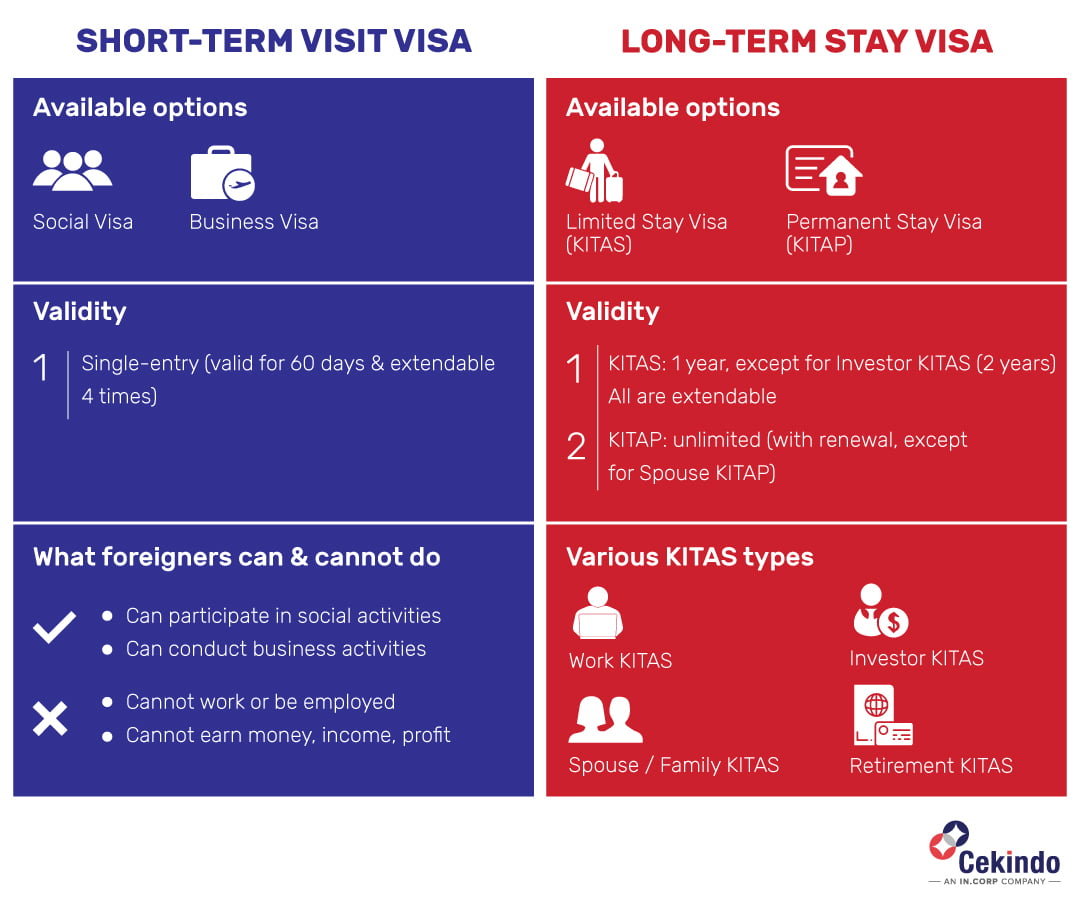 Why Choose Cekindo for an Indonesia Retirement Visa Application
1
SEAMLESS VISA APPLICATION
We manage your retirement visa application most securely and seamlessly.
2
EXPERIENCED VISA AGENTs
We are the best at what we do through a decade of professional experience assisting foreign individuals and international businesses.
3
CLIENT ORIENTED SERVICES
Cekindo has a team of visa specialists with the right skills to get things done and will not stop until they reach your satisfaction.
4
TIME AND COST SAVING
To obtain an Indonesian retirement visa, you must fulfill many detailed requirements. We can make this process a lot easier for you.