Vietnamese Market Overview
Vietnam, the world's 14th most populous country and the 9th most populous in Asia, is one of the fastest emerging markets in the world. As of 2016, it has an estimated population of 94.6 million.
According to IMP World Economic Outlook, Vietnam's GDP is reaching a whopping US$645.3 billion at Purchasing Power Parity (PPP)—with manufacturing and service sectors each accounting for 40 percent of GDP. A forecast by Goldman Sachs further indicates that the Vietnamese economy will become the world's 21st largest by 2025—surpassing those of Norway, Singapore, and Portugal by 2050.
Back in 2007, Vietnam joined the World Trade Organization (WTO) and became its 150thmember. Due to the burgeoning Vietnamese economy, foreigners are encouraged to make investments in Vietnam and business setup has rapidly become an enticing option.
What to Do as a Business Startup in Vietnam
To ensure the ease of entry into the Vietnamese market, investors and entrepreneurs should be prepared for challenges, especially in regards to regulations and licensing.Market research and analysisthereby comes into place to foster company setup in this developing economy.
Before starting a business in Vietnam, covering the following common questions is an integral part of the whole research process:
1. What kind of business should a company start in Vietnam?
Depending on the WTO regulations that change over time, conditions for starting a business may alter from time to time. Generally, investing in businesses such as IT services, management consulting, business promotion and manufacturing are more viable compared to travel agencies, trading and real estate. This is because the latter businesses have more complicated starting conditions.
2. What is the legally optimal corporate structure for businesses in Vietnam?
There are several corporate structures with the most common being the setting up of a limited liability company (LLC). Furthermore, depending on the number of the investors of the business, the structure could be a one-member LLC, two-or-more-member LLC, or joint venture company.
You might want to read Is Local Nominee a Safe Way to Start Business in Vietnam?
3. How long does it take to register for a typical business in Vietnam?
Depends on the type and scale a business geared towards in Vietnam; 30 working days for businesses with less complicated conditions to set up; 60 working days for businesses with much-complicated conditions, such as real estate and trading. The longer time needs due to the involvement of numerous State agencies for the approval of business plan.
4. How much is the minimum fund need to set up a company in Vietnam?
The minimum fund to set up a company in Vietnam pretty much depends on the business plan; conditionally based on the approval of the Department of Planning and Investment. There is no Vietnam law that specifies the minimum fund. But, an investor needs to pay 10,000 USD to open a foreign-owned company. If the business plan is not feasible, Department of Planning and Investment will reject it.
5. How does the tax liability in Vietnam look like?
In Vietnam, there are corporate income tax, import and export tax, value added tax (VAT) and personal income tax. Currently, corporate income tax is at 20 percent, export tax is at 0 (except for special cases), import tax varies according to duty charge, VAT is mostly at 10 percent, and personal income tax varies according to income level.
6. Who will be the legal representative for setting up a business in Vietnam? Is work permit required?
The business investor is required to appoint a legal representative in Vietnam—which can be done through an agency—to take legal responsibility and preside over the business performance in Vietnam. A legal representative, who is also the capital contributor of a limited liability company, or a member of the Board of Management of a shareholding company in Vietnam, does not require a work permit. Otherwise, you will need a work permit, along with the temporary residence card, to serve as a legal representative.
Related article Restrictions for Representative Office in Vietnam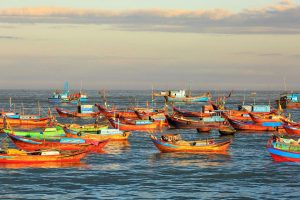 Company Setup in Vietnam Made Easy
Cekindo takes pride in its comprehensive product and service packages of business consulting services from accounting and HR management, business setup, to PEO outsourcing, among many others. Our excellent team of experienced consultants is readily available to answer your queries. Whether it is about setting up your business in Vietnam, provide an initial free advice, or other services.
Contact us through our hotline at +6221 8066 0999 or email us at vietnam@cekindo.com and we will be happy to discuss with you the full suite of market entry solutions from which you can choose from to suit your needs. Talk to us now!