Working from a coworking space is a growing trend in Indonesia, including in Semarang. It is undeniable that this flexible space solution is a great option for many startups and professionals. Each year, more and more businesses make the switch to coworking spaces.
Although Cekindo truly believes that coworking spaces are here to stay, some people still remain skeptical. For the skeptics, we understand you because you may not be aware of the tremendous benefits that a coworking space will bring.
In this article, you will find out why joining the emerging coworking movement is the right thing for you and your business in Semarang.
Top Benefits of a Coworking Space in Semarang

Enhanced Productivity
It is true that when you are more productive in your work, you will often have more money in your bank account.
With a coworking space, you are able to get to work the soonest possible upon your arrival. A coworking space is equipped with all the necessary technology, office equipment and important facilities to support your business needs.
By working with other like-minded professionals, you will get a strong motivation to get your work done fast and effectively as well. All these means your productivity will be enhanced significantly.
Networking and Collaboration
In a coworking space, different startups, creative minds, entrepreneurs and companies are hustling under the same roof. Therefore, you are able to network, interact and even collaborate with them. Here is the fact: a huge number of companies actually get into coworking space just to find network, collaborate and find other business opportunities.
Lease and Financial Flexibility
One of the biggest perks of a coworking space in Semarang is that businesses of all sizes can benefit from its incredible flexibility. Short-term or long-term leases are available based on the type of membership that you have chosen.
Without having to make a deposit in a permanent office space, companies are now able to have access to a business environment without sacrificing the professionalism. This flexibility also makes it easier for you to expand or enter new markets with much lower risks.
Improved Well-being
Nowadays, work-life balance is what many people are searching for. The good news is, this is what a coworking space can help you achieve. With a coworking space, you do not have to spend all your time at your desk; you can just come and go whenever it suits your schedule and conditions.
Not to mention, you will have access to a friendly coworking community and network that is always there to help you out professionally and even personally. Loneliness may arise if you work from home, but not at a supporting coworking space.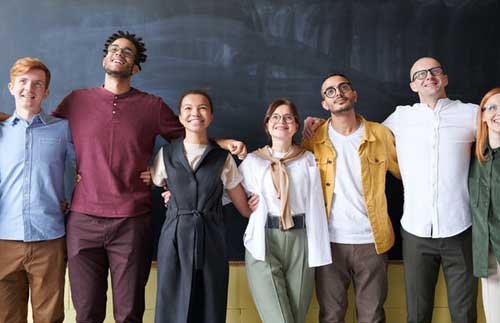 Talent attraction and retention
The new workforce generation expects more than a competitive salary. They are interested in a dynamic work culture, in a unique workplace environment, in wellness, and in social responsibility.
Coworking spaces can be a great tool for HR departments — offering coworking as part of employee benefits can lead to greater flexibility and employee happiness as these spaces are well-designed, they are conveniently located, and they offer unique and valuable amenities.
Location
Coworking spaces are available in many locations and they allow you to work at an upscale and convenient location at a more affordable price. The convenience makes your commute easier and shorter. The time saved through shorter commute makes you organise your days better. Now you will have additional time to participate in other professional or personal activities such as networking events, shopping, social gatherings with friends and family, etc.
Plus, an upscale location makes your business appear more professional to your clients when you meet them in the meeting room or conference available at the coworking space.
Coworking Space in Semarang from Cekindo
Every day Cekindo provides businesses from all over the world with the perfect coworking space in not only Semarang but also Jakarta and Bali. As a business solution specialist for so many years, we know each and every market profoundly.
Reach out to Cekindo now and we will help you navigate the coworking space's range of options available to you. Fill in the form below.