For every employer's recruitment and hiring in Indonesia, one thing that should be part of the process is the background check.
Why is background check critical for starting your entrepreneurial journey in Indonesia? This is because not every recruitment and hiring deception and misrepresentation can be easily detected by the in-house human resource department and employers.
By doing a background check in Indonesia, you will have the opportunity to validate your potential hire's information – ensuring that prospective candidates are who they say they are, without criminal records.
There are a few different types of background checks in Indonesia that employers can use on ensuring proper recruitment and preventing potential lawsuits.
The checks range from criminal history check to education verification, employment history validation to reference check. It is common that most employers are unaware of the background checks and what types are offered.
To help you understand better, our background check specialists are going to explain the most common types of background checks in Indonesia.
Must-Check Items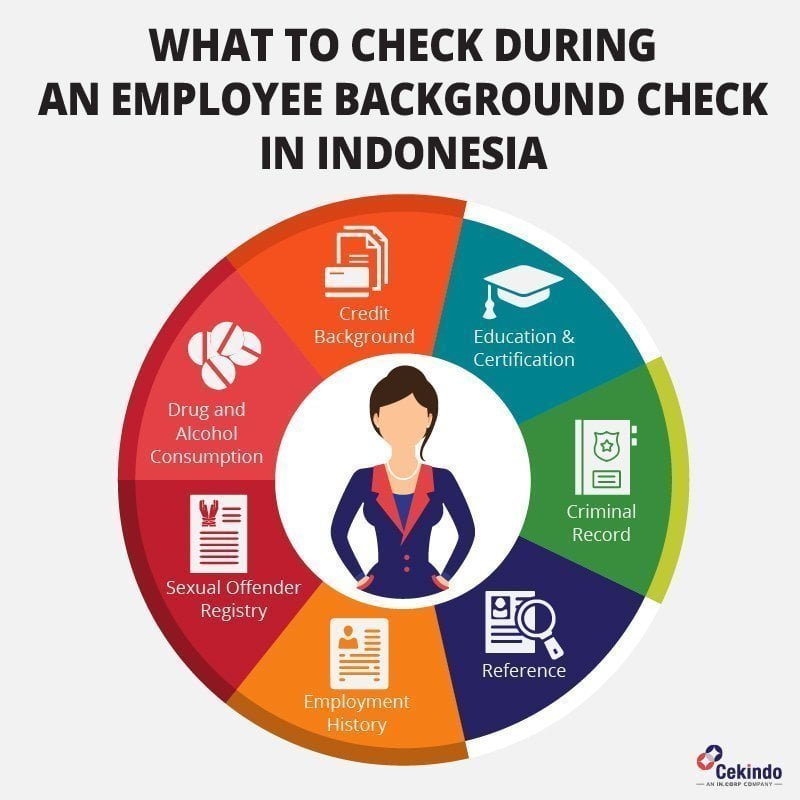 Education and Certification Verification
One way employers can determine if a candidate's education is accurately stated on their resume is by performing an education verification check.
Companies carry out this check to prove an applicant's claim of their academic accomplishments, professional qualifications, certifications, and credentials. This check is especially important for specialised positions.
Criminal Record Check
A criminal record check allows an organisation to know if a candidate has any criminal history. This is to verify that if an applicant could become a potential threat to the workplace or the customers.
Reference Check
It is a good practice for employers to ask for references from candidates. A reference check lets an employer understand a potential employee's previous performance and characteristics. Open-ended questions are preferable in an interview with the potential hire to get more details based on the reference provided.
Employment History Verification
Organisations utilise employment history verification to confirm an applicant's employment history and work experience. This check will uncover useful insights about the candidate such as loyalty, job stability, and integrity.
An employment history verification can confirm an applicant's previous titles, salary, job duration, job scopes, and reasons for quitting past positions.
Need to hire a foreign employee? Be sure to apply for Indonesia work permit and stay permit
Sexual Offender Registry Check
A sexual offender registry check is highly recommended for employers to perform on their potential employees. A background check like this will eliminate potentially employing a person with sexual or violent offenses before.
Such a background check is also critically necessary for hiring of employees working with children or in education such as daycares and schools.
Drug and Alcohol Tests
Many industries such as aviation and driving would require potential hires to go through drug and alcohol screening regularly. This is to rule out employees who are under the influence of drugs or alcohol and may pose harm to customers and the workplace.
Credit Background Check
A prospective candidate's credit and financial history are what employers verify by using a credit background check.
Employers can utilise this type of background check in Indonesia to determine whether a potential applicant is financially responsible. This check is particularly imperative for employees in positions handling a company's financial matters.
Background Check in Indonesia with Cekindo
At Cekindo, we provide different types of background checks in Indonesia that help you take the guesswork out of your recruitment and hiring process.
Our background check processes are consistent, cost-saving, and legally compliant, supplying you with the necessary information to make the best possible hiring decisions.
When you use Cekindo's employment background check services, we can help you avoid hiring mistakes, help improve your staff retention, and eventually increase the return on your hiring investment.
Schedule a time to talk to one of our consultants today and we will identify the best hiring match for you. Fill in the form below.