Whether you want to expand your business and enter the Indonesian market, particularly Bali, this article is what you need. It provides you with everything to know about company registration in Bali.
Everybody has heard about Bali, but not everybody knows that Bali has become one of the most potential markets in South-East Asia. Bali's economy has been continually growing for a while. The highest growth came from the information and communication sector (9.15 percent), confirming that The Island of Gods is turning into "The Island of Entrepreneurs".
Foreign-Owned Company (PT PMA) Registration in Bali
Definition of PT PMA
PT PMA (Perseroan Terbatas Penanaman Modal Asing) is one of the forms of limited liability companies established in Indonesia. Based on law No. 25/2007 regarding Investment (New Investment Law), it is the only legal entity through which a foreign national or a foreign company can generate revenues, profit, or engage in sales within the Indonesian territory.
PT PMA, in other words, a foreign-owned company, represents a legal entity where any of shares (does not matter if 5% or 99%) are held by a foreign national or an institution. Even though a legal form of the company is not directly linked to a number of its foreign shares, their percentage is further restricted by Negative Investment List (Daftar Negatif Investasi).
Negative Investment List – Restriction on Foreign Shares
The Negative Investment List is a list compiled and regularly revised (usually every three years) by the Indonesian Investment Coordinating Board (BKPM). It states the maximum allowed percentage of foreign ownership based on a business sector in Indonesia.
If the sector you want to conduct your business is partially or fully closed to the foreign investment, a local partner – an Indonesian citizen or a legal entity – will be needed.
What if PT PMA Does Not Fit Your Needs?
Some investors might be distracted by large capital requirements or ownership restrictions of a PT PMA. In this case, a representative office or a local company may correspond with your needs more.
Representative Office
Foreigners who do not need to engage in commercial transactions and wish to explore business opportunities in Bali instead (through market research, networking, etc.) can take advantage of establishing a representative office.
Kantor Perwakilan Perusahaan Asing known as "KPPA" is a convenient way for foreign businesses to gain a market presence and evaluate business potential.
As services of KPPA are limited to marketing and promotion activities, a limited liability company must be established to conduct business activities and receive income.
Local Company
A local limited liability company known as "PT" is the most common company type in Indonesia. However, foreign nationals still prefer to start PT PMA. Not only that a PT must be fully owned by Indonesian citizens, but the number of work permits for foreigners is also limited based on capital size.
In general, PT can be classified into four major groups based on the capital size. This division should not be underestimated as it will significantly affect human resources in your company. Keep in mind that only medium and large sized PTs can apply for work permits for their foreign workers.
The sectors are classified as follows:
Micro: less than IDR 50 million
Small: IDR 50 – 500 million
Medium: IDR 500 million – 10 billion
Large: more than 10 billion
Under some conditions, PT can be established by a foreign national as well. A foreign investor can find a local partner with whom s/he will start a joint venture. It might mean undergoing potential risk, and it is highly recommended to use services of a trustworthy local corporate nominee such as Cekindo instead.
Read more about "How to start a PT with a help of Cekindo".
Company Registration in Bali: Before Setting up a PT PMA
Investment Plan
Commonly mistaken with paid-up capital, the investment plan only serves as the demonstration of how much and where your funds of the investment capital will be spent. The official minimum investment to start PT PMA is IDR 10 billion (USD 750,000).
The investment plan can be either cash or fixed assets, but a value of land and buildings is excluded from its amount.
Even though minimum paid-up capital and investment plan are not the same, both are very important when establishing PT PMA. The minimum paid-up capital represents the value which must be injected into your business. Like investment plan, the capital can be both in a form of money and other assets with a total value of IDR 2.5 billion (USD 190,000). However, the paid-up capital requirement remains the same even in case of several business classifications.
Once your company is registered, you are obliged to report your investment activities regularly (frequency depends on your licenses).
Business Location
A location of your business is a crucial condition in the process of its incorporation. Even though regional policies might vary in individual premises, a domicile letter is in 100% cases a prerequisite document when starting PT PMA.
To get a domicile letter, a rental agreement must be submitted. A location of your business must be carefully considered as many cities do not allow a residential address (such as an apartment or a house) to be used as a business address. In some other cities, a residence address might be used upon written agreement of nearby community members.
Beware that properties in Bali have specific licenses that classify their purpose. Before signing a rental agreement, make sure that the building has a license which allows operating an office.
Exemptions in regional policies and complicated legalities are one of the main reasons more and more foreign investors decide to choose shared or virtual offices.
Get to know more about Cekindo virtual and shared office services in Bali.
Corporate Structure
Shareholders
Every limited liability company in Indonesia must have at least two shareholders. These can be individuals (natural person) or corporations (juridical person) or a combination of both.
When planning the organization structure of your company, it is important to keep in mind the minimum amount of shares which belongs to each shareholder. This amount, which must appear in your investment application, is stated as IDR 10 million (USD 750).
Commissioners
Based on Indonesian law, each PT PMA must have at least one commissioner. This can be either Indonesian resident or a foreign national. In case of non-resident commissioner, this person cannot be a resident commissioner in another company in Indonesia as additional work permit (IMTA) would be required.
The main responsibility of a commissioner is to supervise a director or Board of Directors eventually.
Directors
A director in PT PMA is responsible for running day-to-day operations. Following the Indonesian regulations, the number of directors is not limited. In case of having more than one, one of them must be appointed as a president director and the authority and tasks are divided based on an agreement.
Note that a non-resident director cannot sign documents on behalf of a company. In case a local director cannot be appointed, both work and stay permits must be processed immediately after the appointment of a foreign resident.
Process of Company Registration in Bali
The length of the process of company incorporation varies from 6 to 12 weeks depending on business classification, readiness, and correctness of the documents. In case any additional material is needed, the procedure gets even longer.
Cannot wait that long? Purchase one of our ready-made shelf companies.
The infographic below summarizes general procedures and institutions involved.  Overall, seven governmental institutions take part in the process, and it is no secret that the process is complicated for many foreign businessmen who seek the assistance of professionals.
In Cekindo we will help you to navigate through local Balinese regulations and institution, and ensure smooth registration of your PT PMA.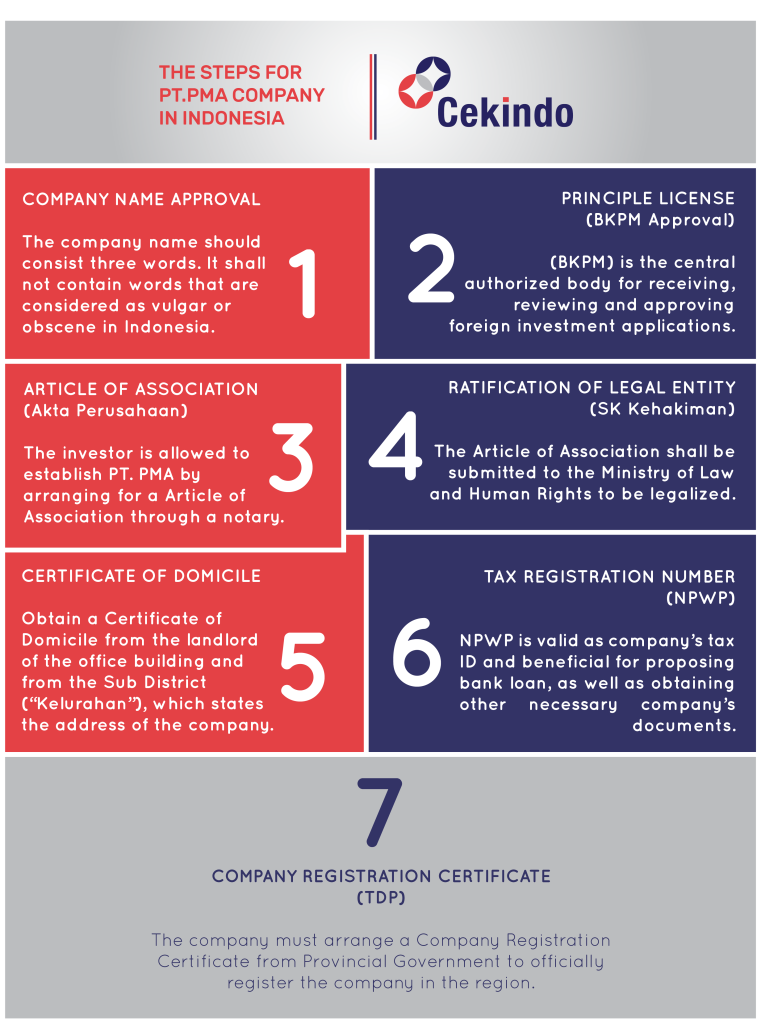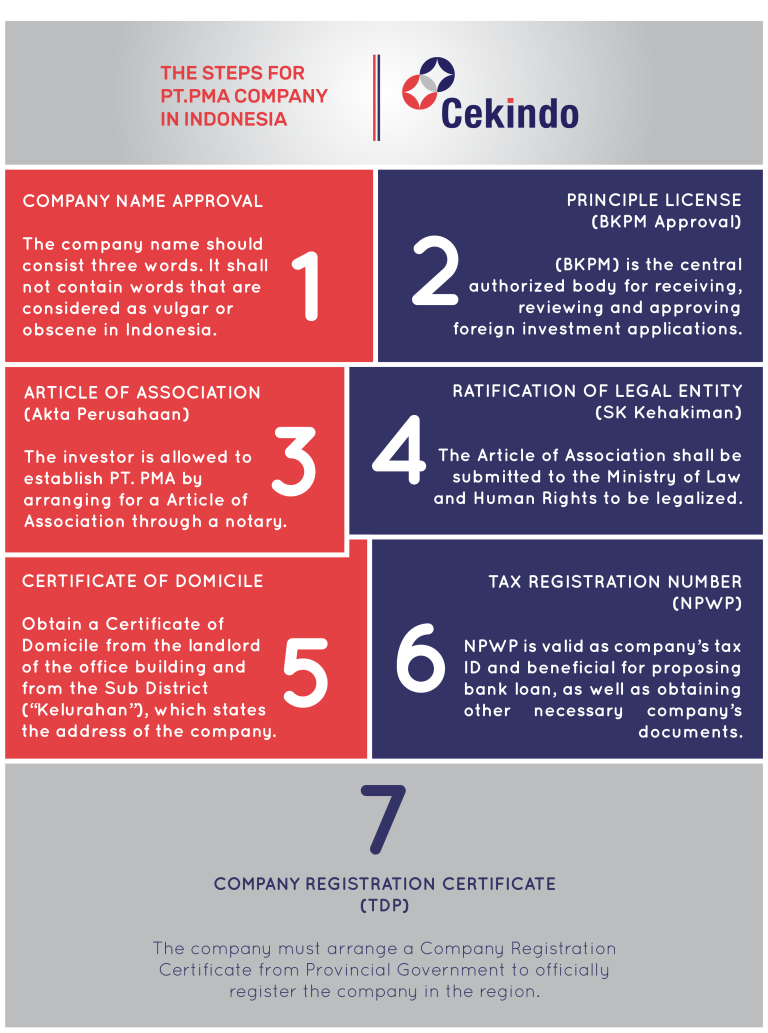 For elaborate information about each step, check our article "How to register foreign company as PT PMA in Indonesia"
2021 Update on Company Registration in Bali
It has now been easier and simpler to incorporate a company in Bali. If previously it took a longer time to register a company, now it takes between 4 to 6 weeks only to complete the company registration process. Below is a table to help you understand the registration process better.
No.
Procedure
Duration
(working days)
1
Approval of company name at the Ministry of Law and Human Rights
1
2
Preparation of Article of Association by Notary
3
3
Approval of Deed of Establishment at the Ministry of Law and Human Rights
3
4
Obtaining Taxpayer Registration Number
2
5
Obtaining Certificate of Domicile from local district office
10
6
Approval of Business Registration Number (NIB), Business Permit, Commercial/Operational Permit, Location Permit, Environmental Permit and BPJS through the Indonesian Online Single Submission (OSS) System
2
---
Permanent Business License and Company Registration in Bali
Permanent Business License (Izin Usaha Tetap – IUT) is a mandatory documentfor any business activities conducted by foreign-owned (PMA) company in Indonesia. Even though it is often mistaken with temporary Principal License (Izin Prinsip), their functions are different.
A Principle License is acquired during the process of business incorporation as it is one of the prerequisite documents. Contrary, only when the process is over, and your business has fulfilled the legal regulations, at this moment you are finally eligible to apply for the permanent business license. This includes settling the paid-up capital and accomplished the investment plan.
Other Business Licenses
PT PMAs conducting business in Indonesia must acquire several business licenses based on the field in which they do business. Import licenses, medical distribution licenses, and trademarks belong to the most important ones.
Further information on these documents can be found in "Business Import Licenses".
However, the business environment in Bali differs from the rest of Indonesia and businesses there are usually operating in the field of services such as bar, cafe, restaurant, surfing schools or hotel. In these fields, environmental, disturbance, operational, hygiene or SIUP MB (license to sell alcohol) are generally required.
Cekindo can Assist with Company Registration in Bali
Balinese business culture is quite complicated, and many regulations are operated on a regional level. Thus, professional assistance and guidance through the procedure are more than recommended mainly through the application itself.
Our professional team is ready to assist you, consult any of your inquiries and we will help you so that you can solely focus on your business plan.
Feel free to contact us for a free quotation on how to register a foreign company in Indonesia.
Contact Our Consultants