There are many HR practices in a company's HR department to manage recruitment and hiring, employee benefits, payroll, training, retention, performance evaluation, employee termination, employee issues and complaints, and so many others.
However, not all in-house practices are practical and some of them are even downright outdated and could lead to legal implications.
Therefore, a great number of employers have gradually turned to HR outsourcing in Indonesia to increase their workforce morality and satisfaction, as well as enhancing business performance.
Below are four HR practices you should abolish and get assistance from an HR outsourcing professional immediately.
HR Outsourcing Gets Rid of These 4 Time-Consuming HR Practices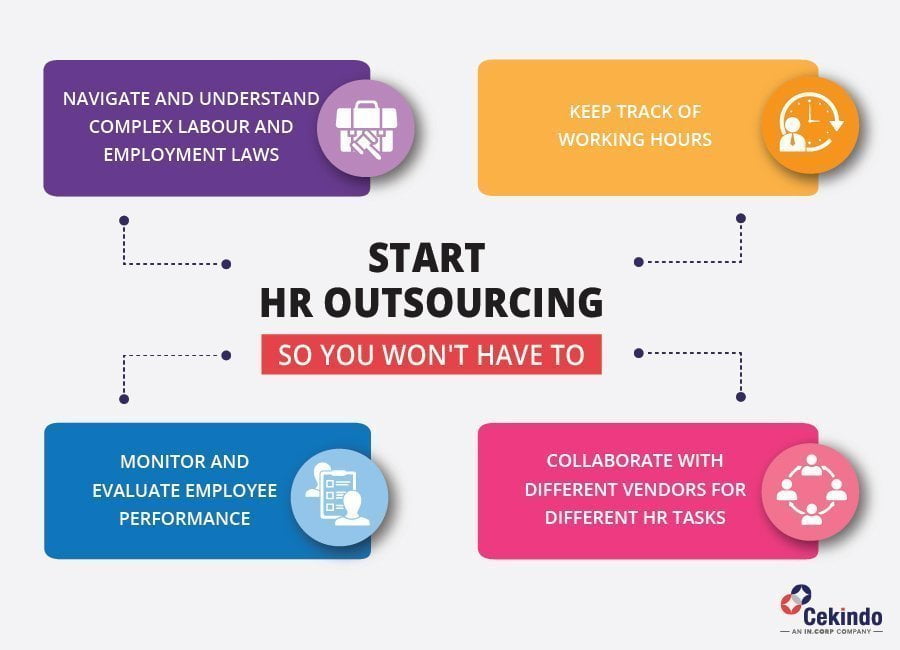 1. Navigating and Complying with Complex Laws and Regulations
Human resource employees have to maneuver all sorts of complicated labour and employment legislations that are constantly shifting.
If it weren't enough, they also have to make sure that the company's internal policies match the latest regulations to ensure full compliance.
Oftentimes, in reality, many internal HR staffs don't have the time to successfully keep pace with the legal changes, let alone reviewing and updating their company policies.
In this case, your company will run the risk of encountering legal complications that may be disastrous to your business growth and reputation.
To overcome this challenge, using an HR outsourcing company in Indonesia can guarantee continuous compliance no matter how frequent the law changes.
2. Keeping Track of Employee's Working Hours
Manual tracking of employee's working hours is not only time-consuming but also ineffective and dangerous.
Recording your employee's hours on a paper will lead to unorganised documentation, unnecessary human errors, and loss of important information. This can further jeopardise your tax filing as well as the employee's payroll.
The world of human resources has changed tremendously over the years. Most companies now opt for digital or paperless solutions provided by external HR professionals with the most cutting-edge HR technology and expertise.
Outsourcing your HR functions to reputable HR specialists can boost your business security, productivity, and efficiency.
3. Monitoring and Evaluating Employee Performance
Employers know too well that monitoring, reviewing and evaluating the performance of employees takes a lot of time and effort. This practice will even eat up a big chunk of your time if you rely on hard-copy records.
Unfortunately, more than 50% of companies are still dependent on paper documentation which is not only time-consuming but lower evaluation accuracy and efficiency.
You can reduce the workload of this function by partnering with a provider of HR outsourcing in Indonesia, allowing you to enhance business performance and employee productivity.
4. Engaging with Several Vendors to Deal with Different HR Functions
To cover all HR needs, it is not uncommon that the in-house HR department will partner with multiple vendors to handle the situation. For example, a company may work with one vendor on payroll management, one on insurance and benefits, and another on legal compliance.
Juggling among different vendors for your diverse HR operations can be challenging. This is because you need to deal with not one but several vendors and this can take a lot of time and break the process flow of your related HR functions.
A perfect solution is to work with a single HR outsourcing provider. The outsourced HR specialists can help tailor customised solutions to take care of all your HR functions, enabling your HR tasks to run smoothly without delay and errors.
HR Outsourcing in Indonesia with Cekindo
HR outsourcing in Indonesia is not just about paying salaries. Effective HR outsourcing also includes well-managed payroll processes and seamless recruitment procedures to mitigate compliance risk and reduce costs.
Thus, working with an HR outsourcing specialist is your best option to conquer challenges such as delayed legal updates, human errors, expensive technology integration, and complicated compliance requirements.
Cekindo's HR consultancy and outsourcing services are created to help your businesses maximise productivity and performance.
We also help generate a sustainable and competitive advantage for your organisation by alleviating your HR burdens, allowing you to free up your resources and focus on critical business activities.
Our HR professionals are packed with knowledge and expertise in all aspects of HR outsourcing in Indonesia.
Check out our HR outsourcing services by completing the form below.