Indo Beauty fair and Czech medical companies in Jakarta
Currently Indonesia produces mainly primary medical products such as surgical gloves, bandages and orthopedic products. As a result, the largest medical imports are medical consumable products, particularly injection needles and catheters, which account for 20%. However, foreign manufacturers of medical devices, cosmetics and pharmaceutics have always faced numerous obstacles and challenges in entering this market, such as  meeting the right partners and especially obtaining the many mandatory licenses.
The Czech Embassy in Jakarta supports Czech medical and beauty companies in presenting themselves, their products and their services in Indonesia. In cooperation with CEKINDO, several Czech companies participated at the Indo BEAUTY fair in JIExpo Kemayoran, Jakarta in the Czech Embassy booth in August 2014.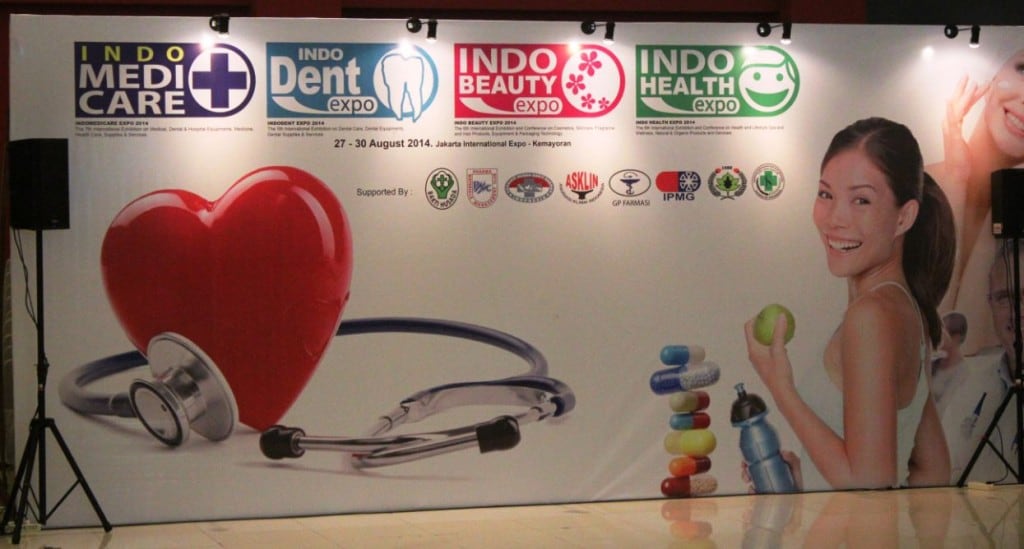 Indo BEAUTY Expo 2014 was the 6th international exhibition and conference on cosmetics, skin care, fragrance, and hair products, equipment and packaging technology.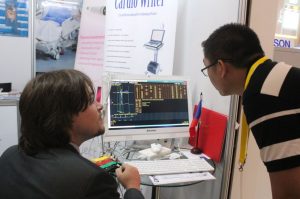 The following businesses were represented
• Cosmetics
• Professional Equipment and accessories For beauty salons
• Devices For figure correction
• Pharmaceuticals for aesthetic medicine
• Beauty clinics
• Nutrition/Diet
• Haircare and body care products
• Skin care products
• Medical mroducts, homeopathic remedies and vitamins, bioactive supplements
• Medical and professional cosmetics
• Thalassic therapy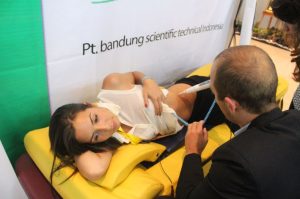 • Perfumery and aromatherapy
• Hygiene appliances
• Equipment for spa salons and solariums
• Manicure and pedicure equipment
• Plastic surgery
• Laser surgery
• Equipment and instruments for plastic and laser surgery
• Disposable products for plastic surgery
The Czech Republic has already several companies distributing products in Indonesia. In the Indonesian market in general many international companies are present: in order of market share they include Germany and Japan, the United States, France, Italy, Korea and Taiwan.
The following companies from the Czech Republic were present:  Guergi, Ella-CS, Linet, JETT Cosmetics, SEIVA and SMT.
Guergi is a brand of cosmetic products from the Esenta company, which already operates successfully in Arabic countries and it is at the initial stages of entering the Indonesian market. It was established in 2004 and its core areas are medicine, laboratory technology, pharmaceuticals, cosmetics and healthy lifestyle products. Its broad business experience and an overview of the latest quality products in various parts of the world allow Esenta to offer its cosmetic brand Guergi.
ELLA-CS is the only manufacturer of these unique products: Biodegradable stent, Danis stent for stopping acute varietal bleeding and the esophageal stent Extractor. Since its establishment, the company strives to be a reliable partner for practitioners in their daily work. Recently company has been focused mostly on developing and producing stents for the gastrointestinal tract. In addition to esophageal, biliary, pyloro-duodenal and colorectal stents, the company also manufactures custom made health care devices, which are mostly stents of non-standard dimensions, but also other devices including the most sophisticated individual implants for reconstructive surgery.
JETT Cosmeticsbelongs to the COMPEX company. Compex has been in the market since 1990. It specializes in importing professional cosmetic and medical devices, including wellness center equipment. Thanks to rising demand for  high quality devices, the company started a project called JETT Cosmetics. JETT Cosmetics arose from its longtime aesthetic cosmetics experience and offers devices that suit the needs of cosmetic professionals.
LINET is a major manufacturer of hospital and nursing beds. The company's portfolio includes solutions designed for intensive care, products for regular in-bed treatment and special beds for senior citizen housing and long-term care facilities. The LINET range also includes a wide range of accessories such as anti-pressure ulcer mattresses, mobile equipment, healthcare furniture, etc. LINET is a leader among hospital bed manufacture. The plant manufactures around 40,000 hospital beds per year, the vast majority of which are intended for export to more than one hundred countries worldwide.
Seiva is a business focused on the direct development, manufacturing and servicing of PC-based cardiology devices, including hardware and software with accessories. Seiva is a domestic leader in the field of cardiology, with the largest share of Czech and Slovak markets. Seiva is not just another ECG producer. Seiva also has its own distribution and service network in the Czech Republic and Slovakia. In ECG manufacturing, the Seiva product line fulfills all the daily requirements of every cardiologist, internist or general practitioner and its devices have EU quality certification.
SMT, Special Medical Technology is a 20-year-old projection and manufacturing firm with expert knowledge and experience. The firm's business focus is the development and design, manufacturing, sale and service of ELECTROSURGERY and CRYOSURGERY systems, instruments, tools and accessories for various medical specializatiess, including the special accessory equipment for dentistry, and a parallel line of equipment for veterinary surgery.
In addition to taking part in the fair, all business managers from the participating companies met other potential clients and worked with their local distributors, providing them with the latest updates and training. They also sold their products. Many of them even stayed on in Indonesia  after the fair to continue in promoting their products and establishing new connections.
On behalf of CEKINDO and the Czech companies, we would like to thank the Czech Embassy, namely Mr. Jan Janda, Deputy Head of Mission, Economic Affairs, for his cooperation and support. We can say conclusively that this fair confirmed the potential of local medical market.