Indonesia is the fastest-growing internet economy in Southeast Asia, with over 170 million internet users. In 2020, the Gross Market Value of the e-commerce industry stood at US$40 billion and is expected to rise to US$83 billion by 2025, making it an opportune moment for investors to open a logistic company in Indonesia.
According to the "Indonesia Consumption Basket" survey, 2020, e-commerce customers in the country have increased to 66% since the Covid-19 pandemic outbreak as the result of social restriction policy. In addition, 90% of Indonesian internet users (accounting for 175.4 million people in early 2020) have made purchases through online platforms, making Indonesia the country with the highest rate of e-commerce usage in Southeast Asia.
The growing number of e-commerce users is driving its players to rent or acquire bigger logistic storage space as online retailers tend to have a larger array of products and require more comprehensive warehousing and delivery system to accommodate and adapt to the changing business trends.
Current scenario of Indonesia's Logistics Industry
The Logistic Performance Index scored Indonesia at 3.3 out of 6, much lower than its peers in ASEAN, as per a World Bank report in 2018. Lack of transportation infrastructure and complicated regulations are some of the major bottlenecks that need to be addressed by the government.
However, with the entry of big institutional investors like GIC and logistics developers like LOGOS and ESR, Indonesia is expected to demonstrate tremendous potential in Asia's e-commerce market. Moreover, advancement in technology and the rising demand for warehouses by e-commerce companies will further spike the emergence of having an effective supply chain management system in place.
Ease In Regulations And Improving Infrastructure To Bolster Economic Growth
Ease In Regulations
In order to foster the growth of the economy, the government of Indonesia employed robust measures and brought about amendments in regulations as discussed below.
Job Creation Law
Indonesian President enacted the Job Creation Law, also known as the "Omnibus Law,". It aims to simplify the licensing process and harmonize various laws and regulations in order to attract investment and generate employment. The law allows foreign companies to establish posting/logistic/delivery service businesses without having to partner with a domestic firm, as the previous law stipulated.
Positive Investment List
In addition to the Job Creation Law, the new Positive Investment List also liberalizes some logistic-related sector for 100% foreign ownership:
| | | | |
| --- | --- | --- | --- |
| KBLI* Number | Business Line | Negative Investment List | Positive Investment List |
| 53202 | Courier Agent Activities | Maximum 49% of foreign ownership | 100% foreign ownership |
| 52101 | Warehousing activities | Maximum 67% of foreign ownership | 100% foreign ownership |
*Klasifikasi Baku Lapangan Usaha Indonesia (Indonesia Standard Industrial Classification)
Improving Infrastructure
President Joko Widodo had previously launched a US$350 billion infrastructure plan aimed at removing existing bottlenecks and improving infrastructure access outside of Java's main island.
However, for the years 2020 to 2024, he presented an even more ambitious plan. Hundreds of projects totaling more than $400 billion will be funded. Twenty-five new airports, as well as power plants, waste-to-energy plants, and a slew of mass-transit projects, are included in the plan. Building the foundations for a new capital city is also a part of the proposal.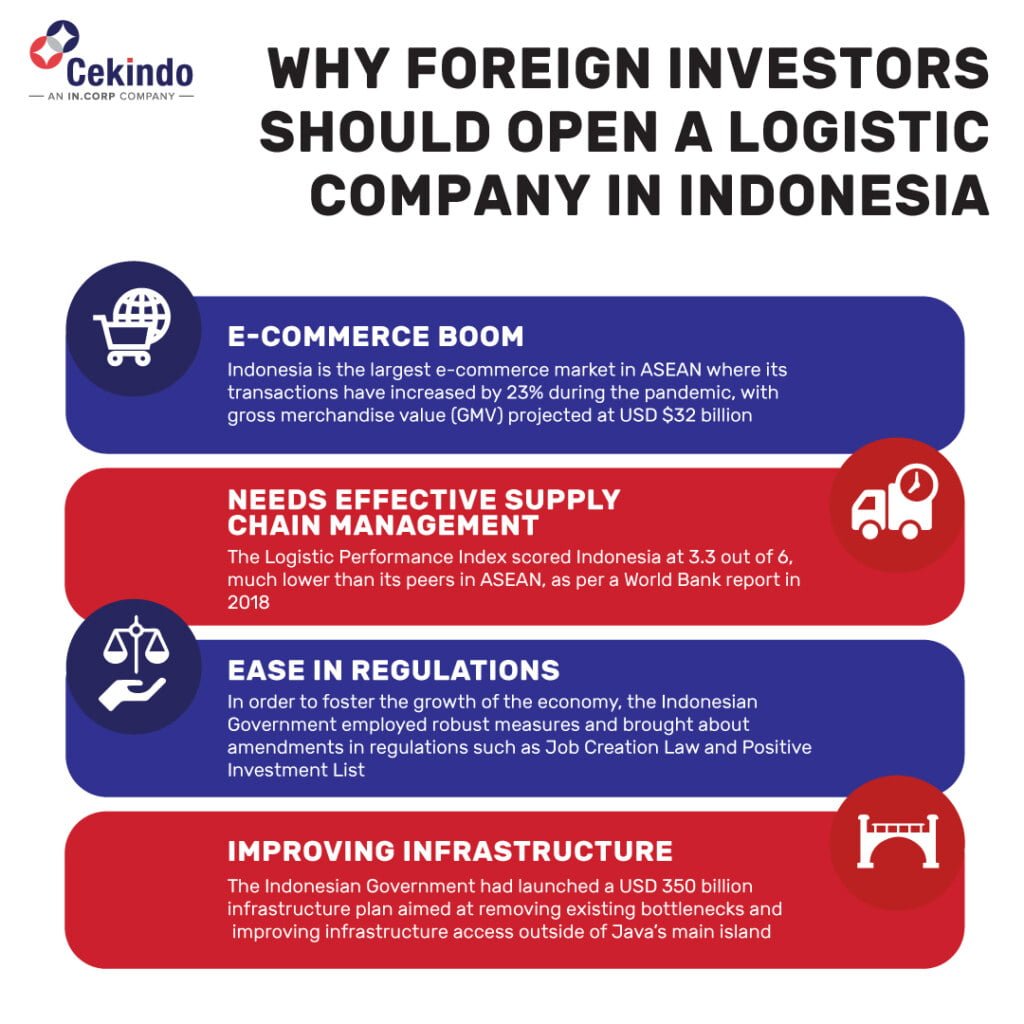 How To Obtain License for Logistic Company in Indonesia
According to Ministry of Transportation Regulation Number 49/2017, any business that involves warehousing, sorting, packing, shipping, or other related activities must obtain a Transportation Services Business License (locally known as Surat Izin Usaha Jasa Pengurusan Transportasi or SIUJPT). A business must apply for a SIUJPT with the governor of the province in which it operates.
Applicants must meet the following requirements:
Having a Deed of Incorporation (Local PT/PT PMA)
Having a Legal entity certificate issued by the Ministry of Law and Human Rights
Having minimum capital of US$4 million
Having an office building certificate or building renting receipt for at least 2 years.
Having NPWP (Indonesian Taxpayer Identification Number)
Having Certificate of Company Registration
ID or KITAS of Company Director
Having an operational vehicle
The licensing process takes 14 working days
Open Logistic Company in Indonesia with Cekindo
With colossal market potential and considerable support from the government, foreign investment in the logistics sector is more favorable than ever. However, breaking into a new market overseas might be intimidating. Cekindo offers a comprehensive range of solutions to ease the company registration process and help you obtain the required licenses efficiently.
Our legal consulting services will help your business settle and comply with applicable laws and regulations in Indonesia. Experts at Cekindo also help in carrying out Due Diligence activities to help you assess the credibility of the company or partner you want to invest in or work with.
To know more about how Cekindo's solutions can help you register your logistics company in Indonesia, please fill out the form below or talk to an expert on our chatbot.