Indonesia has always been an excellent option as a place for retirement and investment for foreigners. The intention to retire in Indonesia starts to take on a greater sense of importance when you need an amazing and cheaper place to spend the most joyful time of your life. The retirement visa in Indonesia gives foreigners the opportunity to earn a residence in the country and some benefits enjoyed by the Indonesian nationals.
However, with retirement on the horizon, as a foreigner, there are some important steps for you to take to get a retirement visa in Indonesia.
In this article, we will guide you on what to prepare to help make your retirement visa application a successful one.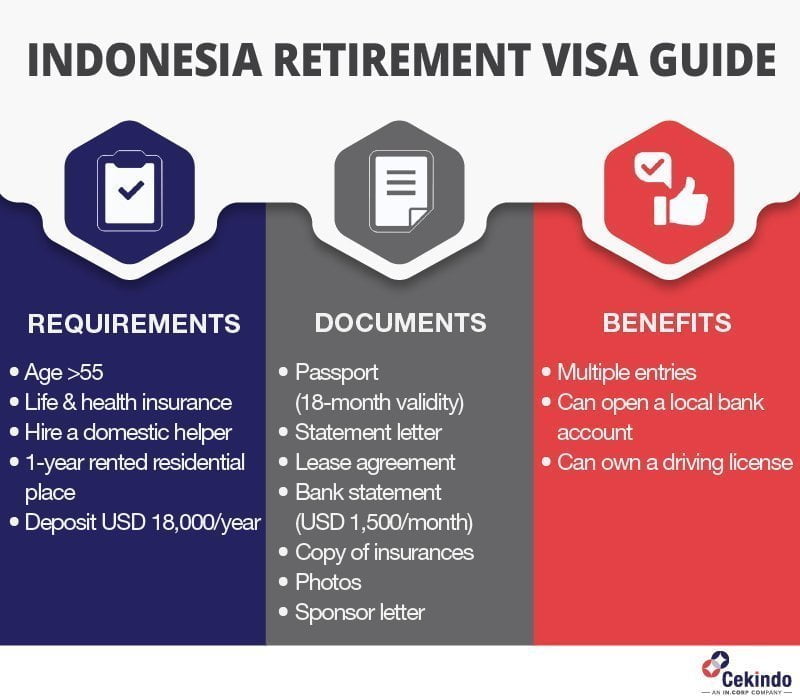 Retirement Benefits for Foreigners in Indonesia
You will enjoy a lot of benefits as foreigners when you retire and settle in Indonesia:
Enter and leave the country as many times as you prefer
Reside and live in Indonesia for a very long time
Own a driving license or open a local bank account
Before you can apply for your retirement visa in Indonesia, you need to make sure that you meet the following criteria before you begin your retirement journey:
Your must be 55 or older
You are not permitted to work in Indonesia
You need to have life and health insurance
You can hire a domestic helper or a maid
You need to have a place to reside and have a lease contract for a minimum of 12 months
Your deposit or pension account must have US$18,000 every year
Applying for a Retirement Visa in Indonesia
It is important to know that you need to assign an agent or a sponsor to apply for the retirement visa on your behalf.
Basically, here are the three steps to start your retirement visa process:
1. Prepare and submit your documents to your visa agent. Here are the important documents you will have to get ready:
A valid passport of at least 18 months with a minimum of 6 blank pages
Copies of all the pages in your passport
A statement letter
A lease agreement
A copy of your bank account statement with at least US$1,500 in it every month
A copy of your life insurance and health insurance
Your photos with red background
A sponsor letter from your visa agent (Cekindo can serve as your visa agent)
2. Collect your retirement visa from an Indonesian Embassy in your country. Your agent must be informed of which Indonesian Embassy you will pick up your visa from.
3. Once you enter Indonesia, you have to convert your visa to KITAS (Temporary Residency Permit). Retirement KITAS allows you to stay in Indonesia for a year and it is extendable every year for up to 5 years. After that, you can apply for a KITAP (Permanent Residency Permit).
How Cekindo can Assist
The last thing you want when you decide to retire in Indonesia is to stress about applying for your retirement visa and get your essentials in order.
Moreover, you may have to go through a lot of unnecessary hurdles if you do not speak the local language or are not familiar with the Indonesian regulations.
With Cekindo, you will have a team of experts with professional knowledge and serious skills to help make your retirement life easier for you.
Once you are here in Indonesia, we can assist you with all the paperwork and to deal with local authorities. Our experiences and expertise make all the difference for you.
Contact us now through the form below if you want to know more about our services.