The Indonesian government is establishing particular regions known as the Special Economic Zones (SEZ) to improve competitiveness among its surrounding countries. This would not only increase high-value industrial businesses, export, import, tourist, and other related operations, but would also expand the country's potential for the global market.
President Joko Widodo designated Mandalika a priority destination in 2017, speeding up development on the island of Lombok. The Mandalika Development Project in Lombok, estimated to cost USD3 billion, will have approximately 16,000 hotel rooms, a water park, a 27-hole golf course, 1,500 villas, and a 4.3-kilometer International Race Circuit, which will host the MotoGP championship in 2022.
Mandalika, as a special economic zone, presents a potential property investment in Lombok for international companies, with 2.8 million visitors expected to visit in 2026, up from 1.9 million in 2015. The island's visitor arrivals are expected to rise at a CAGR of 2.3% to 4%.
Furthermore, the Integrated Tourism Master Strategy, also known as RIPT (Rencana Induk Pariwisata Terpadu), outlined a plan to increase connections from ports and airports to encourage tourism while simultaneously preserving and promoting Lombok's cultural variety. The goal is to create a tourist ecosystem in Lombok that is robust, comprehensive, and sustainable.
Why Mandalika is a Treasured Potential for Property Investment in Lombok
SEZ Incentives in Mandalika
The Indonesian government has set up long-term incentives for business actors establishing themselves in SEZ areas, intending to become a world-class tourism destination. Here are some important distinctions to consider when launching a business in Mandalika compared to Bali: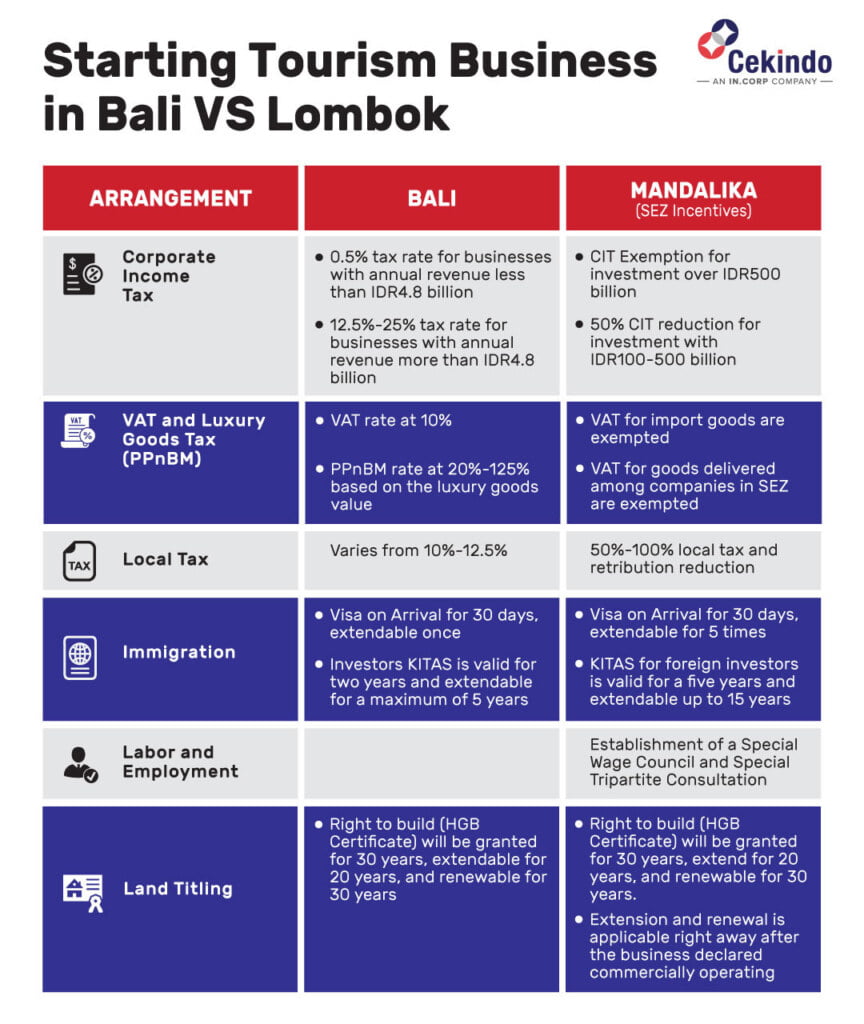 Lower Land Price for Property Investment in Lombok Compared to the Famous Island of Bali
Besides long-term economic advantages, international investors are betting on Lombok's land, expecting to gain from the lower land price when compared to Indonesia's most well-known tourist destination, Bali.
In Bali, land prices in developing and developed regions like Canggu and Seminyak are expected to cost between IDR 600 and 800 million (USD40,000 and USD55,000) per 100 square meters. Outlying land is valued at around IDR 100 million (USD7,000) per 100 square meters. It is quite predictable that Bali has the fastest-growing land value in Indonesia's archipelago of islands.
Although land values in Lombok have followed a similar rising trend as those in Bali since the start of the Mandalika Project, they are still relatively lower than the Island of Gods has to offer.
The most valuable land is in Kuta (near Mandalika), where land prices have halved compared to Bali's popular areas, reaching around IDR 350 million (USD25,000) per 100 square meters. The neighboring areas still have relatively modest land values, ranging from IDR 115-215 million (USD8,000-15,000) per 100 square meters.
Improved Property Licensing and Permit Process
Before starting their enterprises, business players had to go through arduous and time-consuming steps to get spatial usage permission. Now, in an effort to make the licensing procedure easier, the Omnibus Law has replaced the spatial usage licenses with a document called Kesesuaian Kegiatan Pemanfaatan Ruang, which appears to be a document that certifies whether the planned activities are compatible with the land use.
We can also witness a transfer of authority from local governments to the federal government, which was formerly allowed to grant spatial usage permission. The Online Single Submission ("OSS") mechanism will be used to issue the Confirmation.
Secure Your Property Investment in Lombok with a Real Estate Agent in Indonesia
In a normal situation, investors would go through a lengthy procedure before making an offer on a property. This procedure includes obtaining a loan and adhering to all Indonesian norms and regulations.
A real estate agent can help get the process started by keeping investors informed about the activities that need to be completed. They can also communicate with resources and banks on behalf of investors.
Moreover, an agent can act as a representative in arranging meetings with banks and authorities, as well as viewings with property owners.
Secure Your Property Investment in Lombok with Cekindo
You should use a property agent when purchasing real estate or property for investment purposes. The reason for this is simple: buying a home is one of the most costly and long-term investments you can make. A thorough examination and verification by a real estate agent will improve your chances of getting your ideal home.
With Cekindo, you get a seamless property acquisition experience. As a property agent, Cekindo verifies property ownership and assists you throughout the sale.
We would also be delighted to see you in person at our offices in Jakarta, Semarang, and Bali.