Known as the world's 16th largest economy, Indonesia is projected to be the fourth-largest economy in the world by 2050.

Bali, as part of the country, benefits from the prospering economy as well. In fact, it is becoming a recognized global business base that offers numerous export opportunities within wood carvings, furniture, sculptures, paintings, jewelry, handmade clothes, and accessories, among others. This is why many entrepreneurs want to start businesses and export from Bali.
The island provides competitive advantages for foreign investors across all sectors seeking new sources for export and starting a trading company in Bali.
For entrepreneurs and foreign investors who have dreamt of starting a trading company, as well as a new life in Bali, there are many types of trading businesses you can choose from.
Other than determining the products you want to export from Bali, you will need to identify the most convenient and efficient way to jumpstart your export from Bali.
This article will address all these criteria, including the setup of an exporting company in Bali, the use of under-name export, and prohibited export items.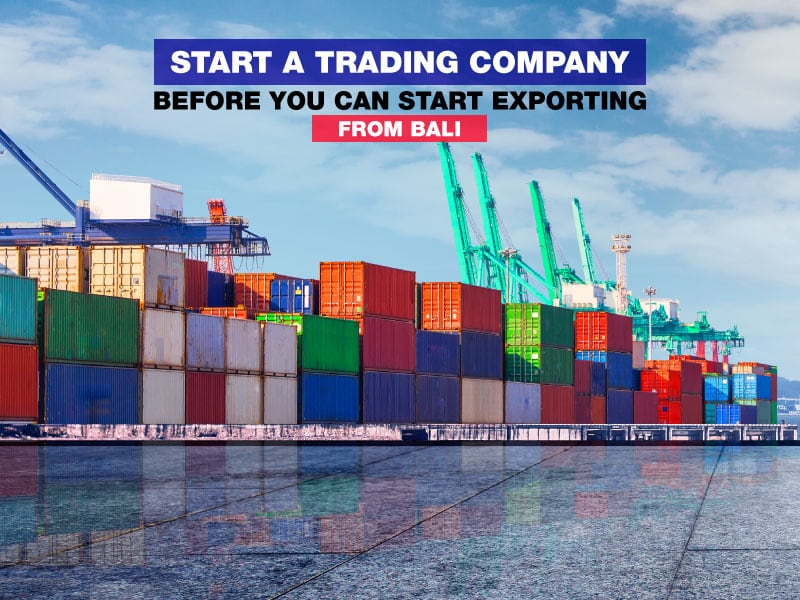 Major Export from Bali
Furniture, handicraft, and artifacts exporters have encountered a sharp increase in sales to other countries with the United States and the European countries being on the top.
Trading businesses exporting from Bali expect to see at least a 30% year-on-year surge in export to countries with the top economy.
Before Doing Export from Bali
First of all, you need to determine your target countries. Then, you should start doing market research by contacting the potential buyers (importers) to understand their requirements and demand.
Once you have done your due diligence in market research, you need to find out if you want to set up a trading company on your own or use an under-name export.
Set Up a Foreign-Owned Trading Company in Bali
The first option is that you can set up a foreign-owned company (PT PMA) to export from Bali. In order to set up this limited liability company, you need to secure several licenses and meet all the requirements
The minimum investment to start a trading company in Bali is IDR 10 billion, with a minimum paid-up capital amount of also IDR 10 billion.
To start fully operate a foreign-owned export or trading company in Bali will take at least 8 months.
Use a Third-party Undername Export
As compared to setting up a PT PMA, under-name export has fewer requirements, thus many foreigners often engage a provider of under-name export in Bali.
This will provide a more convenient export and allow you to penetrate the trading scene in Bali sooner without all the bureaucracy you might face at the Indonesian customs.
Cekindo is a reputable under-name export provider that will make the entire process much easier for you. You will only need to provide the following information, and we will make sure that your export from Bali complies with all the requirements:
Products' proforma invoice (from manufacturers or sellers)
Depending on the category of products, specific information might be needed
Export as a Trading Company in Bali
With PT PMA, a trading company exporting out of Bali must provide the following documents:
Airway bill, bill of lading, or other transport documents. For instances, cargo receipt and postal receipt
Customs export from Bali Declaration
Commercial invoice
Export declaration of items
Packing list
Export permit
Certificate of insurance
Certificate of origin
Depending on the nature of the goods you export from Bali, in some cases, you might also need to provide the following documents:
ID number of the Taxpayer (NPWP)
Quality certificate
Export LKP (Truth Examination Report)
It is also worth noting that the documents submitted have to be organized in a specific manner to comply with the requirements.
The Right Classifications for Your Trading Company in Bali
If you have already had a PT PMA set up previously, do bear in mind that you need to ensure it is suitable for your current operation.
"Trading for Export" should be the most accurate business classification for your trading business in Bali. An emphasis should also be put on the activities your export business will carry out because adding the extra activities afterward is a complicated procedure that you do not want to get yourself into.
This is because the adjustment process is going to take up a lot of your time and money, and is only applicable in certain circumstances. For example, if your PT PMA is registered in the hospitality sector, you are not allowed to take up export as part of your business activities.
Perks of Undername Export
The main advantage of using under-name export is that you can save a lot of time, as well as costs in the long run. Other than that, your shipping from Bali will be made easier with the following benefits of under-name export:
There is no need for you to set up a company that will take a long time before you can start an export business.
By using under-name export, you will save much money without engaging in expensive courier services.
You will be able to apply for export licenses without setting up a company in Bali – so you will be able to export from Bali immediately.
Cekindo will be fully responsible for your item delivery – which includes the shipping process handling with the Indonesian customs.
Prohibited Items for Export from Bali
Foreign investors and entrepreneurs who wish to start a trading business in Bali should be aware of the restrictions regarding exporting goods from Bali. Any violations will face a serious penalty from Indonesian law enforcement.
Prohibited/Restricted Items and Goods
Explosives
Narcotics
Ammunition and firearms
Psychotropics
Fireworks
Audio or visual recording media
Defined books and printed materials
Parts of color photocopy or equipment
Telecommunications devices and equipment
Wild fauna and flora species that are endangered
Pesticides
Wastes
Ozone-depleting materials or substances; or goods that contain ozone-depleting substances
Unapproved food and beverages
Culturally valuable products
Other dangerous items and materials
Rupiah in cash with a certain amount
Export from Bali with Cekindo
To all foreign investors and entrepreneurs who wish to start a trading business or ship products from Bali, make sure you approach a professional business consulting agent to get all the advice you need.
With Cekindo, you do not have to worry about the complicated process and documentation, wrapping, packing, and shipping of your exported goods.
Besides, we provide all the additional information you need to know and end-to-end customized services to help you actively engage with the export markets in Bali.
This includes all up-to-date Indonesian regulations, licensing and export tariffs information, catering to your exported goods, and industry sectors.
Contact us today and make the first step in starting your trading business in Bali.