Investing in Lombok, Bali, and other Indonesian islands is not something new to foreign investors. A reason for its popularity is its growth potential, and how fast its tourism sector recovers from adversity.
Not so long ago, Bali's tourism industry received a heavy blow when the volcano – Mount Agung started showing signs of eruption in November 2017. Inbound traffic took a dip, but the island was able to quickly bounce back, with 14,000 visitors every day – showing an astonishing recovery of over 90% in less than three months. In 1998, when Indonesia suffered a severe financial crisis, the impact on Bali was minimal (when compared to other regions). As the devaluated Indonesian Rupiah acted as a catalyst in maintaining the tourism industry.
While we continue to monitor travel regulations and trends in the tourism sector, the Average Daily Rate (ADR) of hotels in the South Pacific dropped by 10% in March 2020. However, Bali's hotels and accommodations have been able to somewhat rely on its ADR to sustain its business. In 2020, Bali's ADR was 91% higher than the national average. 
The culmination of all these factors showcases that in spite of the tourism sector taking a hit from the pandemic, the prospects for foreign investments still look very promising.
Steps to recover Indonesia's Tourism sector from the pandemic
The Indonesian tourism industry plans to bounce back from the tourist drought by accelerating vaccine drives. In addition, the government also is in talks with Singapore, China, South Korea, India, the Netherlands, United Arab Emirates, Ukraine, and Poland for potential travel bubbles that will allow their nationals to visit sites that have curbed Covid-19 infections. Such measures signify that the government is considering allowing limited foreign travel to uplift the ailing tourism industry. 
In order to support economic growth policies, Indonesia is focused on increasing the number of foreign arrivals, but the country cannot solely rely on Bali. 
Hence, the Government has introduced 10 other top priority destinations (known as 10 New Bali) to replicate the economic effects of tourism in Bali nationally. One of such destinations is Mandalika in the Island of Lombok which lies a stone thrown away from Bali
Indonesia SEZ: Mandalika – The Next Bali
In 2017, President Joko Widodo declared Mandalika as a priority destination, pushing the government towards accelerating the development process in Lombok. The US$3 Billion Mandalika Development Project in Lombok is aiming to have more than 16,000 hotel rooms, a waterpark, a 27-hole golf course, 1,500 villas, and a 4.3km International Race Circuit.
The Integrated Tourist Master Plan (RIPT)-Lombok Island, presently in its drafting stage, is a detailed plan being drafted to develop a resilient, inclusive, and sustainable tourism ecosystem in Lombok. The government plans to improve connectivity from ports and airports to facilitate tourism and also aim to preserve and promote the cultural diversity of Lombok.
SEZ Incentives (Special Economic Zone) in Mandalika
With a bunch of incentives on offer due to its inclusion in the Special Economic Zone (SEZ) list, Mandalika poses to be a lucrative investment opportunity for foreign investors.
12 Million tourists is projected to arrive in 2045 as compared to 2.4 Million in 2018, Lombok Island is expected to become a world-class tourism destination. Here are some key difference, investors should put in mind when considering to start a business in Bali or Mandalika: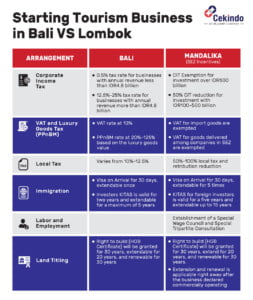 Ensure Your Investment In Lombok Complies With The Indonesia Company Act

Setting up a business overseas comes with its fair share of challenges. A foreign investor might face difficulties while registering their business in Indonesia as they might not be very well versed with various business nuances of the Indonesian Companies Act. 
While you focus on the core business aspect of your Company, Cekindo's comprehensive business solutions can help you in the technical facets of starting a business in Indonesia.
To help your company comply with the accounting and tax reporting rules of Indonesia, Cekindo provides a full selection of services as an accounting agency. On the legal side, our consultants provide legal guidance helping companies to comply with applicable laws and regulations in the country.
To know more about how Cekindo's solutions can help you make investments in Indonesia, please fill out the form below or talk to an expert on our chatbot.