Over the last few years, we have seen the rise of coworking space in Indonesia. Traditionally, coworking spaces are targeted at startups, freelancers, and remote workers, but now they are being utilized by different generations and diverse big companies.
With our workspace environment and technology constantly evolving, coworking spaces are transforming as well to keep up with the pace. These changes are necessary to ensure that coworking spaces will continue to have a positive impact on modern-day business.
Moreover, this list contains 2020 coworking spaces in Indonesia you will see over the next several months.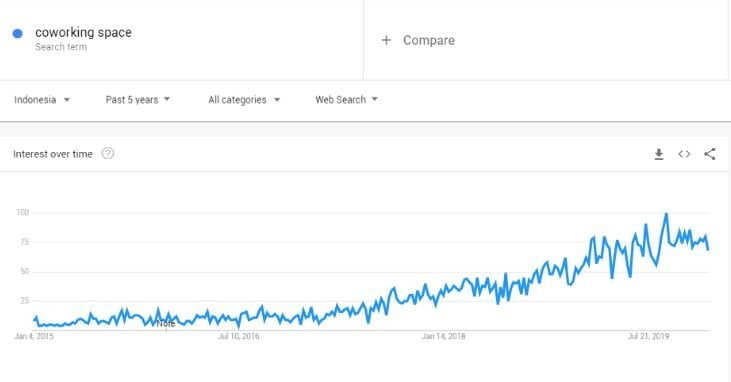 Interest in coworking space in Indonesia over time
Coworking Space Trends in 2020
1. Industry-specific
There are hundreds of thousands of coworking spaces globally and most of them are general coworking settings catering to all industries.
However, with the increasing demand for coworking spaces, coworking innovators and businesses would want to introduce niche or industry-specific coworking to meet their customers' requirements.
What industry-specific coworking space means is that only a particular sector or industry is targeted. Here are some examples; a coworking space for coders and developers; a coworking space for graphic designers and writers; or a coworking space for female entrepreneurs.
Each industry-specific coworking space will require its own special features. For instance, a coworking space for developers, coders, and other IT professionals will have to have a place where they can build and test their initial products.
2. Increased Number
Coworking has become an attractive concept for many businesses; we believe that it will become a full-blown industry that will disrupt a lot of sectors in Indonesia in 2020.
Coworking is not just a trend – it is here to stay and it doesn't seem to be fading away anytime soon.
The reason is simple: the surging demand for coworking spaces means there will be an increased number of coworking spaces in Indonesia as well. Many coworking spaces providers have also expanded their services to cities and regions around the world.
Apart from seeing new buildings being constructed for coworking spaces, you will also notice that many old facilities and current traditional offices will be converted into coworking spaces.
3. Big Corporations Choosing Coworking Spaces
Coworking spaces are enticing for big companies in many ways, such as freedom at work, cost-effectiveness, enhanced productivity, and employee well-being and job satisfaction.
Additionally, most coworking space providers have flexible office spaces in multiple locations in major cities, allowing big corporations to expand their business or strategise their marketing plans.
Generation Z and millennials are expected to be the major workforce by 2030. These younger generations are certainly not the same as their older generations when it comes to job fulfillment.
They also prefer to work in a shared environment that provides flexibility and learning opportunities; a place that boosts their creativity and problem-solving skills; and a community that offers support and networking opportunities.
Large corporations have recognized the change of perception in Generation Z and millennials. Therefore, they make the switch to take in all the benefits coworking spaces can offer.
Choose Cekindo's Coworking Space in Indonesia
At Cekindo's coworking space in Indonesia (currently you can find us in Jakarta, Bali and Semarang), you will be able to put all your focus and energy on managing and growing your business in a laid-back and community-based environment.
We believe in building a diverse active community where members can support one another through ideas, workshops, and networking.
Cekindo takes care of everything involved in managing the coworking space, so you can connect with other people, focus on doing better work.
Let's explore the future with Cekindo's coworking space. Together. Get in touch through the form below.