The healthcare industry in Indonesia remains one of the most profitable investment opportunities for investors from all over the world.
With a population of over 270 million, the healthcare industry in Indonesia has been growing rapidly without slowing down.
The major contributors to this relentless growth are the increased population of the senior population aged over 65 years old and the requirements for more modern and effective treatments and medical equipment.
All aspects of the healthcare industry in Indonesia have shown apparent sales increase over the years, particularly in hospitals, medical devices, and medical insurance.
According to a report from Statistics Indonesia, there are currently more than 17.3 million people that are over the age of 65 and this population will grow further until 2025 with a shocking increase of 40%.
Therefore, Indonesia offers huge opportunities for international investors who would like to set up a hospital or to export medical supplies and equipment to the country.
Also, hospitals and healthcare institutions in Indonesia rely heavily on the import of medical instruments and equipment.
It's no wonder the import of medical equipment in Indonesia reached US$1.6 billion in 2019 and the number of hospitals has been increased to cater to the local demand.
Healthcare Industry in Indonesia: A Rising Demand for Hospitals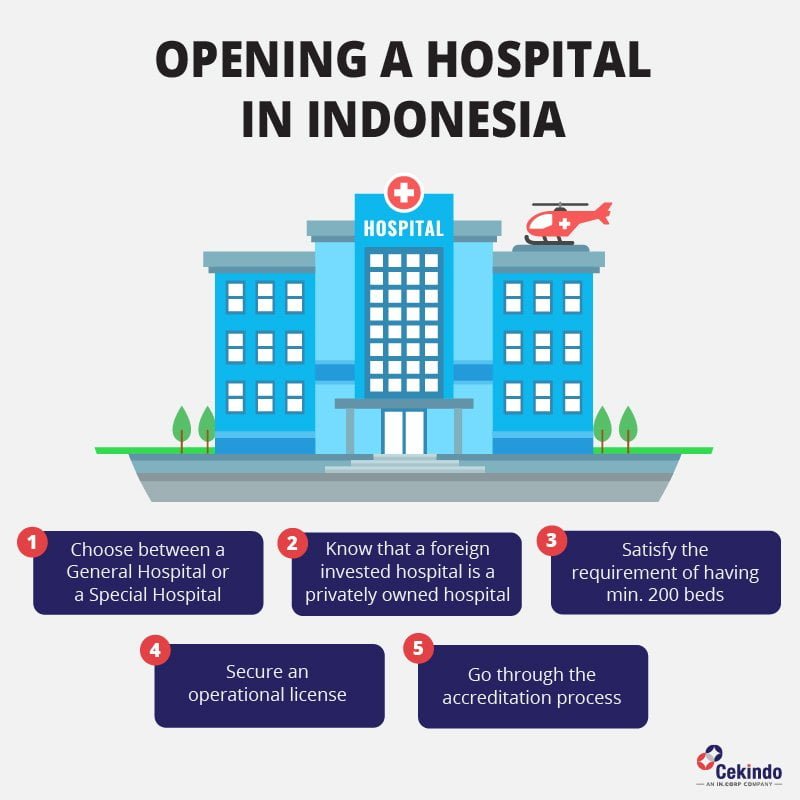 Despite the global economic slowdown, the number of hospitals and healthcare institutions in Indonesia continues to experience positive growth.
Due to the country's rapid growth of the middle class, many hospitals are also expanding their businesses or service offerings to keep up with the heightened demand.
The government has recently revised the Negative Investment List to further open up the healthcare industry in Indonesia for foreigners to get involved. This is to boost the country's economy with better healthcare provisions, as well as to meet the goals of the universal healthcare system (BPJS).
How to Open a Hospital in Indonesia
To open a hospital in Indonesia, foreigners must first establish a foreign-owned company. Foreigners are advised to consult Cekindo to understand the detailed registration and licensing process.
Here are some of the key things that foreigners should know before opening a hospital in Indonesia.
Types and Classifications of Hospital in Indonesia
There are two types of hospitals defined under the law of Indonesia:
General hospitals
Special hospitals
A general hospital provides health services for all kinds of diseases concerning all health sectors; while a special hospital offers primary services within a specific sector or disease.
General hospitals can be classified into four categories: Class A, Class B, Class C, and Class D; while special hospitals are categorized into Class A, Class B, and Class C only. The classification is based on the minimum requirement of the number of beds in the hospitals.
Foreign Investment
Hospitals established through foreign investments belong to privately owned hospitals, and they must have a minimum of 200 beds.
Accreditation
Following the Indonesian Regulation 3/2020 on Classification and Licensing of Hospitals, all hospitals including those through foreign investments must go through the accreditation process. The process must be completed in two years to secure an operational license.
How Cekindo Can Assist
Indonesia has a rapidly developing economy that is suitable for the healthcare industry. The country has been developed into one of the best medical and healthcare communities in Southeast Asia and can compete on an international scale.
For foreign investors who are planning to start a hospital in the healthcare industry in Indonesia, Cekindo can help with the business setup through a systematic procedure.
Foreign investors are expected to receive an easy-to-follow process from Cekindo for successful business formation in Indonesia.
If you'd like to speak with one of our legal experts, please contact us through the form below.