Indonesia's burgeoning middle class and the initiation of the universal healthcare scheme by the government are acting as catalysts in boosting the country's demand for healthcare. Moreover, with the introduction of the Positive Investment List, foreign investors now enjoy a larger stake in certain sub-sectors such as hospitals, specialized clinics, and medical equipment. From 100% FDIs to reforming regulations for ease of doing business, the government is leaving no stone unturned to attract foreign investors.
Indonesia Healthcare Industry: Opportunities for Establishing a Hospital in Indonesia
Indonesia has set aside USD 3.5 billion from its 2021 budget to support universal healthcare coverage, demonstrating the government's determination to improve the country's healthcare system. Indonesia's universal health care program, known as BPJS in the country, began just six years ago. It is the world's biggest universal health insurance scheme, with over 200 million people covered. However, this scheme is in need of reform for the lack of investment in the industry.
The BPJS, which includes medical treatments ranging from simple dental check-ups to more serious operations, has increased the demand for healthcare services and raised widespread awareness of the importance of caring for one's health. However, one of the most pressing issues in the country is a lack of physicians and hospital beds — there are just 0.4 doctors and 1.17 beds per 1,000 people, the lowest rate in ASEAN.
The spiking demand and recent ease in regulations in the healthcare industry have set the stage for foreign investors to step in and fill the gap.
How To Establish a Hospital in Indonesia: Classifications and The Requirements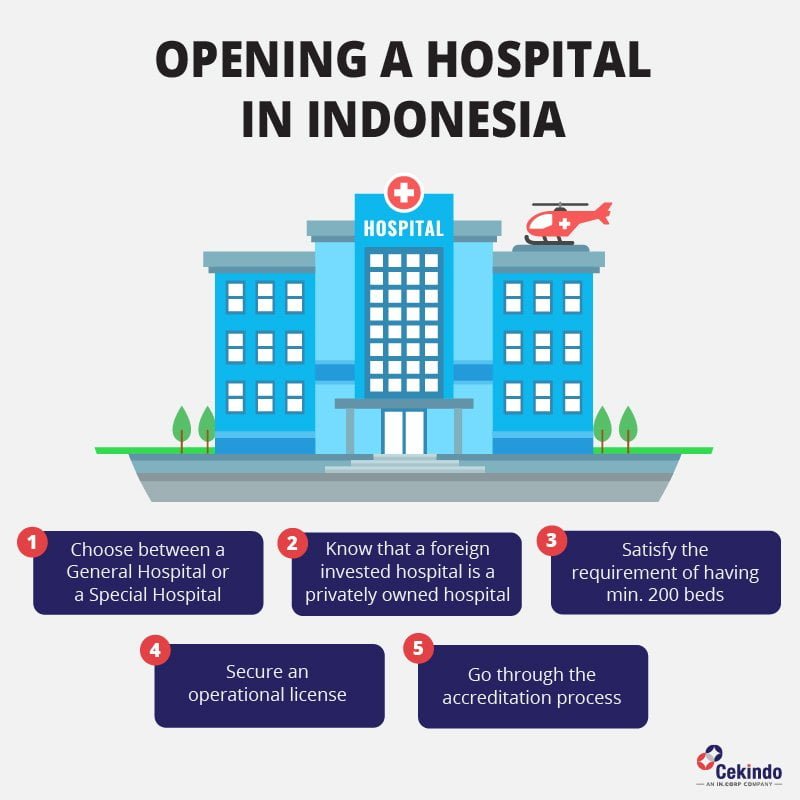 Foreign Ownership
Previously, foreign ownership of clinics and private hospital in Indonesia was limited to 67% for non-ASEAN nations and 70% for ASEAN countries. With the introduction of the Positive Investment List, such limitations have been lifted under the present regime and these economic operations are now open to 100% foreign direct investment.
However, other types of healthcare facilities classified as 'Pratama Clinic' activity (i.e., private maternity homes, general medical clinics, residential health services, and basic health care facilities) remain closed to foreign direct investment and reserved solely for domestic Cooperation and SME players.
Hospital Classification in Indonesia
According to Article 16 of GR 47/2021, hospital in Indonesia is categorized based on the number of inpatient beds. The details as follows:
Type of Hospital Classification

    Number of Inpatient Bed

Class A
Class B
Class C
Class D
General Hospital
Min. 250
Min. 200
Min. 100
Min. 50
Specialty Hospital
Min. 100
Min. 75
Min. 25
–
A separate minimum inpatient bed requirement applies to foreign-owned hospital in Indonesia. The following are the minimum bed criteria for a foreign-owned general and specialty hospital:
general hospital to have a minimum of 200 inpatient beds;
specialty hospital to have a minimum of 100 inpatient beds.
However, certain types of hospital in Indonesia are exempt from the aforementioned restrictions. Dental hospitals, ear, nose, and throat hospitals, and head and neck hospitals are among the facilities that qualify for this exemption.
Risk-based Classification for Hospital Business in Indonesia
According to Appendix I of GR 5/2021, the following operations of medical facilities and clinics are classified as high risk, with the following details:
| | | |
| --- | --- | --- |
| Business Activity | Risk Classification | Business Licensing Requirement |
| Private and Government-owned Medical Hospital (KBLI 86103 and KBLI 86101) | High | (i) Business Identification Number/Nomor Induk Berusaha ("NIB"); (ii) Business License; and (iii) Standard Certification |
| Private and Government-owned Main and Pratama Clinic (KBLI 86104 and KBLI 86105) | Medium-High | (i) NIB; and (ii) Standard Certification |
Additional Mandatory Services
All hospitals in Indonesia must now provide the following new supporting services:
| | |
| --- | --- |
| Service Provider | Supporting Service |
| Medical staff | Laboratory services, medical record services, blood services, centralized sterilization services (Art. 10 (2) of GR 47/2021). |
| Non-medical Staff | Hospital management services (Art. 10 (3) (a) of GR 47/2021) |
Compulsory Isolation Facilities: Any type of hospital (private or government-owned) must offer inpatient beds for isolation facilities with at least the following components, according to Art. 19 (1) and (3) of GR 47/2021:
Under normal circumstances, a minimum of 10% of total inpatient beds must be allocated by hospitals;
However, during a public health emergency or epidemic, government-owned hospitals must set aside at least 30% of their total inpatient beds, while privately owned hospitals must set aside at least 20% of their total inpatient beds.
The ongoing COVID-19 pandemic, in which isolation facilities are desperately needed in hospitals, is likely to support the aforementioned obligatory allocation for isolation facilities.
Establish Your Foreign-Owned Hospital in Indonesia with Cekindo
Foreign investment in the Indonesian healthcare sector is more attractive than ever, however, breaking into a new market can be a daunting task. Cekindo provides a comprehensive set of services to assist you to streamline the company registration process and secure the necessary licenses.
Our legal consultation services will help your business settle and comply with applicable laws and regulations in Indonesia. Experts at Cekindo also help in carrying out extensive market research and due diligence activities to help you assess the credibility of the company or partner you want to invest in or work with.