The current economy and remote work trend have had a massive impact on the work environment globally. Entrepreneurs, freelancers, professionals and corporations have abandoned the conventional office setting to a modern, flexible and productive coworking space to do their creative work and run their businesses, including in Semarang, Indonesia.
Coworking space in Semarang did not just start as a fringe trend; it continues to be popular and grow rapidly due to the increasing number of remote workers, startups and freelancers.
Also, this concept of flexible workspace comes with essential services associated with a traditional office: conference and meeting rooms, dedicated workstations, a kitchen, high-speed internet, access to photocopiers and printers.
What is more, the custom membership packages are designed to suit different needs of businesses and individuals.
In this article, Cekindo will explore the five important uses of coworking space in Semarang you may not be aware of.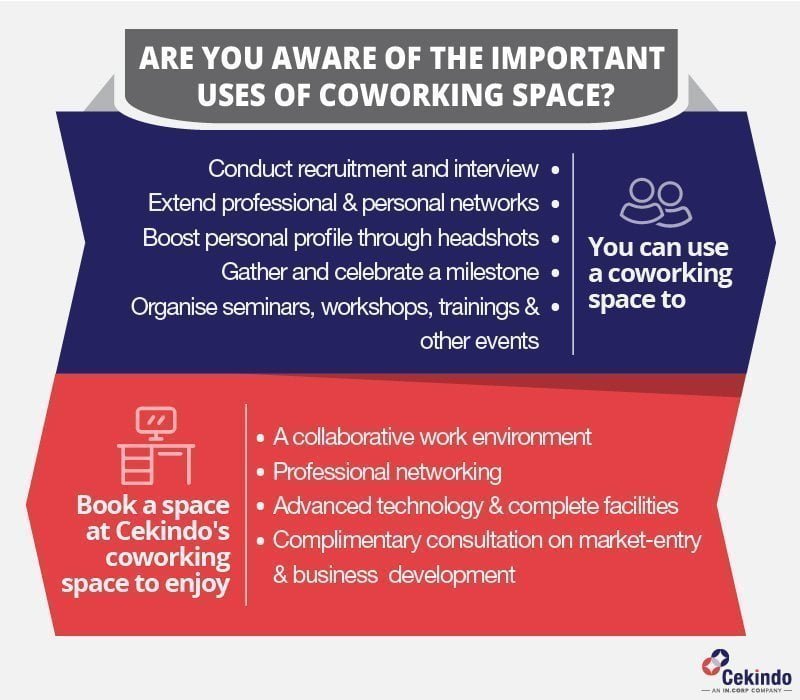 5 Important Uses
1. Recruitment and Interview
If you are an entrepreneur and travel a lot, it can be awkward if you go through the interview of your potential remote worker at your hotel lobby.
In most cases, candidates will be hesitant to join your company if you don't have a professional environment to do so.
A coworking space offers you a place to proceed with the hiring and meeting without having to make a long-term commitment.
Just rent the conference room or meeting room at a coworking space to show your candidates that you have an established business.
2. Meet-ups and Networking
Take the benefits of coworking spaces further; you can use the venue of a coworking space for different workshops, events, and meet-ups.
These events and meet-ups are not just about meeting people and drinking coffee, it's about having an ideal venue to share knowledge, network and build personal and business relationships.
These people you meet may help you out in the future as they are crucial resources that are readily available when you need them. Even better, some of them will end up becoming your good friends who can give you mutual rapport.
3. Headshots for Your Professional Profile
It is very popular these days that people use the modern and creative environment of coworking spaces as the backdrop of their professional headshots for their profiles.
The headshots can be used for professional profiles on Facebook, LinkedIn, and your resume.
4. Gatherings, Parties and Celebrations
Nowadays, coworking spaces are also event venues for rent. You can rent a coworking space for events such as birthday celebration parties, wedding parties, book release activities, gatherings, and other occasional events.
The space provider may even provide you with food and beverage catering services, be sure to check them out.
5. Seminars, Workshops and Corporate Training
If you are a new business and have something to share with your target audience for them to know your business more, you may hold a seminar or workshop at a coworking space.
For instance, a motivational speaker may book a space at a coworking space for his/her speaking event, and then advertise his/her self-help book at the same time. You can also hold corporate training at a coworking space as well.
Why Choose Cekindo's Coworking Space in Semarang
Cekindo's coworking space in Semarang is a collaborative work environment where different professionals and entrepreneurs gather.
Here, you can feel comfortable working on your own projects, while having the opportunities to share, engage and create together with others.
Other benefits include increased productivity through better focus, and more powerful meetings through well-designed meeting rooms.
With different memberships suited to all your requirements, facilities, workshops, and networking events, Cekindo's coworking space lets you enjoy a lifestyle and working style that go far beyond the office desk.
Simply fill in the form below and book a tour to our coworking space in Semarang.