Opening Digital Banks In Indonesia – A Right Move For Foreign Investors Now? And Can They?
Indonesia's banking sector is marching towards a digital revolution. Indonesia's Central Bank – Bank Indonesia, estimates that digital banking transactions are expected to reach IDR 32,206 trillion (US$2.3 trillion) by the end of 2021. A substantial increase from IDR27,036 trillion (US$1.9 trillion) in 2020. 
A recent survey conducted by Bank BTPN showed the gap between digital and ATM transactions is widening, which 83% of respondents choosing mobile/digital payment, compared to 71% prior the pandemic.
Financial Exclusion Is Not A Problem Just In Rural Indonesia
Despite having over 1,600 licensed commercial and rural banks, Oxford Business Group's latest studies showed 83.1 million Indonesians remain unbanked – the fourth-largest in the world. 
While the majority of the unbanked live in rural areas, where the absence of bank branches makes it impossible to gain access to banking services. Financial exclusion is not exclusive to developed cities or regions in Indonesia. Research conducted by PwC in 2019, showed 74% of Micro, Small, and Medium Enterprises (the majority of businesses in Indonesia) are still excluded from formal financial services. 
Indonesia's Banking Sector – Turning Digital
The size of Indonesia is a double-edged sword, though rich in natural resources, accessibility remains a challenge. 
By 2025, 89.2% of Indonesia's population are expected to own a smartphone. While the highest share of smartphone ownership is found in the Jakarta Greater Area, rates in rural areas have also seen a gradual increase from 47.3% in 2015, to almost 55% in 2019. The idea of smartphones bridging the geographical divide is not new. However, a smartphone is nothing but a device, if the Indonesian banking industry and the government, do not come together to innovate and curate better customer experiences.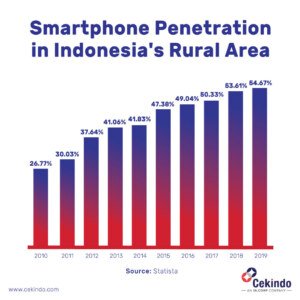 Banking-as-a-Service (BaaS) has been gaining traction in Indonesia, and it could be the gateway to placing financial services into the hands of mobile-savvy Indonesians. 
BaaS is a service where banks provide integration with their IT systems via an open API. In short, it is 'renting' its back-office service (as a white-label solution) to other businesses, to help build banking features or apps. With the continuous expansion of digital economy platforms, such as ride-hailing services, BaaS has the capabilities of integrating financial services into digital platforms that have mass adoptions. Moving banks towards a more consumer-centric and efficient business model.   
Grab, one of the newest players in Indonesia's ride-hailing market, saw 19% of its motorcycle drivers and 12% of its taxi drivers open their very first bank account when they joined Grab. Because the process for receiving their pay from ride-hailing gigs requires a bank account for transfers. This process has also encouraged drivers to save money on a regular basis with average savings from IDR890,000 to IDR1.4 million a month. The regular income in a bank account has provided drivers more access to lending, as financial institutions trust them more. This encourages them to take loans to further grow their business, or invest in new motorcycles or cars, converting them into regular banking customers.
How To Start A Digital Bank In Indonesia
Given its large and untapped market size, coupled with mass digital adoption in and outside developed cities, tech giants in Indonesia have realized the potential in digital banking sectors.
However, the Banking Supervision of Indonesia's Financial Services Authority (OJK) is still in the midst of drafting a comprehensive set of regulatory frameworks for this sector. In the meantime, it is encouraging investors to acquire and consolidate its 1,600 commercial and rural banks in lieu of issuing new banking licenses. 
This means mergers and acquisitions (M&A) is the only way for local and foreign investors to access Indonesia's digital banking market at the moment. 
Indonesia's first decacorn ride-hailing startup, GO-JEK recently invested US$ 160 million in Bank Jago while Singapore's Sea Ltd. also acquired a local low capital bank, Bank Kesejahteraan Ekonomi (BKE), betting their headway into one of the world's largest unbanked market. 
M&A in the banking sector is regulated by OJK Regulation, under its New Bank and M&A Rule. Regulation No. 41 of 2019 outlines five types of M&A transactions in Indonesia's banking sector;
Merger: A legal action that causes all assets and liabilities of the acquired bank to be transferred to the acquiring parties. 

Consolidation: All assets and liabilities are legally transferred to the newly-formed bank

Acquisition: A change of control of the bank by legally acquiring a majority of its shares and assets. 

Integration: A legal transfer of assets and liabilities of the Foreign Bank Branch to the Indonesian bank.

Conversion: Converting a foreign Bank Branch's business license into an Indonesian bank business license.
M&A Process For The Indonesia Banking Sector
The process starts with both parties agreeing to either a merger, consolidation, acquisition, or Integration to OJK through a set of documents. The documents listed out on OJK's website are an Acquisition Plan, along with the draft of the acquisition deed. It is also important to note that the controlling shareholder will need to pass a Fit and Proper Test (also commonly referred to as Penilaian Kemampuan dan Kepatutan).
OJK will review and inspect the source of funds of the M&A transaction, and issue a clearance. Both parties then need to make a public announcement within two business days following the issuance of the clearance. 
In line with The Company Law, creditors can submit an objection within 14 days after the public announcement is made. The M&A transaction cannot be concluded until all creditor's objections have been settled. 
At this stage, the two parties shall then sign an M&A deed in notarial deed form and submit it along with the amendment of its articles of association to the Ministry of Law and Human Rights (MOLHR). The Integration approval shall be effective upon MOLHR approval. 
How Cekindo Can Assist
The Indonesian Digital Banking Market shows much promise and is a grand avenue for foreign investors to break into a fairly new market. Thorough market research by our experienced professionals will help you carve a roadmap of the prospects of your investment and the concurrent risks involved. As new entrants rely on merger and acquisitions, it is imperative to carry out detailed background checks. 
Our consultants thrive on providing accurate reports on due diligence and background checks to assess the credibility of your prospective partner. With new regulations being formulated by OJK, our legal team will make sure you stay on top of all the regulatory and statutory aspects of your business. 
To find out how Cekindo's tailor-made solutions can help you, please fill out the form below.