Video and internet games have gained massive attention across the globe as people are refraining from playing traditional sports due to Covid -19 restrictions. Thus, boosting the mobile video games industry from USD 61.3 billion in 2019 to USD 98 billion in 2020. One of the major countries that have significantly contributed to the global gaming industry is China.
China's online gaming business is exploding in popularity, firms from all over have been buying Chinese company stocks or sponsoring elite eSports gamers. The online game market in China was estimated at USD 58 billion in 2020 and is anticipated to reach approx. US$86 billion by 2027.
However, for some of China's mobile game creators, their biggest download numbers came from Indonesia, thousands of kilometers away from their own country.
Over 270 million people live on Asia's biggest archipelago, where Made in China games are the top three sellers. After it had been downloaded more than 100 million times by January of last year, "Mobile Legends: Bang Bang" is still number one on Apple's iOS App Store. In China, the game has not even been released in the market yet.
Such insights convey that setting up a gaming company in Indonesia might be a viable alternative for Chinese game makers as the Chinese government tightens its regulations on the gaming industry.
Why Chinese Developers Should Turn Their Focus on Indonesia Gaming Market
Stricter Gaming Policy at Home
In 2000, the Chinese State Council passed a measure to control video game content in the country. Underage players were limited in the amount of time they may spend playing online games in internet cafés and arcades as part of a government initiative to combat what was perceived as a gaming epidemic.
Furthermore, from March 2018 to April 2019, there was a major revision of the regulations and licensing of digital games in China, including:
Stricter game content regulations
A limited number of games to be approved each year
Imposed anti-addiction systems as a mobile game's standard
Mini-Games and HTML 5 games must have a license
Publishers must self-regulate before submitting games
Prioritizing games that promote the traditional culture and history
Loot boxes must be heavily regulated
Chinese developers can submit foreign IP as a domestic title
Recently, Chinese authority also imposed strict limits on the time young people can spend playing online games. People under the age of 18 is only allowed to play games starting at 8-9 PM on Friday, Saturday, Sunday and public holiday.
As a result of these tighter regulations, many new Chinese gaming firms have changed their strategy to focus on the Indonesia gaming market and leveraging its potential.
Understanding Indonesia Gaming Market and its Key Drivers
Indonesia gaming market is ranked 17th in the world, and first in Southeast Asia, with an estimated USD 1.1 billion of sales in January 2019. According to the Indonesian Gaming Association (AGI), the local gaming sector is growing at a pace of 37% annually, greater than other Southeast Asian nations.
Cited from Limelight Networks' report, Indonesians spent roughly 8.54 hours/week playing video games, slightly above the global average of 8.45 hours/week. This number place Indonesia in the fourth place just below China, Vietnam, and India.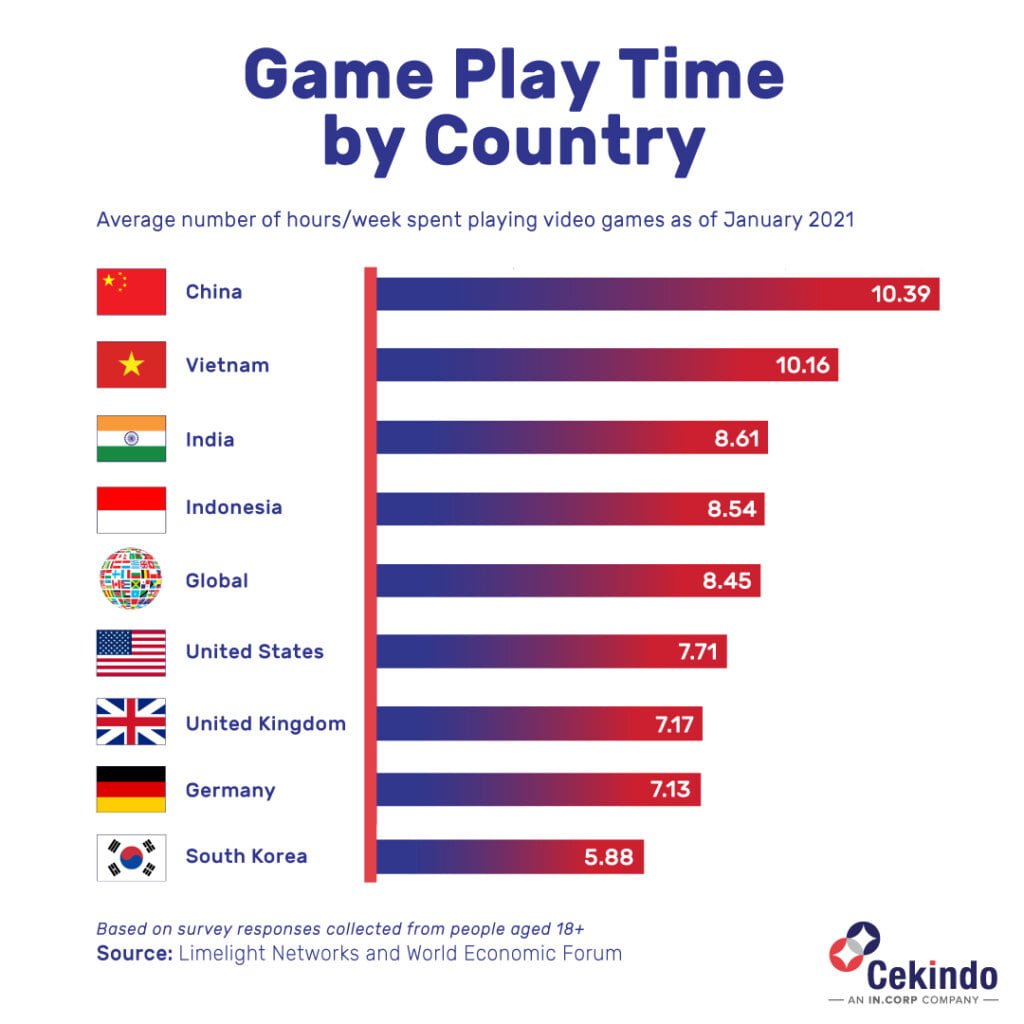 These following factors contribute to the positive performance of the Indonesia gaming market in the past several years:
Indonesia's Growing Smartphone and Internet User
An estimated 89.2% of Indonesians are anticipated to own a smartphone by 2025. The proportion of smartphone users in rural regions has also risen from 47.3% in 2015 to approximately 55% in 2019, while already being dominant in urban areas. In January 2021, Indonesia had a total of 202.6 million Internet users. Between 2020 and 2021, the number of internet users in Indonesia rose by 27 million (+16%).
Hence, it is quite evident that online mobile gaming will continue to dominate the Indonesia gaming market due to the increasing number of smartphones and internet users.
A Growing Opportunity from eSport Industry
Southeast Asia's esports sector is mostly driven by Indonesia. In 2021, Southeast Asia will have 274.5 million gamers, with Indonesia accounting for 43% of this total. A total of USD 2.08 billion was generated by Indonesia's eSports industry. Moreover, Indonesian gamers conduct in-game transactions one to three times a month, presenting an ideal opportunity for eSports to collaborate with the financial institutions for greater returns.
Government Support
The Indonesian government reassures that eSports will have a beneficial impact on the country's economy and athletes' performance. In addition to teaching, the government is beginning to establish rules to promote the development of eSports, including licensing and other requirements. E-sports events and competitions are also supported by the government. It has been decided that the ministry will continue to educate the public and create an awareness of e-sports, which have comparable values and principles to traditional sports.
Challenges in Indonesia Gaming Market: Opportunities for Foreign Investors
Telkom, Indonesia's state-owned enterprise, reports that domestic gaming only controls a 0.4% market share in the country. Due to a dearth of investment and a scarcity of game developers, the number of local gaming firms is stagnant.
To solve this problem, the Indonesian Government acknowledges a video game creation as one of the promising sectors to attract foreign investment. It was then listed in the latest Positive Investment List to combat the lack of investment in the gaming sector.
| | | | | |
| --- | --- | --- | --- | --- |
| KBLI | Sectors | Business Activities | Categories | Foreign Ownership |
| 62011 | Video Game Development | Game concept design activities, video game-related animation creation, sound and music creation, video game testing, video game software development, graphic asset creation, and other support for video games.  | Priority | 100% |
Several incentives will be available to investors tapping into Indonesia gaming market:
Foreign businesses qualifying for the priority group receive tax breaks and other benefits.
Corporate income tax rates for capital-intensive enterprises exceeding IDR 500 billion are cut 100% for up to 20 years.
Under Indonesia's tax holiday policy, investments of IDR 100 billion to IDR 500 billion would be eligible for a 50% discount in corporate income tax under Peraturan Menteri Keuangan No 130/2020.
Tapping The Opportunity in Indonesia Gaming Market with Cekindo
Business setup services offered by Cekindo include incorporation of a new company, legal consulting, and bookkeeping.
Foreign investors are assisted in getting business permits by our experts prior to company formation, and their due diligence and market research are properly followed upon by our experts. HR, tax, and accounting are just a few of the vast range of services we provide once the company is operational.