When talking about manufacturing in Indonesia, of course, Jakarta is still the biggest destination followed by Bali, Indonesia's most popular island.
However, the property cost might be one of the biggest obstacles that should be considered before conducting a new manufacturing business in Indonesia.
In 2022, many investors will opt to move their production to Semarang. No wonder, because Semarang offers a cost-effective solution to develop manufacturing compared to Jakarta and Bali.
Manufacturing in Indonesia: Semarang's Investment Opportunities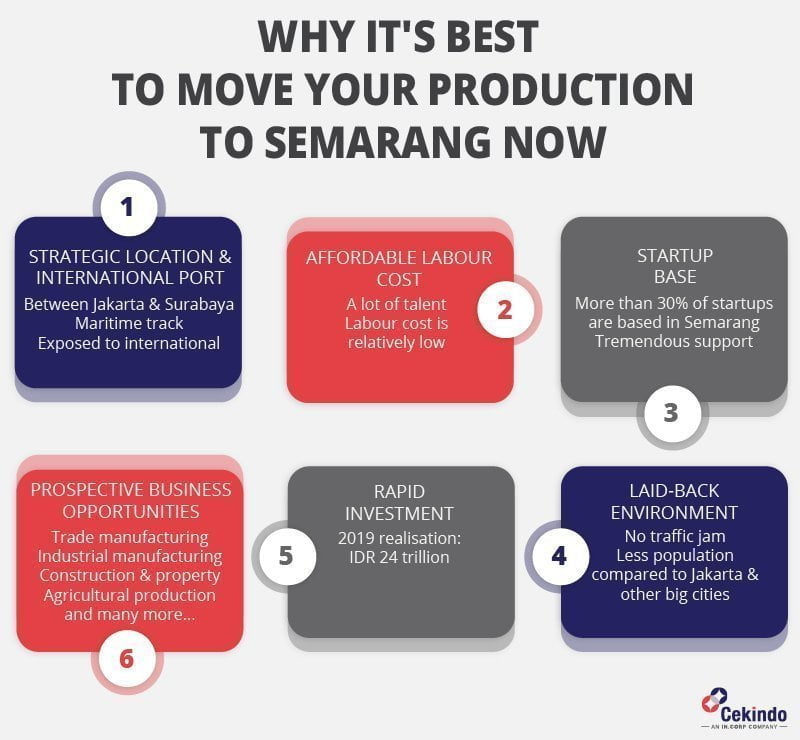 Why Semarang?
Semarang has been known for its strategic location to Indonesia's maritime track as an important port with its access to the Java Sea. No wonder, this city has been chosen as one of the most influential trade places which connect Java and other islands as well as other countries since Dutch colonisation.
Semarang's port also contributes to manufacturing in Indonesia since decades ago for its strategic location exposed to international markets.
Aside from that, Semarang is also located right in the middle of Jakarta and Surabaya, both are the biggest cities in Java Island with its huge domestic markets.
Moreover, based on the research conducted by startupranking.com in 2017, 31% of startups in Indonesia were based in Semarang, and it keeps growing more and more.
On top of that, the Semarang government plays a huge role in supporting the startup's development in their city by facilitating the startup ecosystem. The Semarang government also believes that the development of startups can also boost their city's economic growth, which is entirely true.
Prospective Business Opportunities
Central Java is well known for its agricultural, industrial and trade manufacturing. This was proven by Letter of Interest (LOI) in the Semarang Business Forum which was held in late 2019.
More than 400 international and domestic companies in total alongside potential investors and national figures attended this forum to discuss the potential investment in Semarang.
As a result, 11 companies have initiated LOI with a total of US$ 3.02 trillion, consisting of investment in multiple sectors such as health, trading, property, hospitality, and construction, indicating the prospective investment offered by Semarang. The biggest investment was initiated by Taizhou Fuling Plastic Co. Ltd. in the industrial sector with the amount of US$ 15 million.
Property is the most interesting sector in Semarang, consisting of six companies as investors. Another company that contributes to industrial sectors is Randugarut Plastic. Brantas Abipraya, one of the state-owned enterprises also contributes to the investment in construction sectors while Citra Grand Hotel Management is the only contributor toward the hospitality sector.
Investment Realisation in Semarang
Aside from its rapid investment which supports manufacturing in Indonesia, Semarang also offers its potential economic growth with the amount of 6,52%, supported by its investment realisation reaching 24 trillion rupiahs in late 2019.
Investment realisation could be one of the most important factors to achieve 7% economic growth soon which will also support Semarang in manufacturing in Indonesia.
Cekindo's One-Stop Services Make Your Business Setup in Semarang Easier and Faster
Starting a business in Indonesia can be quite challenging, especially if you're quite unfamiliar with Indonesian's target market as well as its regulations and requirements.
Cekindo can support the entire aspects of your business setup with services such as company registration, work permit and business licenses.
Contact us by filling in the form below to discuss the best way to set up your manufacturing business in Semarang.