Situated on the island of Sumatra, Medan is Indonesia's fourth biggest city that has been thriving with multibillion-dollar industries such as palm oil and tourism. Last year, the number of foreign tourist arrivals in Medan hit approximately 123,000 people (a 12.2% growth) in just the first quarter.
With Lake Toba being the top travel destination for foreign tourists in Medan in 2019, other parts of Medan have seen travelers from all over the world as well. Among the foreign tourists, most of them are from Malaysia, followed by Singapore and other ASEAN member countries.
The Indonesian government is also planning to accelerate the development of Lake Toba with an investment of IDR 1 trillion from both state budget and private investors, to propel the Medan tourism and business opportunities to a new level. Tourism and foreign investments in Medan are expected to have a transformative impact on the city's quality of life and economy.
Medan Visa Options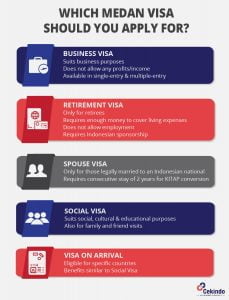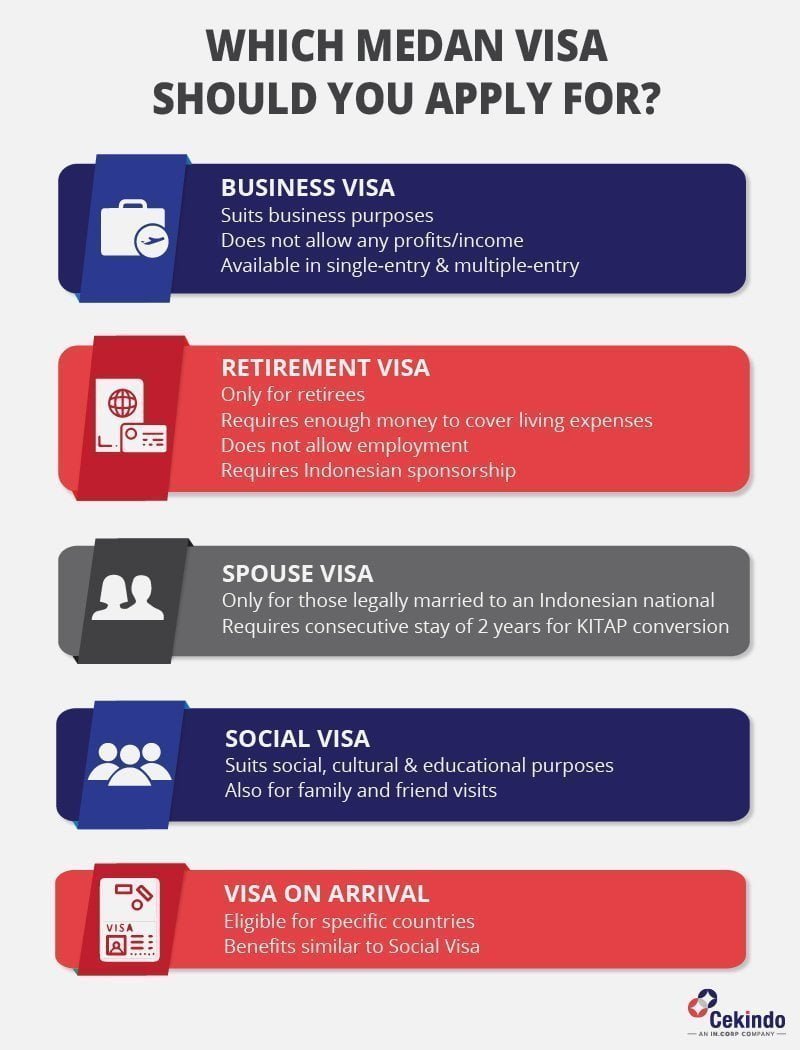 For foreigners to get into Medan as a tourist or an investor, you will need a specific type of Medan visa to do so.
The rules and regulations for Medan visas have changed a lot over the years and here is the latest list of Medan visa options Cekindo has put together.
Business Visa
When you plan to come to Medan for business meetings, negotiations, conferences, training and other business activities that don't involve profit generations, this is the right visa for you. There are two options for a business visa, single-entry business visa and multiple-entry business visa.
With a single-entry visa, you can enter Indonesia once and stay in the country for 60 days; with a multiple-entry business visa, you can enter Indonesia several times a year but the maximum days for each stay is also 60 days.
Retirement Visa
A retirement visa, or retirement KITAS/ITAS, is applicable for foreigners who want to stay in Medan temporarily for their retirement purpose.
Retirees who apply for this visa must have proof that they have enough money for their living expenses while they are staying in Indonesia.
They are not permitted to work in any circumstances and a local Indonesian sponsor is mandatory for the application.
Cekindo offers retirement visa sponsorship for your convenience, please talk to us for more information.
Spouse Visa
A spouse visa is only granted to you when you are the legal spouse of an Indonesian citizen.
This is a spouse-sponsored KITAS that lasts only a year and can be changed into a KITAP once you have stayed in the country for two years consecutively.
Social Visa
The purpose of a social visa is for foreigners to visit family and friends, and participate in educational, social and cultural activities. This visa is valid for 60 days, and extension is possible every month for up to a total of 180 days.
Visa On Arrival
Not all countries are eligible for a visa on arrival. Foreigners from specific countries can obtain a visa on arrival for holidays, social visits and non-profit business purposes, as long as the foreigners fulfill the set immigration criteria.
Consult with Cekindo before Applying for Your Visa
When you need to get your Medan visa processed reliably and quickly, Cekindo is here to help.
Cekindo has been a part of many investors' and foreigners' entrepreneurial and travel dreams for over a decade.
Our personalised visa services make your entrepreneurial journey and travel experience simple and hassle-free. Our team of visa specialists offers you a detailed walk-through of the visa application process and help you from the ground up.
Contact us by filling in the form below.