When talking about mixed marriage in Indonesia, there are plenty of things to learn and understand. For example, if an Indonesian citizen marries a foreign citizen, the Indonesian counterpart may lose their right to hold a Freehold Title (SHM) of a piece of land since their foreign counterpart does not have the right to hold the Freehold Title in accordance with Indonesian Agrarian Law. Nonetheless, entering into a nuptial agreement, be it prenuptial or postnuptial, will give them a different scenario. This article discusses postnuptial agreement in Indonesia.
A postnuptial agreement in Indonesia helps you take control of your rights and carry out your obligations during your marriage with your Indonesian spouse – if your relationship were to end.
Read on to understand more about what a postnuptial agreement is and how you can go about obtaining one.
What is a Postnuptial Agreement in Indonesia?
A postnuptial agreement, or post-marital agreement, is a legal contract created for spouses who have entered into a marriage in Indonesia. This agreement provides details on how the married couple's assets and income will be divided when they separate.
Unlike prenuptial agreements, postnuptial agreements are not stated in the Indonesian 1974 Marriage Law. However, Indonesian Civil Code does mention about postnuptial agreement especially on property division and thus, it still has its legal effect.
Why should Mixed-Marriage Couples Get a Postnup in Indonesia?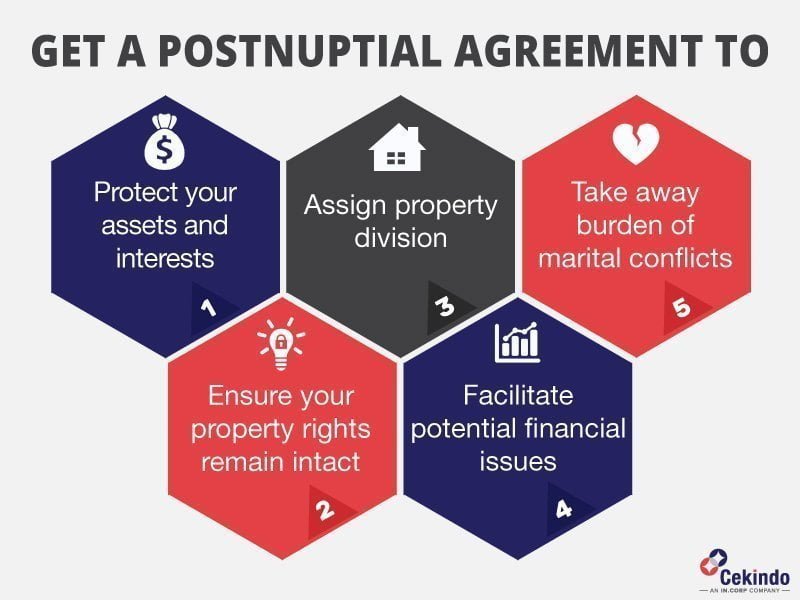 Postnuptial agreement is absolutely necessary for mixed-marriages couples in Indonesia to protect their assets, especially for those who do not have a prenuptial agreement. An Indonesian spouse is excluded to own a property when they are married to a foreigner. It means that their right to own property in Indonesia may be in danger.
With a postnup, mixed-marriage couples in Indonesia can assign property division in the event of separation or death and will be effective from the signing date. A postnup is still powerful if you don't have a prenup because it is signed after your marriage and it is absolutely legal.
A postnup is a common choice for most mixed-marriage couples in Indonesia who have no prenup at first. You can get this done easily through a reputable legal consultant to protect your assets in the future.
Without the postnup, there are cases when some mixed-marriage couples purchase fake identity cards, or make use of their family member or relative's name to buy a property. All these measures are highly questionable and you may risk suffering a much bigger loss if these measures turn out to do more harm than good.
All in all, a postnup in Indonesia ensures that you can execute your right to own a property legally in the country without having to depend on others.
How Cekindo can Assist with Your Postnup Agreement
A postnup agreement helps married couples stay together by taking away the burden of marital conflict and facilitating conversations about potential financial issues.
However, postnuptial agreements in Indonesia can be complex and difficult to understand.
Cekindo can help you know your rights and how you can protect your interests. Our experienced legal consultant can assist you to come up with a postnup agreement.
For advice on entering into a postnuptial agreement in Indonesia, get in touch Cekindo now for a confidential and free initial consultation. Start by filling in the form below.