Many propelling reasons make Indonesia a favourable destination for entrepreneurs to start an online business. These reasons include the maturing digital infrastructure, supportive governmental policies, expanding internet penetration, and rapidly growing population. Particularly for e-commerce, this sector is forecast to dominate the digital industry by 60%.
Cekindo is listing out some key considerations before starting an online business in Indonesia.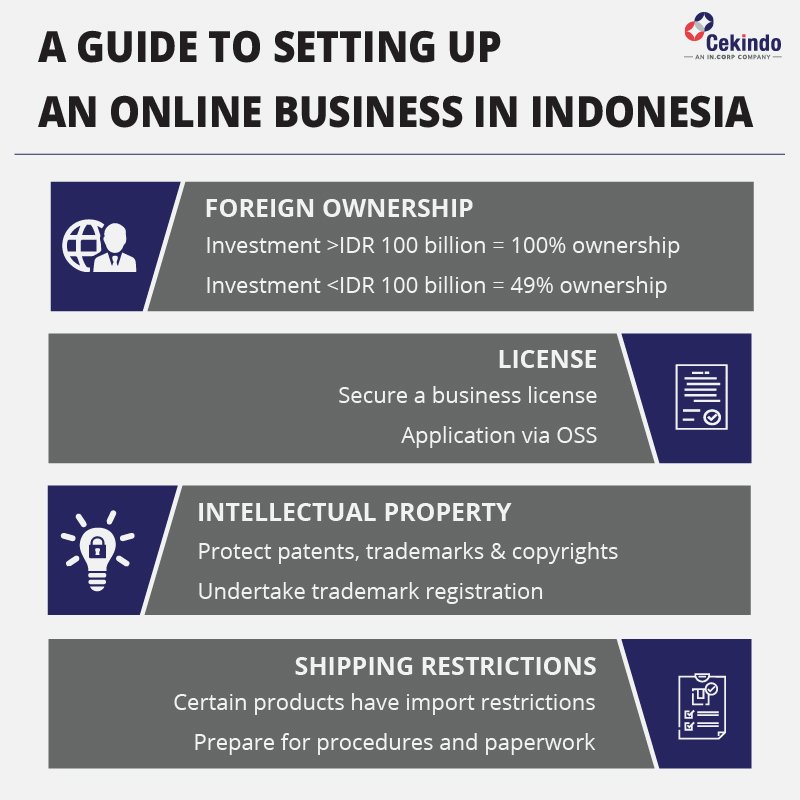 Starting an Online Business in Indonesia
1. Market and Customers
Knowing your target market and customers is the most important thing to do when you want to establish a rewarding online business. The online market is filled with so many competitors and that's why you need to carefully assess the market and customers to ease your entry to this lucrative space.
If you have already had an existing business, taking your existing products or services online makes your online venture much easier.
However, if you are a new seller, do take the time and necessary resources to study about your products and your customers. When gaining knowledge about your customers, try to be in your customers' shoes and think about the problems they are encountering. Then, come up with a solution or product that will help counteract their issues.
2. Online Places to Sell Products
The online space is full of places that you can choose from to run your business. Be mindful to select the right platform where your desired target customers and audiences are located.
The two most popular platforms to sell your products or businesses online are the web stores and e-commerce marketplaces. Popular platforms of web stores in Indonesia are Shopify and Magento; notable online marketplaces in Indonesia are Zalora, Lazada, Qoo10, BliBli, Matahari Mall, JD, and many others.
You can operate your business on either of these platforms or sell on both of them. If you are selling on multiple digital platforms, you are looking at generating 190% more revenue. Selling on multiple channels is considered the best option for entrepreneurs in Indonesia to grow their business more quickly.
3. Legal Matters
It is rather easy to set up an online business in Indonesia but having a successful online business will require a lot of determination and effort. You must have the proper paperwork in place and adhere to legal requirements.
Licenses and Permits
It is compulsory to acquire a business license for your online business in Indonesia before you can start selling digitally and legally. Entrepreneurs shall apply for their online business license through the Online Single Submission (OSS) system.
Foreign Ownership
Foreign investors can own up to 100% shares of an online business they establish with a minimum investment capital of IDR 100 billion. With less than IDR 100 billion investment capital, the maximum foreign ownership is 49%.
Patents, Trademarks and Copyrights
Don't get yourself involved in any copyright and infringement issues when you sell online. Don't take someone else's work and don't let anyone take credit for your work as well. Consult a professional for any patent, copyright and trademark matters.
Shipping Restrictions
Products such as alcohol, perfume, vegetables, and fresh fruits can only be imported to Indonesia with certain restrictions. So you will have to deal with some procedures and paperwork to get them into Indonesia.
Read also: New Requirements for Ecommerce Businesses to Take Place in November 2020
How Cekindo can Assist
Cekindo has made the process of setting up an online business in Indonesia efficient with simplicity in mind. You do not need in-depth knowledge of the Indonesian customs and laws if you choose us as your partner to establish your Indonesian online business.
With Cekindo, you can also seek out the most suitable legal entity and business licenses and permits based on your requirements and budgets. Also, we make sure that your company registration and license application are free from errors that may lead to rejection or delay.
Connect with Cekindo now and we will start to help you start your online business in Indonesia right away. It's really that simple. Fill in the form below.