Starting a business in Indonesia by opening a retail shop is one of the most profitable investments that a foreigner can do. But what do you sell actually to make the most out of your investment? Selling beverage products, especially tea can be a good idea.
Indonesia is one of the top tea producers across the globe. In 2018 alone, the country produced over 140,000 tons of tea with production spread across major provinces like North Sumatra, West Java and Central Java.
Furthermore, the country's tea sector has seen respectable growth over the years because of the country's surging middle-class group that has contributed to their increased sales.
But, other than local tea products, the Indonesian people are also fond of international tea products, which may offer different aromas and taste that are rare in Indonesia.
As a result, investments and exports are also rising in the sector with many multinational companies making this archipelagic country their production base.
There are appealing investment opportunities for foreign investors in tea sales in Indonesia. If you are planning to open a retail store to sell tea products, this article is for you.
Cekindo will guide you on how you can start a tea business in Indonesia. Continue reading.
Product Registration and Labeling Requirements
Register your tea products
It is important to know that you will have to register your tea products with the National Food and Drug Control Agency (BPOM). This is because tea belongs to the food and beverages category and therefore, are regulated by the BPOM.
The next step after the registration with BPOM is to apply for import license. One thing you have to take note is that a foreign company must use a licensed agent for product distribution in Indonesia.
Before you can apply for the necessary licenses, you need to first register your company in Indonesia (discussed in the next section).
If you are just a product reseller, there are no specific restrictions for you to start your retail store in Indonesia selling the tantalising tea products.
Once you secure your licenses, you can start distributing and selling your tea products. But, there is one essential thing to be taken into account first,namely labeling requirements.
Labeling Requirements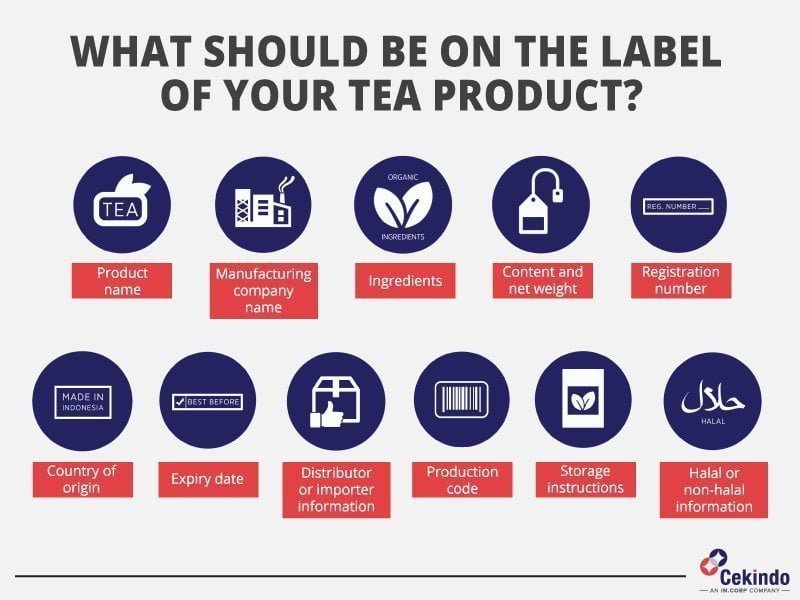 Retail sellers of tea in Indonesia are required to comply with the labeling requirements in accordance with Indonesia Law.
The products sold must have the following information on their labeling:
Product name and manufacturing company name
Ingredients if additives are used
Content and net weight
Registration number
Country of origin
Expiry date
Distributor or importer information
Production code
Storage instructions
Halal or non-halal information (secure your Halal certification now)
How to Register a Company to Sell Tea Products in Indonesia
The first step you should do before starting a business in Indonesia is to choose the right legal entity and register it.
Only a limited liability company will allow you to acquire import license and thus this is the most suitable legal entity for foreign investors.
Here are some of the important things foreigners have to take into account when registering a company in Indonesia:
You can set up a private local company with an Indonesian partner; or a 100% foreign-owned limited liability company (PT PMA) with different minimum capital investment between the two legal entities. Contact Cekindo for further details.
You must submit an investment plan to the Indonesian Investment Coordinating Board
You are required to comply with all company registration regulations such as the procedure, permits and licenses application
Foreigners must register with the Indonesian Customs when they are going to import or export tea into or from Indonesia.
Start Your Business in Indonesia with Assistance from Cekindo
Starting and running your own business in Indonesia can be both rewarding and exhilarating as there are always challenges from regulators, marketplace and daily operations.
Cekindo is here to help you with your business startup, and improve bottom lines once your business is up and running. What you need now is sound advice and strategy from people like us who know what we are doing, people who are knowledgeable and experienced to help you through the maze.
Our solution is the backbone of your successful business. Book a free consultation with Cekindo now. Start by filling in the form below.