A ballooning middle class, major changes in health care and its status as the world's fourth most populous country have made Indonesia a market with major potential.
Indonesian Market for Medical Devices
According to Medical Device and Diagnostics Industry (MDDI), the ASEAN nations – including Indonesia – are the next emerging market for medical devices for a number of reasons:
The medical device market in Indonesia is worth almost US $1 billion. Almost 95 percent of the country's device market is made up of imports, and that 90% of all 2013 device registrations were by foreign manufacturers.
More than 620 million people live in the ASEAN countries, which is almost double that of the United States. It is 100 million more people than are in the EU.
Diseases typically attributed to Western cultures are increasing in Asia. Indonesia ranks among the top 10 nations for diabetes and half the world's elderly population lives in Asia. Additionally, half of all new cancer cases across the globe are being diagnosed in Asia.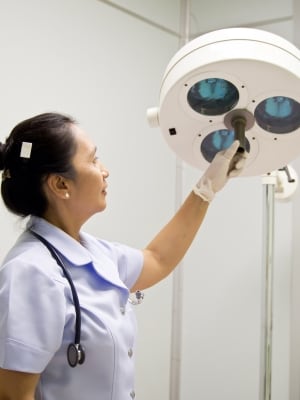 Indonesia launched a new plan for universal health care on January 1, 2014, called Jaminan Kesehatan Nasional (JKN). The phased plan aims to provide coverage to the entire population by 2019. As health care facilities and coverage grow, so will the opportunities for device companies.
That said, the process for product registration and an importing license in Indonesia is complex. The National Agency of Drug and Food Control regulates medical devices for safety and quality. At present, foreign firms may not pursue medical device registration in Indonesia without a local office or distributor in Indonesia. In addition, navigating the regulatory licensing and reporting requirements of medical device company set up in Indonesia is complex and time-consuming.
Any company that would like to pursue medical device registration in Indonesia should be aware of the regulatory process.
Before applying, a company must have a licensed distributor, and the device registration application must include a distribution license.
The manufacturer must provide a notarized letter of appointment stating that the Indonesian partner is authorized to handle the products for at least two years.
All documents must be in English or Indonesian.
The timeframe for approval varies by the classification of the device, which is based on risk. Official registration fees also depend upon the classification.
Labeling requirements are stringent and must include information about the manufacturer and the importer, batch numbers, registration and serial numbers, expiration date, etc. Label information about intended use, any warnings, precautions or adverse effects must be written in Indonesian.
Documentation must include specific evidence that quality management standards are being followed.
Post-marketing requirements include mandatory reporting of any adverse health events.
Moves are being made to streamline this process. As the country joins the ASEAN regulatory framework, licensing procedures are being transitioned to an on-line system. The system is connected with customs, which will help speed transactions. In addition, Indonesia and its fellow ASEAN nations are working to institute the ASEAN Medical Device Directive, which will set forth a unified system of rules and four categories for medical devices, ranging from low-risk devices such as tongue depressors to high risk devices, such as heart valves.
While changes to the system are improving the process of market expansion in Indonesia for medical device companies, without an experienced partner, firms may find it to be detailed and lengthy.
Cekindo is prepared to be your business partner in Indonesia. Our knowledge, experience and network of vendors and service providers in medical industry can help navigate the complexities of company set up in Indonesia. Cekindo offers a full range of business services in medical industry in Indonesia, from market research, distributor and buying agent selection to medical devices registration, obtaining of medical distribution license in Indonesia.
Contact Cekindo to explore the market opportunities for your medical devices in Indonesia.
Contact Our Consultants