Cekindo had a great opportunity to deliver a presentation about health industries and product registration in Indonesia at Health Ingredients South East Asia Exhibition.
Cekindo's Head of the Legal and Corporate Law Department, Nurmia Agustina was invited as a keynote speaker. And it's held at the second day of seminar on April 6, 2016, in the Jakarta International Expo.
She made a presentation theme 'Doing Business in Indonesia: unlocking the Opportunities in This Region". She affirmed that Indonesia is seen as a large potential market for healthcare service due to its favorable demographics.
"Decision to enter Indonesia's market is crucial. Indonesia is a large country, we have more than 250 million population. We are the biggest market in South East Asia. But the bureaucracy in Indonesia is quite complicated. Especially for new companies because they have to know the regulation,". Said Nurmia during her presentation.
With her experiences in this field, especially in product registration service in Indonesia, Nurmia Agustina who also served as Principal Consultant at Cekindo presented some information on how to do business in Indonesia. This particularly focusing on health ingredients side, supplements, nutraceuticals and so on.
Check more updates from Cekindo: Cekindo at Vitafoods Asia 2018
"As a principal consultant in Cekindo, I got opportunities to involve in various projects. Including connect with health industries, medicine devices, pharmaceutical, food supplement and cosmetics," she said.
She also informed to the audience that registering healthcare product is the important step especially for foreign company to expand their products. Medical device registration in Indonesia is one of the most highly regulated in Indonesia. Medical manufacturers and Indonesian medical distributors must to apply for medical product licenses before those devices can be imported, sold, and used in Indonesia.
You might also want to read Cekindo Activities
Product Registration In Indonesia
In Indonesia, all healthcare products also food products must fulfill all safety requirements to enter the market.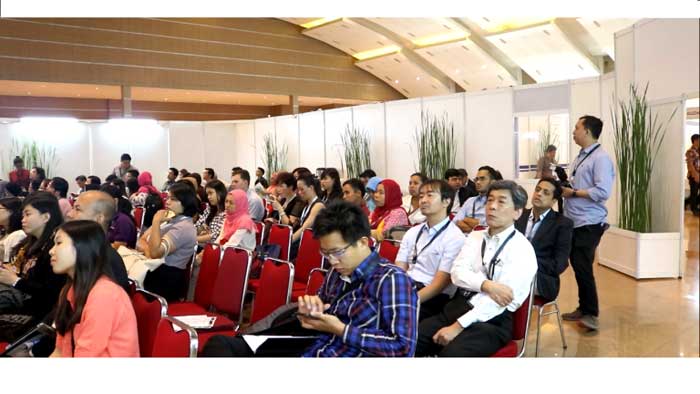 Product registration in Indonesia is under control of Ministry of Health and independent National Agency of Drug and Food Control (BPOM). For medical devices and household product, it would directly register to Ministry of Health to get the distribution license.
While for cosmetic, food supplement, food and beverage, drug and traditional medicine are registered to National Agency of Drug and Food Control. For imported food, it is a must to apply for a ML registration number from the BPOM. And the regular registration process takes between 2 to 3 months depending upon the product. And for the drug registration in Indonesia is strictly regulated, can take 1-3 year of registration. Indonesian government mostly consider local manufactured drug instead of imported drug.
There would be three alternatives how to register imported products in Indonesia, product registration under your legal entity in Indonesia, under appointed local distributor, and under proper third party. (Read more about Product Registration in Indonesia).
The exhibition of Health ingredients South East itself was able to bring in 1,000 + visitors from key health markets. It's along with over than 5,500 attendees and 260 exhibitors at the co-located CPhI event. The support from government bodies to the exhibition also can be seen by the presence of representatives of Indonesian National Agency of Drug and Food Control (BPOM) during the event.