ANNOUNCEMENT: Due to current public health conditions (coronavirus), take note of the following updates related to tax obligations and tax compliance in Indonesia:
In accordance with Regulation 86/PMK.03/2020, the Indonesian government has extended tax incentives until December 2020.
The government has also expanded business sectors (KLU) that are entitled to tax incentives, from 1,062 to 1,189 business sectors.
Then, the scope for importing Article 22 PPh exemption facilities has been expanded from 431 KLU to 721 KLU.
The coverage of Article 25 PPh installment discount has been expanded from 846 KLU to 1,013 KLU and VAT refunds have been expanded from 431 KLU to 716 KLU.
In accordance with KEP – 269/PJ/2020 all companies that have been registered as a taxable company (PKP) need to create a tax deduction certificate (Bukti Pemotongan) WHT Art 23/26 online by using E-Bupot application in the DJP Online system, effective per August, 2020 period.
Just like anywhere in the world, tax affairs in Indonesia are important and unavoidable.This is because taxes are considered the main source of a country's income. The government uses taxes collected to foster economic growth by utilising them for social programs and public investments – all for the benefits of the country and its citizens.
There are several types of taxes in Indonesia that companies, individuals and investors must be obliged to. These taxes include personal income tax, corporate income tax, withholding taxes, value-added tax (VAT), sales tax, land and building tax and others. Among all taxes, personal income tax in Indonesia is the most important because of their impact on government policies and goals.
This article aims to provide detailed information about your personal income tax in Indonesia and why you should be in full compliance.
What is Personal Income Tax?
Personal income tax in Indonesia is what the Indonesian government collects from individuals based on their incomes. These incomes include salaries, interests, dividends, pensions and other sources of income.
For every individual who's responsible to pay personal income tax, their employers should be the one responsible for their employee's personal income tax calculation. Employers must pay these taxes to tax authorities on behalf of their employees on a monthly basis.
How to Calculate Personal Income Tax in Indonesia?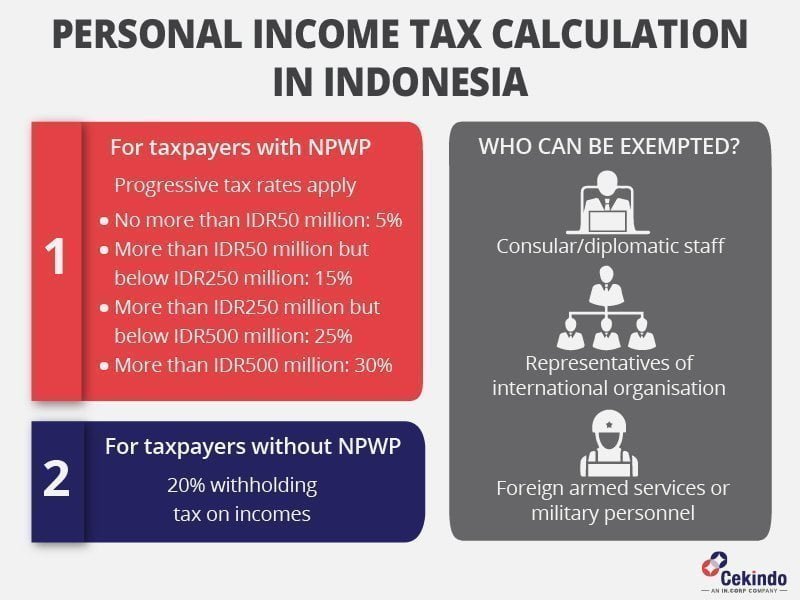 All tax residents shall be subject to personal income tax. For non-resident individuals in Indonesia, they are responsible for 20% withholding tax on incomes generated in Indonesia.
As for other taxpayers with NPWP (National Taxpayer Identification Number) in the country, the amount of their taxable annual income decides their personal income tax rates.
These progressive tax rates are specified below:
No more than IDR50 million: 5%
More than IDR50 million but below IDR250 million: 15%
More than IDR250 million but below IDR500 million: 25%
More than IDR500 million: 30%
Exemption of Personal Income Tax in Indonesia
If an individual, a resident or a non-resident, has stayed in Indonesia for a minimum of 183 days in a consecutive 12 months they are subject to personal income tax in Indonesia.
However, some foreigners, even if they have lived in Indonesia for more than 183 days in a consecutive 12 months, are exempted from personal income tax in Indonesia because of their unique legal status. These people include the following:
Consular or diplomatic staff
Representatives of international organisation
Foreign armed services or military personnel
Consequences of Non-Compliance
Taxpayers who do not comply with the Indonesian tax regulations will mostly be penalised in the form of fine. In general, late payments of personal income tax in Indonesia will cause a penalty in the form of interest – at 2% every month.
If an underpaid tax is not settled within the required time frame, the tax authority will issue a warning letter to the taxpayer. A distress warrant will also be issued if the underpaid tax is not paid within 21 days starting from the day of warning letter issuance.
How Cekindo can Ensure Your Tax Compliance in Indonesia
Corporations and individuals in Indonesia know too well that doing tax reporting and completing tax assessment can be challenging.
The challenges come from the ever-changing tax regulations and laws, and increasingly punitive consequences.
Therefore, you need to ensure that all tax affairs in Indonesia are properly taken care of and updated.
Cekindo offers a comprehensive range of tax compliance services for companies and individuals, including corporate income tax and personal income tax Indonesia, making sure that you fulfill all your tax obligations in Indonesia efficiently and confidently.
Our experienced team of tax experts will handle all your tax return paperwork in the most cost-effective and timely way to help you save as much tax as possible, and achieve full tax compliance.
Fill in the form below to request more information on our tax compliance services. Outsource to us now.