The Indonesian government has been taking a number of bold efforts in recent years to increase the ease of doing business through regulatory changes. For example, in early 2021, the government formally issued the Positive Investment List (PIL) – a list of economic sectors and lines that are now available for foreign investment – to ultimately replace the Negative Investment List.
Despite the fact that the government has liberalized several industries that were previously closed to 100% foreign ownership, PIL nevertheless includes a range of business lines labeled "Reserved for Cooperatives and MSME." This category includes at least 51 business lines, some of which are noteworthy, such as agriculture commodities, communication and information, forestry, tourism and hospitality, and so forth.
Foreign investors or companies trying to expand into these business lines will need to form a local business partnership arrangement with Indonesian companies, such as profit sharing, subcontracting, outsourcing, or distribution partnerships. In such cases, it is critical for foreign companies to do a background check on their prospective partners before entering into any type of commercial or legal arrangement.
The Indonesia Company Registry service, which is provided by the Ministry of Human Rights and Legal Affairs of the Republic of Indonesia, is a useful instrument that foreign investors may utilize. This article will guide on how to make the best of the Indonesia Company Registry.
How to Get Information from Indonesia Company Registry
What Information Will You Get?
Company status and details:

Legal entity type and status
List of business activities (KBLI)
Date of deed revisions
Company domicile

Capital and shareholder details:

List of shareholders
List of directors and commissioners
Amount of authorized and paid-up capitals

History of the company:

All changes in the deed
All changes in capital
All changes in shareholders, directors, and commissioners
How does Indonesia Company Registry Work?
The Ministry of Human Rights and Legal Affairs' company registry can be accessed by visiting the web https://ahu.go.id/pencarian/profil-pt. You can type and search for the company right at its homepage. Then you have to fill out the information request form, and proceed to payment. The requested company information will be sent by email.
Get More Insights Through Due Diligence and Background Check
Although the information from the Indonesia Company Registry may be useful for doing an initial company profile research, it is insufficient to evaluate the risks prior to making a real investment. This is where due diligence is required.
Due Diligence provides a more detailed report on not only the specific company but also involved parties with whom it does business, as well as potential risks or problems that have occurred in the past or may occur in the future.
After acquiring all the facts, one can assess whether or not the targeted company or potential business partner is qualified to be regarded as a healthy business or venture partner in the future.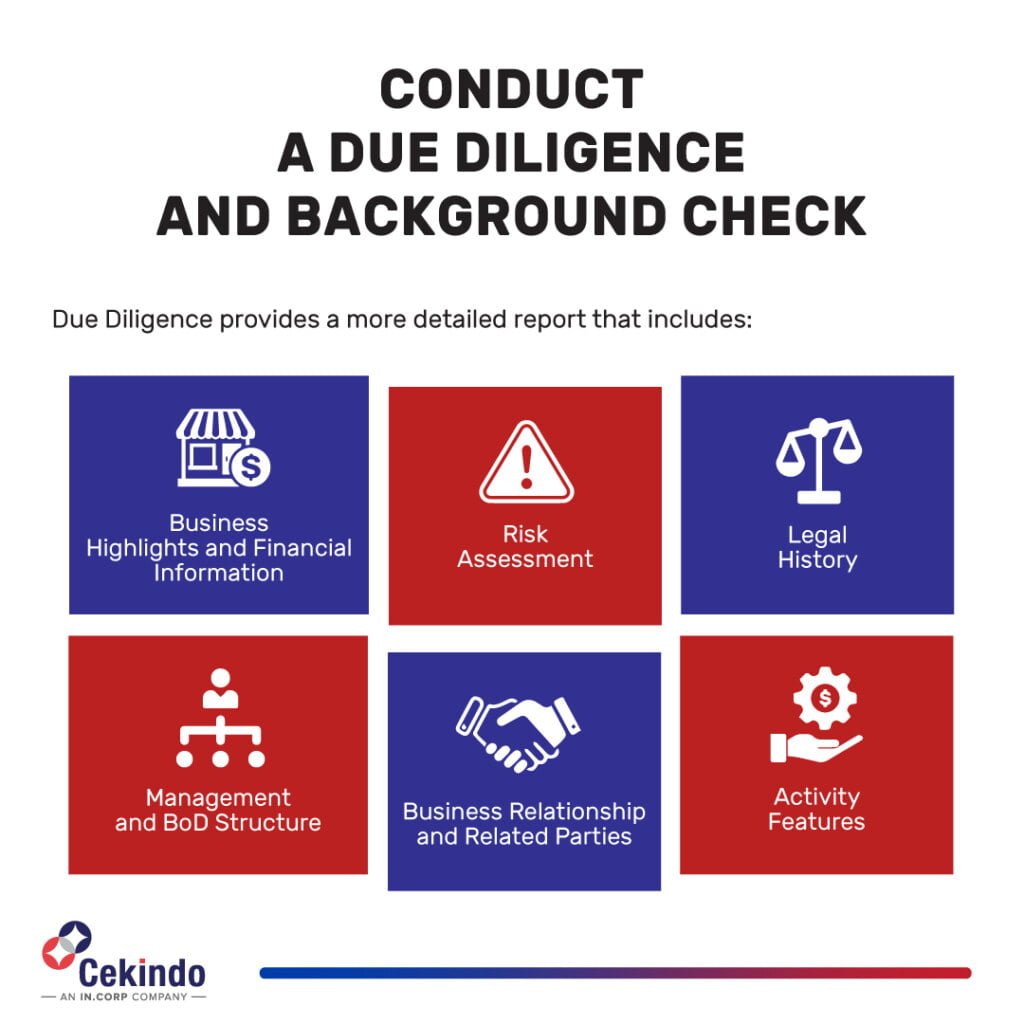 Outsource to Due Diligence Service Provider
Outsourcing due diligence to professionals is profitable to businesses in numerous ways:
As crucial as due diligence is to a company, outsourcing this process to professionals can significantly reduce the risk of dealing with unfavourable business conditions.
Due diligence service providers are often a team of highly experienced professionals who are well versed in the local market.
Outsourcing this process can save a company a lot of time and money as the service provider is liable for the timely delivery of the work. Moreover, it gives peace to mind so that one can focus on their core business activity.
Save Your Time, and Let Cekindo Assist You
If you want to analyze businesses and know more than what the stats say, Cekindo's due diligence team can assist you to review your possible investments.
Our Indonesian Due Diligence specialists can offer you critical information to help you make informed decisions, such as determining the real worth of your investment and negotiating the best conditions for your deal.
Our consultants have helped companies across various industries, including financial services, manufacturing, oil and gas, trade and distribution, healthcare, technology, tourism and hospitality, and e-commerce, to name a few.