With every crisis comes new opportunities to start something, like a new business. If there is something good that follows the COVID-19 crisis, it is a quicker business incorporation process and investing time in Indonesia. Everything can now be done online, including company registration. What is more, with this online process, your company can be registered in less than 1.5 months.
Although being hit hard by the pandemic, Indonesia has implemented several measures to recover in terms of its economy. As reported by the Indonesia Economic Prospects by the World Bank, the real GDP of Indonesia is projected to increase to 5.2% in 2022 on recovering private consumption growth.
Investing in Indonesia: Foreign ownership
Prior to incorporating a company in Indonesia, it is important for foreign investors to consult the Negative Investment List. It is a list that regulates allowance and restrictions on foreign ownership.
To make it easy for you, we have summarised highly profitable sectors that can be explored by foreign investors, along with their foreign ownership allowance:
Business sectors allowing 100% foreign ownership: e-commerce businesses (min. investment: IDR 100 billion), bars, cafes, restaurants, hospital services, hospital management and consultancy, raw materials manufacturing for pharmaceuticals, and distribution affiliated with production, among others.
Business sectors allowing max. 67% foreign ownership: medical equipment testing institutions, internet service providers, call centers, airport activity services, and distribution and warehousing, among others.
Business sectors allowing max. 49% foreign ownership: e-commerce businesses (investment below IDR 100 billion), land transportation, passenger land transportation, and medical equipment supplier, among others.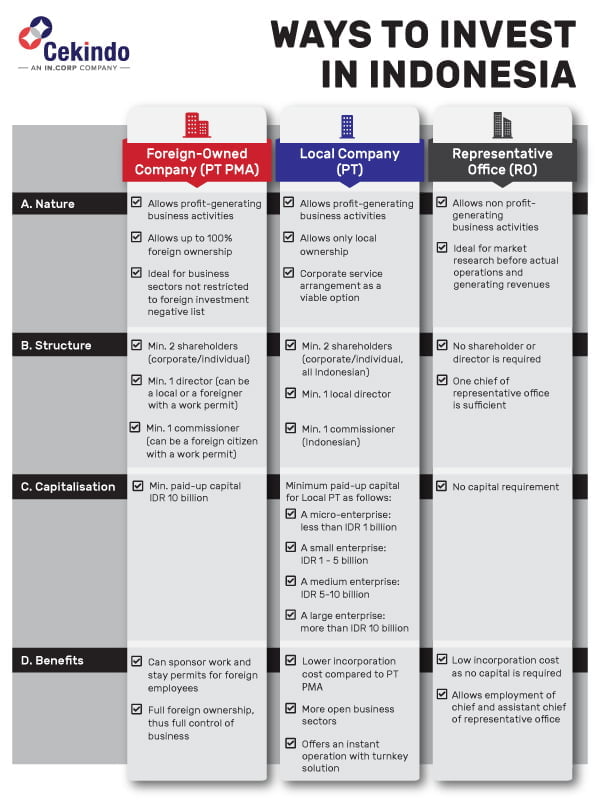 Investing in Indonesia with an Investor KITAS
A factor that plays a significant role in contributing to a more investment-friendly environment in Indonesia is Investor KITAS. Indonesia investor KITAS is attractive because of its easy application and work permit fee waiver.
Foreign investors do not need to wait for months to start working after pouring the initial investment. And, when they satisfy all the investment requirements, the work permit's hefty fee amounting to USD 1,200/year is no longer required.
Foreign investors can choose between the two types of investor KITAS available, namely the 1-year or 2-year KITAS. Once the KITAS is secured, they are permitted to enter and leave Indonesia unlimited times as long as the KITAS is still valid. It is also worth knowing that getting an investor KITAS is much faster than getting a regular work KITAS.
The requirements for an investor KITAS application are quite easy to satisfy: a minimum of IDR 10 billion in authorized capital, IDR 10 billion in paid-up capital, and IDR 1 billion in personal shares.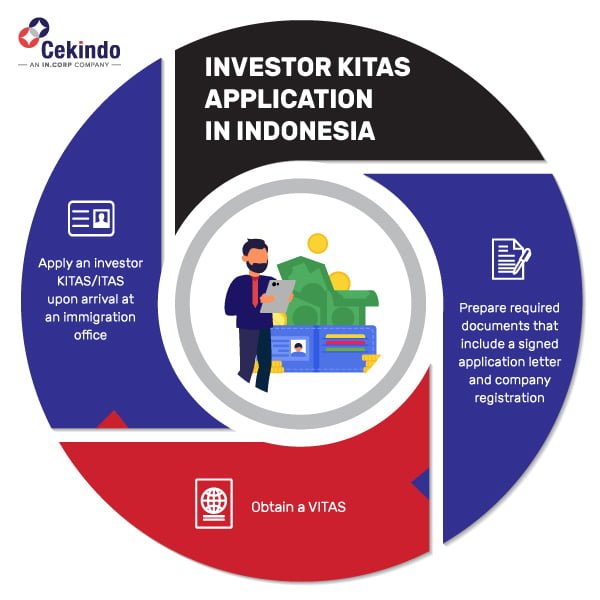 Still have a question about Investor KITAS/ITAS? We have listed all the things you need to know about Investor KITAS/ITAS in Indonesia. 
Next Steps after Incorporation in Indonesia
After successful company incorporation, the next step to take is opening a corporate bank account, preferably at a bank licensed as a Foreign-Exchanged Bank, as it can handle foreign currencies. In addition, businesses engaging in export and import activities are obliged to undertake the customs registration process, with exemptions applying when certain conditions are met (contact us for further details).
Finally, all types of companies that do business in Indonesia must fulfill their corporate income tax obligations. In Indonesia, a general flat rate of 22% applies. Small enterprises with an annual turnover of less than IDR 50 billion are eligible to enjoy a 50% discount off the standard corporate income tax rate.
How Cekindo can Assist
It may be a challenge for foreign investors to comply with local regulations of company establishment, KITAS application, and business licenses, among others. That's why we exist.
As part of InCorp Group in Singapore, Cekindo is a leading consulting company in Indonesia providing integrated market-entry and corporate services. Start investing in Indonesia right away. We are ready to assist. Fill in the form below.