Cekindo turnkey solution include a ready-made company with already approved Indonesian corporate bank account with internet banking include a registered tax number and legal company address.
A shelf company in Indonesia is a company which has been registered and left with no activity for several months or even years to age. The aged company can then be bought by yourself and transferred into your name. The form of our shelf companies are local PT company, not PT PMA. For complete overview about Shelf company requirements.
Our shelf companies in Indonesia were incorporated specifically for our clients who want a ready-made company for immediate use in Indonesia. Our Shelf companies have not done any business, have not entered into any dealings or obligations. As the name suggests, the registration documents of these shelf companies have been kept "on the shelf" in Cekindo office, without any practical usage.
Cekindo registers several companies in Indonesia each month for the sole purpose of becoming shelf companies. You can then buy one of these companies, change the name of the company, change the directors and shareholders into your own name then you are the legal owner of an established company in Indonesia.
Why Should I Buy A Shelf Company?
One of the main reasons to purchase a shelf company in Indonesia is to create an impression that the business has been established for longer than it actually has.
Another important reason is that you can directly start your business and reduce period for company registration in Indonesia from regular 10 weeks to 5 working days.
You don´t need to go through the frustrating tasks of requested documents preparation, thinking-up an original company name which can delay the process registration.
If you need immediately receive any sales income on already establishing the corporate account or you need Indonesian company to close fast some important deal.
Once the company is purchased, Cekindo will immediately transfer the management control to the new owner with a contract signed in front of a public notary (power of attorney within 24 hours) and provide the following information:
A company name and incorporation number
A company office address
A corporate bank account number and access to internet banking
A tax number and identification
Set of document related to company registration
Why Choose a Shelf Company, Not a Local PT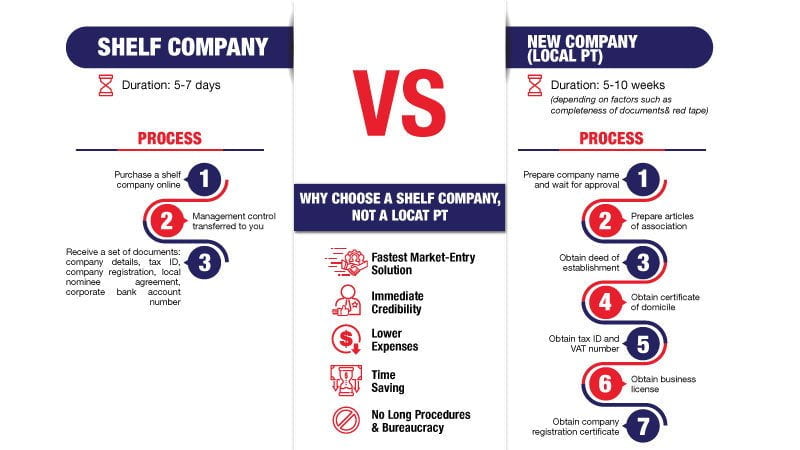 Where you can find Cekindo list of the shelf companies for sale?
Contact Cekindo via email at sales@cekindo.com or submit your question through the form below. Our consultant will provide you list of our shelf companies which are updated on a daily basis.
Once we receive payment we will provide you all information and document related to your new shelf company immediately (24 hours).