The government in Indonesia serves as one of the key growth drivers for ammunition and weapon market in Indonesia with a stable annual growth.
Although the Indonesian armed forces are the primary buyers for 80% of all purchases of locally produced weaponry, the National Police and regional buyers account for the total ammunition sales as well.
Highlights:
PT. Pindad (a state-owned company) holds the biggest Indonesian market share for ammunition, mostly in small calibres.
Together with Rheinmetall, Pindad builds the Leopard ammunition plant for the Asian market.
Pindad exports ammunition to America, Singapore, Thailand, Laos, and Nigeria.
The import market for weapon and ammunition in Indonesia is mainly supplied by France and the United Kingdom.
The Indonesian government put in IDR 3 trillion (USD 250 million) to aerospace and shipbuilder in Surabaya for factory upgrades. This investment is in hope to bring new and expanded business or more foreign funds to the domestic arms and defence industry. In 2013, PT. Pindad, the biggest Indonesian ammunition group, estimated a profit of IDR 90 billion.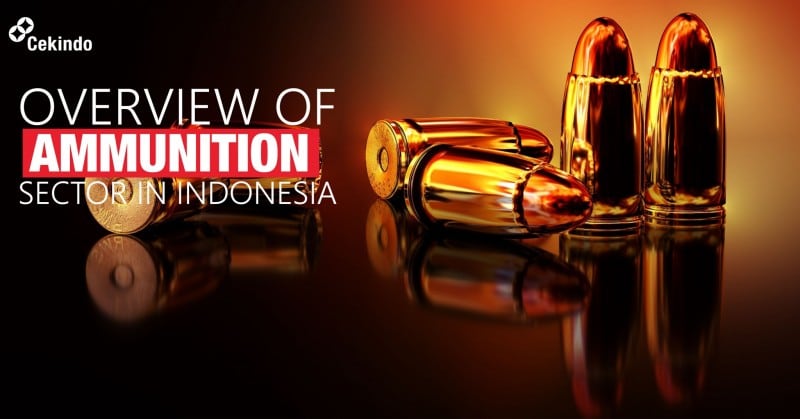 PT Pindad
Indonesia's state-own defence company PT Pindad dominates the country's ammunition market. Its government-owned status makes it easier for them to penetrate markets such as police officers, army and other law enforcement sectors.
This situation makes the level of competition strong even though Pindad's product portfolio is quite limited and their production focuses mostly on small calibres.
Thanks to strong business relations between Indonesia and the United States, in 2011, PT. Pindad exported about one million rounds of ammunition worth USD 200,000 to an American sports shooting club. In addition, Pindad has been supplying 5.56 mm ammunition to Thailand and Singapore.
Ammunition Export and Import in Indonesia
France and United Kingdom are the leading importers for ammunition for Indonesia. In January 2014, Indonesia imported bullets and ammunition with a value of USD 56,800. Imports from Germany and Russia has accounted for USD 39,200 and USD 17,600 respectively.
Weapons and ammunition that are usually imported include bombs, grenades, torpedoes, landmines and missiles. Other imported weapons and ammunition are artillery weapons (guns, howitzers and mortars), revolvers and pistols, rifle bullets, rocket launchers, flare launchers, and grenade launchers.
Leopard Ammunition Plant in Indonesia
With the procurement of 180 units of Leopard tanks and Marder in 2012, the Indonesian government successfully attracted Rheinmetall of Germany to help build a Leopard's large-calibre ammunition plant in Indonesia.
Pindad is in charge of the Leopard ammunition distribution in Asia. This cooperation will improve the technical quality of the Indonesian domestic defence industry, helping Indonesia become one of the major players in the defence industry market.
Other Cooperation
In hopes to gain access to overseas advanced ammunition technology, defence and military contractors in Indonesia are currently planning or negotiating agreements with ammunition suppliers from different countries for joint ammunition production.
Potential projects in the pipeline include a medium tank with FNSS Savunma Sistemleri of Turkey, the production of submarines with Daewoo Shipbuilding of South Korea, vehicle-fixed rocket launchers with MBDA of France, and anti-ship missiles with the Aviation Industry Corporation of China.
At the end of 2017, Pindad has also completed assembly of 11 Panzer armoured vehicles whose parts were manufactured by Doosan Infracore of South Korea, in a deal worth USD 169 million.
In 2018, Pindad is also hoping to close a deal with AM General, the American heavy vehicle manufacturer, in order to supply components to Indonesia. Besides, the Malaysian armed forces are negotiating to buy 32 armoured personnel carriers from Pindad for USD 10 million and USD 14 million each, with Brunei military remains highly interested in purchasing as well.
Continue Reading…
A Brand New Service from Cekindo: Market Consulting Package
Semarang: The Future of Manufacturing Industry in Indonesia
Fill in the form below and contact us to get a free quotation for entering the Ammunition market in Indonesia.