The coronavirus has given rise to a very uncertain time for almost everyone. Not only the pandemic in Indonesia, but the whole world is also dealing with a global economic emergency.
While many businesses are now forced to act fast to cut down their losses, some do perform better than they were before the pandemic.
Here are some of the business ideas you can look into to change your business for the better.
5 Innovative Businesses to Start During the Pandemic in Indonesia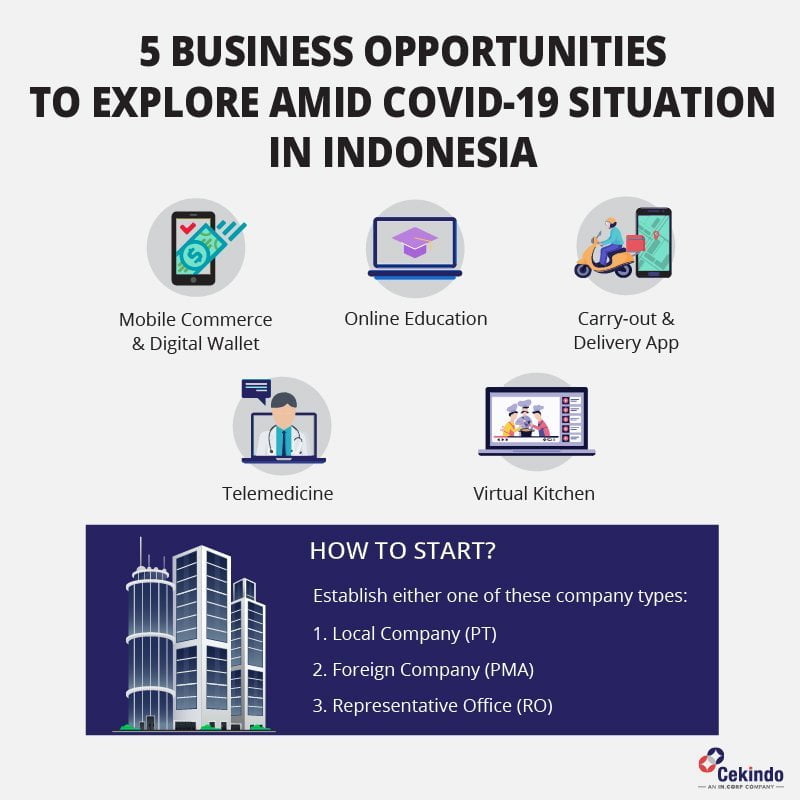 1. Mobile Commerce and Digital Wallet
The coronavirus in Indonesia has prompted the growth of mobile commerce and digital wallet due to its convenience and contactless payment. The innovation has changed how we pay for products and services, particularly online.
More and more retailers are now moving their business online with the creation of an online store in the marketplace.
They also focus their effort on the development of mobile apps and digital wallets to give their customers more ways to buy and pay for their purchases.
Prevalent e-commerce payment methods are PayPal, Apple Pay, OVO, GoPay, and even bitcoin.
According to ACI Worldwide, approximately 55% of online e-commerce transactions in 2019 were performed with cardless payments.
2. Online Education
While the schools are closed during the pandemic, teachers have made use of online teaching so that students do not fall behind on their academics.
This trend will continue even after the school is open, as a measure to prevent a second wave of outbreak.
Therefore, the market shares of apps and software for virtual conferencing, education, online teaching, and communication have grown exponentially.
For example, during this quarantine period, Alibaba's office software known as DingTalk has been downloaded and installed more than 1.1 billion times.
And, the daily downloads of Zoom, a cloud video communication application, have increased 30x year-on-year.
3. Carry-out and Delivery App
Shipping and logistics are the most challenging part of e-commerce businesses that sell physical items.
Customers want to receive their products fast and hassle-free. And, during this period of coronavirus in Indonesia, shipping may be delayed as most local and national shipping services have limited resources.
Therefore, offering customers different shipping options that fit their needs is the key to overcome the logistic issues.
Popular e-commerce retailers such as Tokopedia, Amazon, Shopee, eBay, Lazada all have several types of shipping options for customers to choose from.
Some of them also work with third-party delivery and carry-out apps to ensure faster and more cost-saving delivery.
4. Telemedicine
Another opportunity that emerges during the COVID-19 crisis is telemedicine. Although it is still in its early stage in Indonesia, telemedicine has a very positive outlook for the country's healthcare system.
As most Indonesians are required to stay at home due to the quarantine, many consider telemedicine as an extremely useful innovation and service for both patients, nurses, doctors, and physicians.
Those who need a consultation do not have to travel to a hospital anymore; the doctor, nurse, or physician will come to you.
5. Virtual Kitchen
The concept of the virtual kitchen comes from the food and beverage services and food delivery businesses.
Opening a restaurant or an eatery is a capital-intensive business. Therefore, a virtual kitchen is a perfect solution.
A virtual kitchen works when several restaurants share a cooking space and a food delivery service. The food delivery company often owns the cooking space that those restaurants share.
This allows food and beverage business owners to cut down their costs significantly without having to set up a restaurant themselves. Their businesses are not limited to only one location as well.
Register a Company in Indonesia
When registering a company in Indonesia, it is pivotal to select a legal entity that best supports your business goals.
Tax and law compliance is one of the most important elements an investor considers when it comes to picking the right business structure.
There are three types of legal structures in Indonesia and each has distinct characteristics.
Local Limited Liability Company (PT)
Foreign Limited Liability Company (PT PMA)
Representative Office (RO)
Consult with Cekindo
Even during this difficult time of coronavirus in Indonesia, the Indonesian government still creates a very uplifting and safe environment for global businesses to thrive.
While some companies are hurting, some still see new and returning customers such as e-commerce, online education, and other online businesses.
Cekindo is a business setup consultant who wants to help you turn a crisis into an opportunity during this challenging time of coronavirus outbreak in Indonesia, right from business registration to company incorporation, licensing to establishing your flexible office space.
We will also advise you on how you can benefit from an Indonesian tax regime for your investment investors. We have the specialized regional know-how that can help you make an important business decision based on your situation.
If you are wondering how you can start a successful business in Indonesia, do reach out to us. Fill in the form below now.