Indonesia Omnibus Law seeks to draw investment, generate more employment, and boost the economy by streamlining the licensing process, unifying numerous laws and regulations, and allowing the central government to respond faster to global challenges.
Through the same law, the government also wants to simplify the process of Halal certificate issuance in hopes of making Indonesia a global hub for halal products by 2024.
This article will highlight the recent changes in the Indonesia halal certification process, and why certain products should have one.
Why Must Certain Products Obtain the Indonesian Halal Certification?
A Mandate From The Government
Halal certification in Indonesia has been in place for some time, but until 2019, it is completely voluntary. According to Law No. 33/2014 on Halal Products Assurance, however, many consumer products and related services entering and being traded in Indonesia must now be Halal-certified.
The implementation of mandatory halal certification is carried out gradually, starting in October 2019. Food and beverage products are the first to go through the implementation, before the government will move on to other products.
The new Halal Law also outlines the administrative sanction for businesses who fail to register their product as halal. A more severe sanction of IDR 2 billion or sentenced to five years imprisonment will be inflicted to businesses who already obtain halal certification but fail to maintain their products' halal quality.
Cekindo encourages firms and entrepreneurs to act quickly and appropriately in regards to Indonesia Halal Certification to prevent any unwanted penalties.
Halal Awareness Among Indonesian Consumers
Indonesia has the world's largest market for Islamic consumption. The archipelago's consumer spending is forecasted to reach USD 427 billion by 2022, with halal food accounting for over 60% of its total.
Its consumers have a high level of halal awareness with an index of 94.91/100 according to a study from the Journal of Islamic Marketing.
How to Obtain the Indonesian Halal Certification Based on Omnibus Law?
Product That Must Be Halal Certified
The types of Halal-certified products that can be imported, traded, and distributed in Indonesia are food, beverages, chemicals, biological products, drugs, cosmetics, and utilized goods that contain traces of animal elements, such as garments.
The types of services that require halal certification are packaging services, animal slaughterhouses, storage services, and distribution services.
Step-by-Step Process to Obtain Indonesia Halal Certification
The Indonesia Omnibus Law has amended legal provisions across many areas of doing business, including The Law No. 33/2014 on the Halal Products Assurance, by simplifying and reducing the time for halal certification process from 92 days to only 21 working days.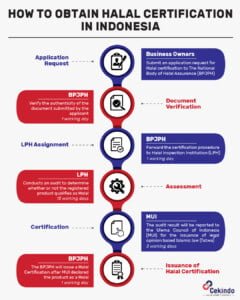 Halal Certification Validity and Renewal
Indonesia Halal certificate is valid for 4 years and its renewal is automatic (based on Omnibus Laws). However, this validity and automatic renewal only apply so long as your production process or product composition doesn't change after the issuance of your Halal certificate.
Does Indonesia acknowledge foreign-certified halal products? Find out more.
How Can Cekindo Help You Go Through Indonesia Halal Certification Process?
Even though the process has been simplified, businesses that want to have their products or services halal-certified in Indonesia must submit a written application and the required documents to the Indonesia halal certification body, Badan Penyelenggara Jaminan Produk Halal (BPJPH).
Each document has a specific set of criteria, so foreigners should be aware of the procedures and the bureaucratic requirements. Cekindo can assist you with this process without a hassle.
As a one stop business solution in Indonesia, our team of English-speaking consultants can also guide you in obtaining the appropriate product registration as well as licenses such as business and import licenses.
Furthermore, with our accounting and tax reporting services, we also give competent guidance and ensure you stay on top of all legal compliance. Get 1-1 consultation with our Indonesia-experts now.