Many entrepreneurs who have been doing business in Indonesia for some time may need a partner at some point.
Most of them feel that they aren't happy with the trajectory even if they have achieved moderate success. Some feel stalled and think that their businesses are not going anywhere.
Therefore, having a partnership in Indonesia can be an excellent way to take your business to a new height.
Of course, the right business partnership can be very profitable and satisfying. On the other hand, the wrong one can put a strain on your business and your relationship with that partner.
A partnership in Indonesia is a long-term strategy and you need to avoid these 5 mistakes to ensure its success.
5 Business Partnership Mistakes in Indonesia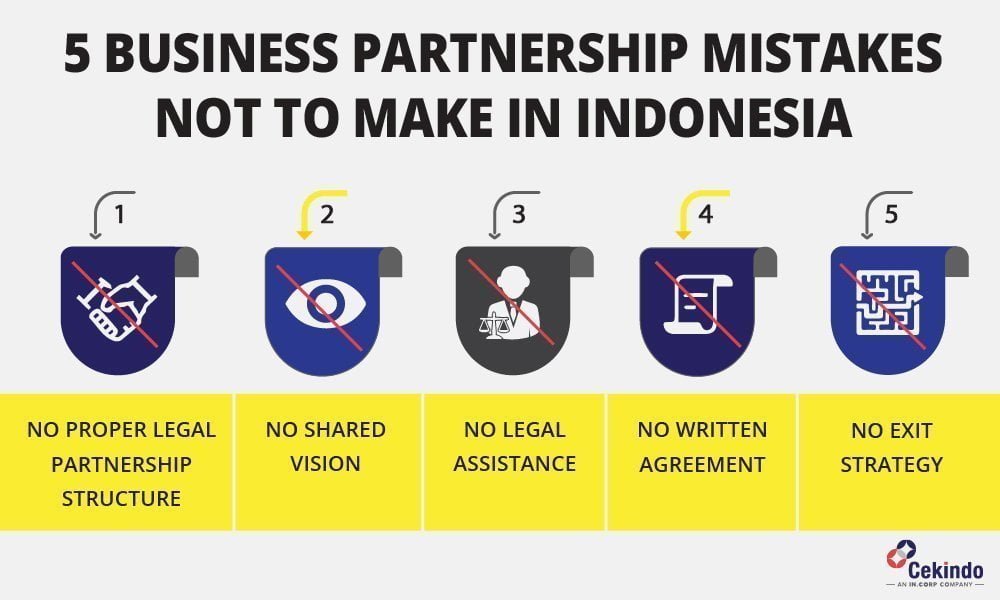 1. You Don't Have Proper Legal Partnership Structure
One of the biggest mistakes that businesses make is not having the right legal structure for their partnership.
Choosing the proper partnerships is how you make a business starting right; otherwise, the result is the waste of valuable time and money.
Limited partnership and general partnership are the two common types of legal partnership structures in Indonesia.
Oftentimes, entrepreneurs who start a business together will opt for a general partnership over a limited partnership due to its ease of setup and simpler structure.
2. You Lack Shared Vision
The excitement of starting a business together can sometimes make you overlook the compatibility between you and your partner. You and your partner may not even have the same business goals and vision.
Always ensure that you communicate, or over-communicate with your prospective partner to understand that if you two are on the same page.
Constant communication in terms of how a business decision is handled and what business goals to achieve is the key to moving forward in any partnership in Indonesia. If you find out that the partner is not the right fit, don't even start.
3. You Forgo Legal Assistance
While starting a business with a partner, you may encounter many challenges in terms of entity formation, intellectual property protection, loans and financing, contract specificity, and other legal obligations and liabilities.
Therefore, before and during the partnership formation, seeking legal advice is extremely important.
A professional legal consultant can provide useful resources and support that can help mitigate partnership risk and ensure future business success.
While many business owners prefer to put their money in marketing and product development, hiring a legal advisor should not be an afterthought.
The sooner you employ the assistance of a legal consultant, you can save more money and headaches down the road.
4. You Skip the Written Contract
Another mistake that a business owner can make is that you fail to implement a partnership contract or agreement.
No matter how good your relationship with your partner may be, it may turn into a disaster when you don't put agreements and systems in place.
Drafting a written agreement before commencing a partnership in Indonesia not only clears all the parameters of this professional relationship, but it also helps your business reap the most benefits out of the capital and combined skills.
5. You Don't Adopt an Exit Strategy
An exit strategy is so important but still many business owners do not implement it.
The reasons for most entrepreneurs to quit a business are because of business failure, partnership failure, burnout, and even boredom with the company. Therefore, it pays a great deal to plan your exit strategy.
The right exit strategy can protect your rights and wealth, and avoid legal disputes.
How Cekindo can Assist
If you decide to form a partnership in Indonesia, you will require a partnership agreement in place.
Regardless of whether you have a startup or a firmly established company, a legal partnership agreement can help you protect your business by avoiding possible risks and conflicts.
Cekindo can provide you with affordable professional advice for your unique situation. For a free quote and consultation, contact a Cekindo's advisor today.