The government of Indonesia has issued Government Regulation Number 24 of 2018 (GR24) for the Online Single Submission (OSS) under Online Business Licensing Services.
This implementation of the OSS Indonesia system came into effect on June 21, 2018, and aimed to advance and speed up the business licensing procedures in Indonesia.
This should help improve the position of the Ease of Doing Business index (EODB) in Indonesia and increase both foreign and domestic investments. As of 2018, Indonesia's EODB index has significantly improved from 120th to 72nd since 2015.
The OSS system will be implemented gradually and expected to mature in a few years in Indonesia. The Indonesian government designed the OSS to be adaptable in order to accommodate upcoming new business industries.
In this article, you will be able to see the major changes from OSS you need to know as a business owner or investor.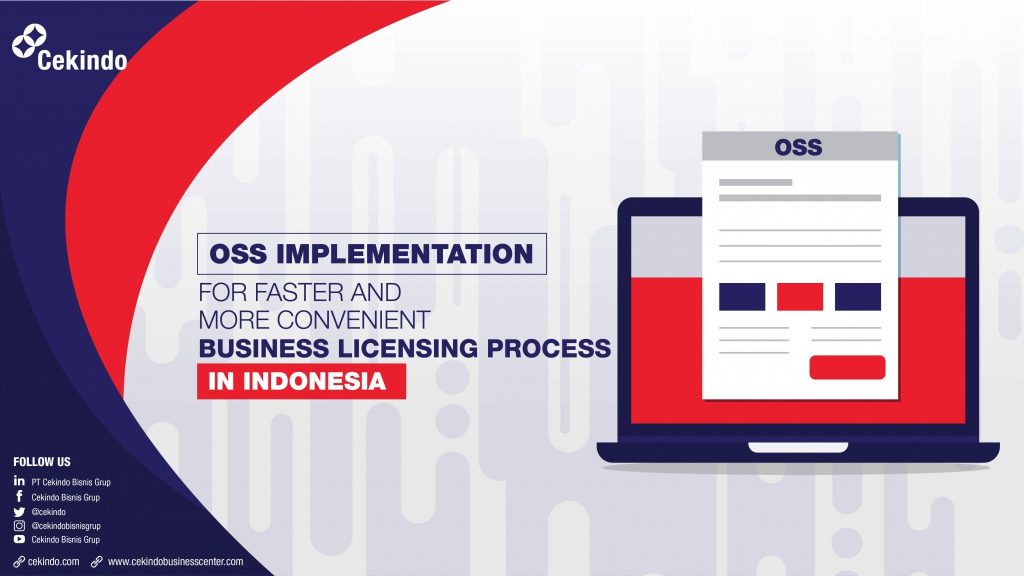 Faster and More Convenient Business Licensing Process
OSS is an integrated web-based business permit application that will make the business licensing procedures happen in less than two hours – creating a fast, cheap, and certain licensing service model.
Business owners and investors can now access the OSS system online anywhere and anytime.
At the moment, the Coordinating Ministry for the Economy has made OSS Lounge anticipated to be standardized under PTSP (Pelayanan Terpadu Satu Pintu) in order to include self-service, priority services, assisted services general investment consultations, and clinics.
Government Bodies of OSS Indonesia & The System's Transition Period 
One of the major changes in the implementation is the government body responsible for investments in Indonesia. The OSS system is currently under the administration of the Coordinating Ministry for Economic Affairs. A significant portion of capital investment licensing issuance and administration has been transferred to the OSS system from the Capital Investment Coordinating Board (BKPM) and other government agencies.
One thing to note is that business license and permit regulations by BKPM and other government bodies will be deemed obsolete based on their expiration period.
Any license applications submitted before and during the GR 24 issuance must be completed through the OSS system.
Simplification of Licenses with OSS System in Indonesia
Some of the biggest changes under OSS of GR 24 are the introduction of new types of licenses and registrations.
Thus, older licenses are either consolidated or abolished with the enactment of OSS under GR 24.
Current business owners and investors that intend to expand their business activities or revise company documents must apply via OSS to acquire the Business Entity Number/ NIB (Nomor Induk Berusaha) and/or commercial/operational license.
Business Identification Number (NIB)
Through NIB, the Company Registration Certificate (TDP), the Import Identification Number (API) – including API-U and API-P, and customs access right (NIK) are consolidated and replaced.
NIB also comes into place and serves as the registration for Indonesia's health and manpower social security programs (BPJS Kesehatanand BPJS Ketenagakerjaan).
Business License
With NIB, businesses or companies in Indonesia will be able to <apply for a business license immediately. As a result, they do not need to apply for an Investment Registration prior to that.
Businesses or companies with a business license will be able to proceed with several business activities.
These activities include:
land procurement
construction and operation of buildings
procurement of equipment and facilities
completion of certification
hiring employees
quality testing
production testing while commissioning
and production
Commercial License or Operational License
In order to start commercial operation, particular businesses or companies must obtain Commercial/Operational Licenses.
These businesses include healthcare product companies, medical device production, and distribution company and cosmetics companies.
Before the Commercial/Operational License becomes effective, these businesses or companies must comply with mandatory standards, licenses and certifications, and other registrations. For example, the certification of Good Manufacturing Practice (CPOB), Indonesian National Standard (SNI), import permit, etc.
This practice involves coordination with various institutions such as the Ministry of Health of the Republic of Indonesia or the Indonesia National Agency of Drug and Food Control/BPOM (Badan Pengawas Obat dan Makanan).
OSS Indonesia Version 1.1 was launched in November 2019
To ensure more seamless compliance of business licensing, the OSS system was upgraded to its latest version, namely OSS 1.1, and was launched in November 2019.
Major differences between the current OSS version and the previous OSS version include account registration, business licensing stages, data entry format, location permits, commercial or operational licenses, and business licenses.
For more information regarding the latest news about business in Indonesia such as the implementation of the OSS system, please contact Cekindo's professional team.