What Is KBLI and What Does It Mean?
To conduct business efficiently overseas, the host country requires foreign investors to comply with the country's laws and regulations. Similarly, for foreign investors investing in Indonesia, one of the crucial compliance is ensuring that the business activities are classified under the Indonesia Standard Industrial Classification (Klasifikasi Baku Lapangan Usaha Indonesia, KBLI).
To define it simply, KBLI is a method to segment Indonesia's economic activities into several business fields. The distinction is made on the basis of output produced in the form of goods and services. It is issued by Indonesia's Central Statistic Agency (Badan Pusat Statistik or BPS) by referring to the International Standard Industrial Classification of All Economic Activities (ISIC), ASEAN Common Industrial Classification (ACIC), and East Asia Manufacturing Statistics (EAMS).
Understanding KBLI and its application process might be confusing for foreign investors. Hence, this article will guide you to understand the basic principles of KBLI and how to determine the right KBLI for their business activities.
KBLI 2021: Why Your Business Should Have One?
The importance of the KBLI for a business is paramount. Not only does it classify business activities, but also acts as a reference for the government in issuing legal documents, such as Business Identification Number (NIB), Trading Business License (SIUP), Taxpayer Identification Number (NPWP), and so on.
If the business activities differ from the classification mentioned in the KBLI certificate, it can create a challenge for the concerned business while undertaking any activity that requires a special permit under KBLI. Examples of such activities could be importing and exporting goods.
KBLI 2021: How to Choose The Right One?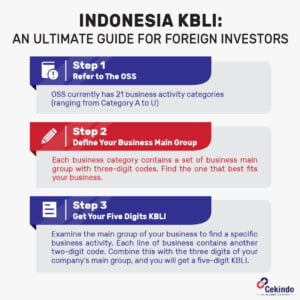 Step #1: Refer to The OSS
Although Indonesia has a wide range of economic activities, applicants can use the Online Single Submission (OSS) method to identify the most appropriate one. OSS currently has 21 business activity categories (ranging from Category A to U), wherein each category has its own set of industries.
For instance Category C is assigned to the manufacturing industry and is further divided into several specific sub-groups, such as food manufacturing, beverage manufacturing, tobacco manufacturing, textile manufacturing, footwear manufacturing, and so on.
Step #2: Define Your Business Main Group
Every business category contains a set of business' main group. For instance a footwear manufacturing business is falling under Category C with a code of 152.
Step #3: Get Your five digits KBLI
The Indonesian government wants every business owner to further classify their company to its core activities.
Then if you deep further into the footwear manufacturing main group, it further magnified into four more specific categories with their respective codes:
01 – regarding footwear for daily use;
02 – regarding footwear for sports activities;
03 – regarding footwear for field and industrial activities; and
04 – regarding footwear for other purposes.
So in case your company is manufacturing running shoes, then the five digits KBLI will be 15202.
It's also worth noting that the Indonesian government enables a business to have multiple KBLIs provided the various businesses are related to each other, However, it's recommended to have all of these activities related to or similar to the main one.
KBLI 2021: The Latest Updates
On 24 September 2020, BPS, or commonly known as Indonesia Statistic Agency, issued KBLI 2020 to replace KBLI 2017. The new KBLI has been introduced to keep up with new types of jobs, business models, and the creative industries, such as YouTubers and online content creators.
Following are the key changes introduced:
Integration across licensing systems – The government intends to synchronize all business fields with the Online Single Submission (OSS) System and the Ministry of Law and Human Rights (MOLHR) database system.
Correlation table – Statistics Indonesia, or BPS, issued a correlation table between KBLI 2017 and KBLI 2020*, to be integrated across Indonesian licensing platforms so it triggers automatic changes.
Online Search Engine and Consultation – Statistics Indonesia also launched an online search engine called Sabaku to help investors search suitable business lines via web and mobile apps.
Open more opportunities for investors – Investors that want to develop a commercial presence in Indonesia may be able to take advantage of KBLI 2020. More than 200 additional business lines have been added to KBLI 2020 (one such example is video game content designer). Several existing business lines have also been expanded to incorporate more goods or services.
Summing up, the KBLI certification is very helpful in obtaining legal documents and ensuring smooth and legal functioning of a business.
*KBLI 2020 and KBLI 2021 have no major differentiating factor or change to be concerned about.
How Can Cekindo Help
Determining the right KBLI is the important step when setting up a business in Indonesia, and it can be a task in itself that may require legal expertise to help you avoid pitfalls. Cekindo, with its comprehensive business solution, can help you set up your company and also provide assistance in obtaining business licenses in a hassle-free manner. Additionally, our consultants will help you in choosing the right business classification under KBLI 2021.