Foreigners moving to and living in Jakarta can be for many reasons: family, business, career, retirement, etc. Whatever the reason is, it is important to pay attention to these things to live in Jakarta legally: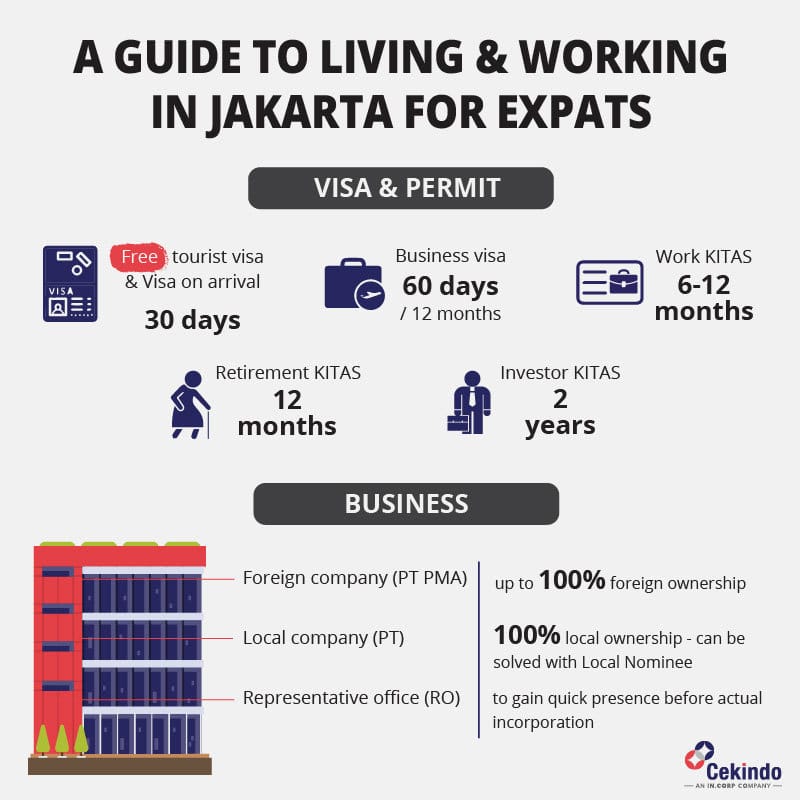 1. Living in Jakarta with the Right Visa
You've likely heard of tourist visas, business visas, stay visas, etc. for traveling, working, and living in Jakarta before. However, if you're like most people, these visa terms can either be overwhelming or confusing.
Below is the list of the common visa types in Jakarta and be sure to get choose the right one.
Short-term Visas
Short-term visas can be further categorised into the following:
1. Free tourist visa
Validity: 30 days
Extendability: No
Can you work? No.
2. Visa on arrival (VoA)
Validity: 30 days
Extendability: No
Can you work? No
Certain airports in Indonesia do not issue VoA, make sure to find out which airport you will be arriving at
3. Single-entry business visa
Validity: 60 days
Extendability: Yes. Up to four times with 60 days each
Can you work? No. Only for attending business events
4. Multiple-entry business visa
Validity: 12 months with unlimited entries (each entry allows a maximum of 60-day stay)
Extendability: No.
Can you work? No. Only for attending business events
Long-term visas
For long-term working and living in Jakarta, the residency permit is what you need. There are several types of long-term stay permit:
1. Working KITAS
Validity: 6 – 12 months
Sponsorship required
Can you work? Yes
2. Investor KITAS
For shareholders of PT PMA
Validity: 2 years
Can you work? Yes
3. Marriage KITAS or Spouse KITAS
Must be married to an Indonesian citizen
Can you work? Yes, only when you obtain a work permit from an employer
Can be upgraded to permanent stay permit known as KITAP after two years of marriage
4. Retirement KITAS
Available for seniors of over 55 years old
Validity: 12 months
Extendability: Yes (annually for up to five years, then it can be upgraded to a permanent stay permit known as KITAP)
Can you work? No.
2. Starting a Business in Jakarta
Foreigners establishing businesses in Jakarta have several options to choose for their legal structure:
PT PMA (Foreign Company)
A PT PMA is the most company type of legal entity in Jakarta for foreigners but you have to meet the following criteria to set up one:
IDR 10 billion minimum investment for the investment plan
IDR 10 billion paid-up capital
Foreign ownership varies from 1% to 100% based on the Negative Investment List
PT (Local Company)
You can incorporate a PT company easily in Jakarta with only IDR 51 million of capital. According to the latest changes laid out in  Job Creation Law, the classification of Local PT in Indonesia based on paid-up capital as follows:
A micro-enterprise: less than IDR 1 billion
A small enterprise: IDR 1 – 5 billion
A medium enterprise: IDR 5-10 billion
A large enterprise: more than IDR 10 billion
However, the type of ownership for a PT is 100% local ownership.
Representative Office
Opening a representative office in Jakarta is the easiest among all types of legal entities we have just discussed. A foreign parent company establishes a representative office to conduct marketing activities or non-profit generating operations.
3. Where to Live in Jakarta
Several places are recommended when you want to plan to move to Jakarta:
Kelapa Gading in North Jakarta
Kebayoran Baru, Kuningan, and Sudirman in South Jakarta
Golden Triangle and Menteng in Central Jakarta
The Chinatown and Tangerang in West Jakarta
However, foreigners are only allowed to lease a property, purchasing a property in Jakarta is not permitted for foreigners. Ways that can help foreigners overcome these restrictions is to buy a property or an apartment in Jakarta through PT PMA establishment.
How Cekindo can Assist
As a leading consulting company in Indonesia with 10+ years of experience, Cekindo can provide both guidance and assistance in visa application and company registration. We also provide other services such as business licensing, business process outsourcing and local partner selection, among others.
Talk to us now to discuss your requirements. Fill in the form below.