Value-Added Tax (VAT) is a tax imposed on most goods and services in the Indonesian Customs Area. In other words, it is a consumption tax applied to each production stage until the final product sales. Therefore, Indonesia VAT has impacts on both end consumers and businesses.
Cekindo has put together a basic guide with some key points concerning Indonesia VAT that every business owner must be aware of as it will affect your business and customers in the country.
VAT Rates in Indonesia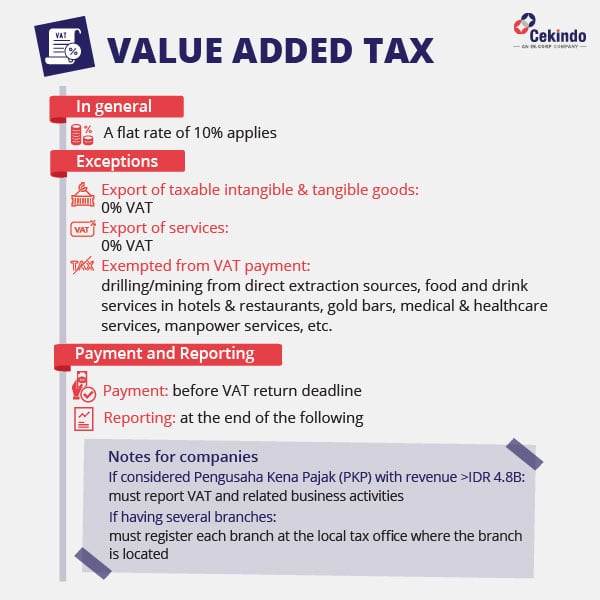 VAT rates in Indonesia are described in detail as follows:
10% for most cases
5% or 15% depending on the government regulation
0% for export of taxable intangible and tangible goods
0% for export of services
The calculation of VAT is through applying your VAT rate to its tax base. The tax base is agreed between the concerned parties with regard to the transaction value. Some events must be used as tax base as well and they are listed as follows:
Transaction market value between parties
Cost of sales of taxable goods for internal use or as gifts
Auction price of taxable goods delivery
Agreed price of taxable goods delivery
Imported movies that is worth IDR 12 million each
20% of total costs of land
Retail selling prices of tobacco products import or delivery
Package shipment services (10% of actual billing)
Tour and tourism agency services – non-commission based deliveries (10% of the actual billing)
Deliveries of gold jewellery (20% of selling prices)
Deliveries of freight forwarding (10% of actual billing)
Products and Services that Are Not Subject to VAT in Indonesia
Here are the goods that are non-taxable under VAT in Indonesia:
Drilling or mining from direct extraction of their sources. The examples are natural gas, crude oil, coal, geothermal energy, gravel and sand, iron ore, copper ore, gold ore, tin order, silver ore, etc.
Food and drink services in hotels and restaurants, both dine-in and take away
Gold bars, securities and cash
Basic commodities such as salt, rice, salt, soy beans, corn and sago
Non-taxable services under VAT in Indonesia are listed as follows:
Medical and health services
Mail services
Social services such as funeral
Religious services
Insurance services
Art and entertainment services
Educational services
Public transportation services
Hotel services
Manpower services
Food and catering services
Public telephone services
Broadcasting services that are not relevant to advertising

Reporting Your Indonesia VAT
Companies that are considered as Pengusaha Kena Pajak or PKP, must report their VAT and related business activities monthly. Companies with several branches must register each branch with the Kantor Pelayanan Pajak or KPP. VAT liabilities are settled with an input-output mechanism (input tax and output tax).
VAT Refund in Indonesia
VAT refunds are applicable in Indonesia. Companies can submit the refund applications at the end of a book year. The decision of VAT refund is done by the Directorate General of Taxes (DGT) and it depends largely on the VAT audit carried out within 12 months upon the receipt of refund application.
Application is considered approved as well if there is no decision made. Companies are then required to submit the supporting documents to the DGT within a month.
Update from government: More Scope of Services in Export are Exempted from Value-Added Tax
How Cekindo Can Help
At Cekindo, we believe in providing the most professional and streamlined tax services to our customers, including VAT reporting and VAT refund. Our experts with in-depth knowledge of tax laws in Indonesia will assist you in dealing with all tax-related situations.
To know more about how Cekindo can help your company navigate the complex tax system in Indonesia, get in touch by filling in the form below.