The number of manufacturing factories in Semarang, especially in its industrial parks and surrounding areas, continues to rise as both foreign and local investments pour in.

Manufacturing in Indonesia is booming, making Indonesia the 10th largest manufacturing nation in the world.
The Potential of Semarang
Domestically, businesses in Jakarta, Depok, Tangerang, Bekasi (Jabodetabek), and Bogor have set their feet in Semarang, Central Java to develop manufacturing in Indonesia.
Since 2014, many of the factories have obtained their operation permits and submitted those permits to the regional government in Semarang. The most significant factors that encourage many businesses to move to Semarang are the lower wages compared to Jakarta, and the attractive foreign direct investments (FDI) injected in this area that open up a myriad of opportunities.
Ranked the number one city in Central Java, Semarang is striving to become a charming manufacturing site for labour-intensive industries, and the opening of Kendal Industrial Park in 2016 is a solid proof of this progressive development.
This article will serve as a guide on why you should set up a manufacturing factory in Semarang, and how you should do that.
Semarang Is a Strategic Location – Both Economically and Geographically
Low Cost
As of 2018, the minimum wage for Jakarta is set at IDR 3.65 million per month. This would probably change soon with the local labor union demanding a minimum wage of IDR 3.9 million.
Meanwhile, the minimum wage in Semarang is at IDR 2.13 million per month. Therefore, the lower salary has prompted many entrepreneurs, and business owners to do market research in Semarang, as well as obtain information on factory operation, permit application, and licensing process.
The demand for factory space soars in Semarang. Some companies even closed their manufacturing facilities in China and other Southeast Asia countries and transferred their production lines to plants in Semarang where production costs are lower.
Kendal Industrial Park
Kendal Industrial park, otherwise known as Park by the Bay, is a joint Indonesian project between Indonesia and Singapore, aiming to create 100,000 employment opportunities in Semarang and its surrounding region. 20 companies from different countries including Indonesia, Singapore, Australia, and Japan have come together to invest in the park, amounting to a total of IDR 4.3 trillion (S$450 million).
The first integrated township of its kind in Central Java, Kendal Industrial Park is a coastal development located along the Jakarta-Semarang-Surabaya Economic Corridor, including industrial, commercial as well as residential spaces.
This industrial park does not only enhance the foreign customer base of the investing countries but also acts as a platform where different nations can share their industrialization expertise and experience in order to create more jobs for greater development across Indonesia.
Strategic Location
Semarang is considered a more optimal choice for a factory to import materials and input goods from its surrounding areas and countries.
Located between Jakarta and Surabaya, two of Indonesia's largest domestic markets—Kendal Industrial Park in Semarang is only 30 KM from Ahmad Yani International Airport and Tanjung Emas International Seaport – the largest commercial and economy port in Indonesia and the only one in Central Java.
Enticing Incentives
Many investors might not know that Semarang has an incentive in place that encourages foreign investments. Manufacturing is one of the regulated encouraged and prioritized sectors. Government Regulation (PP) No. 142/2015 states that tax incentives will be granted to investors building their factories in industrial parks.
These incentives also include easier licensing processes, advanced infrastructure, tax deductions, and exemptions to encourage the establishment of a manufacturing factory. Foreign companies, therefore, are being lured to Semarang to take advantage of tariff incentives.
Step-by-step Process on How to Set Up a Manufacturing Factory in Semarang, Indonesia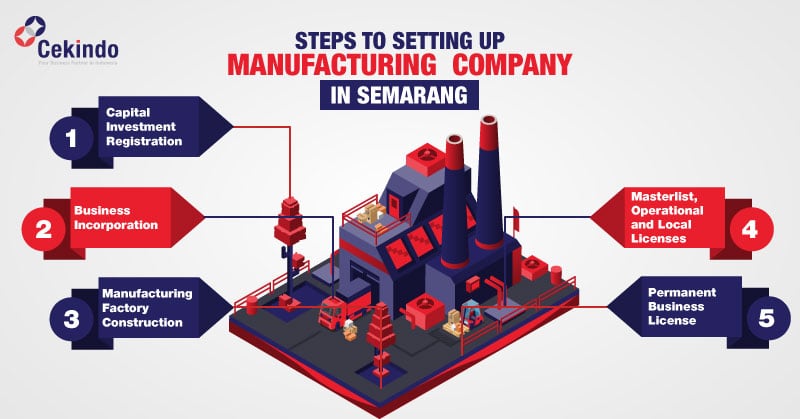 Before getting into details, it is crucial to know that beginning from January 2, 2018, Principal License (Izin Prinsip, or IP) is invalid. A principal license has now been replaced by Capital Investment Registration (Pendaftaran Investasi, or PI). With the newly enacted regulation, investors of manufacturing industries will be able to get a Business License (Izin Usaha, or IU) with the Capital Investment License after they fulfill the investment plan.
Learn more about Principal Business License Replaced with Capital Investment Registration.
The overall goal of the enactment is to simplify licensing and facilities processes in order to boost foreign direct investments. Previously, a PI was initial permission granted from BKPM, with more stringent requirements, to allow foreign companies to invest before they could do business in Indonesia.
The process of setting up a manufacturing factory can be broken down into the following:
1. Capital Investment Registration
Obtain Capital Investment Registration License from BKPM. This process does not involve any presentation, but a short interview may be needed.
Apply for a temporary business license, which is valid for one year and can be extended one time for a maximum of one year.
Open a bank account in Indonesia.
Hire staff and workers for factory installation – required for both locals and foreigners. Work visas can only be granted to foreign workers that meet certain factory installation criteria and are subject to be determined by the Ministry of Manpower.
Work permits issuance to directors and commissioners.
Commence the registration process of setting up a PT PMA.
3. Construction of a Factory for Manufacturing in Indonesia
Purchase or rent land for constructing a factory. For rented property, the lease agreement must be for a minimum of 3 years.
Choose between industrial and non-industrial areas. Industrial areas include industrial parks such as Kendal Industrial Park.
Apply for API-P (Import Identification Number, or Angka Pengenal Importir-Produsen), for the import of machinery and equipment from overseas. API-P allows you to import all products that are needed to build and set up your factory.
Specific environmental Licenses will be needed as well such as UKL-UPL or even AMDAL depending on the size and environmental impact of the manufacturing site.
Do take note that it is prohibited to import products with API-P for the purpose of sales in Indonesia. There is also another type of import license, API-U (Angka Pengenal Importir-Umum). Unlike API-P, API-U only allows the import of products from one category. Therefore, be careful and apply for the correct one.
4. Masterlist, Operational and Local Licenses
Apply for import tax exemption for machinery in the manufacturing factory. Presentation to BKPM is required.
Proceed with the application of local and operational licenses based on different industries.
5. Permanent Business License
Replace a temporary business license with a permanent business license. This license is valid permanently as long as the manufacturing firms stay operational.
Industrial vs Non-Industrial Areas
Many entrepreneurs and business owners are not always sure whether to choose an industrial area (such as Kendal Industrial Park) or a non-industrial area to build their manufacturing factories. In most circumstances, industrials areas would be a more cost-effective choice with several other benefits to offer. Here are some of the differences:
| | |
| --- | --- |
| Industrial Area | Non-Industrial Areas |
| Complete infrastructure and facilities | Require construction on your own |
| No construction permits are needed and effortless local license application | Many months and negotiations might be necessary to acquire necessary permits and licenses |
| Labour, manpower, and resources are available | Lack of qualified workers and resources |
| Close proximity to important transportation and economy hub | Might not be the best of locations for supply chain management |
| Compliant to law and regulations | Some places close to residential areas are not allowed for building development |
| Incentives are readily available with an easy claim process | Need to figure out the process and face the bureaucracy challenges |
---
To learn more about Semarang's myriad of investments and business opportunities as well as to gain insights into how to start a manufacturing company for any given business in Semarang, please consult further with Cekindo's specialists.