KITAP Indonesia is the highest goal for foreigners wanting to reside in the Archipelago. Unfortunately, as for all things that many people want — it is not an easy thing to attain.
In this article, you will read everything you need to know about KITAP — Indonesia's permanent stay visa. Find out below if you are one of the lucky ones who are eligible to get this holy grail of stay permits in Indonesia.
Before going further about KITAP, you might want to learn more about a limited stay permit called KITAS — the first step of your KITAP application.
What Is a KITAP Indonesia
KITAP stands for Kartu Izin Tinggal Tetap which translates as permanent stay permit card.
Unlike any other visa in Indonesia, the KITAP is valid for five years, and if after five years there are no changes to the status of the ex-pat, the visa is extended automatically. However, for foreigners who don't enter Indonesia within one year, the validity of KITAP is automatically void. Therefore, the only thing you need to do is apply for a new card.
A permanent residence visa means no more annual trips to immigration (as in the case of KITAS/ITAS), no more costly visa extensions, and no more piles of paperwork. No wonder strict rules apply.
How to Get a Permanent Stay Permit in Indonesia?
You can only apply for a KITAP Indonesia once you have gone through the process of getting a KITAS/ITAS (limited stay permit) and having extended this visa multiple times.
How to get this visa depends on the applicant — which leads us to the next question:
Who Can Apply for a KITAP Indonesia?
As mentioned before, unfortunately not anyone can apply for this ultimate stay visa to Indonesia.
The only eligible candidates to get a KITAP are:
Foreigners with an Indonesian spouse
Foreign investors, directors, or commissioners in an Indonesian Company (PT PMA)
Foreigners wanting to retire in Indonesia
Indonesians regaining their citizenship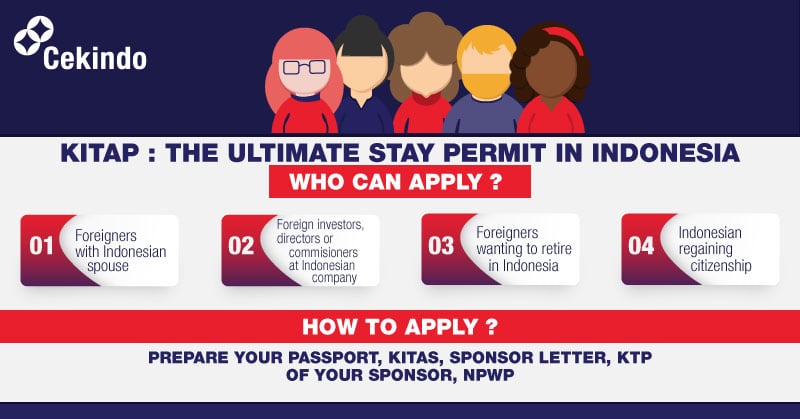 KITAP Indonesia: Requirements and Conditions
The requirements and conditions are not all the same for the above mentioned eligible candidates so let's take a look at them one by one:
KITAP for Foreigners With an Indonesian Spouse
Foreigners legally married to an Indonesian can convert their KITAS/ITAS into a KITAP after two years of marriage. Your spouse will be the sponsor.
Note that you cannot apply for a permanent visa if you haven't had a KITAS/ITAS first. The marriage itself doesn't make you eligible to get a permanent stay permit.
If your marriage has lasted ten years or more, your KITAP will be for life, also in case of divorce.
Another major plus for those married to an Indonesian is that with a spouse-sponsored KITAP, you have the right to work in Indonesia under certain conditions. (You can read more about this further on in this KITAP guide — scroll down to 'Can you work with a KITAP'.)
Read also: Spouse Visa in Indonesia.
Foreign Investors, Directors, and Commissioners Working in an Indonesian Company
The candidates mentioned above can apply for the KITAP once they have been working with the same Indonesian company for four years in a row in the same position.
Retirees
Retirees can apply for a KITAP once they reach 55 years of age, after four extensions of their KITAS/ITAS.
Read also: Retirement Visa in Indonesia.
Indonesians retaining their citizenship
There are no special restrictions or obligations for Indonesians retaining their citizenship.
Can You Work with a KITAP?
Only those married to an Indonesian have the right to work in Indonesia once they have attained their KITAP in order to provide for their family.
Restrictions apply, and there are, basically, two options.
First, you can work for a company if the company obtains the work permit for you (RPTKA) — this is a lot cheaper for the company than also having to pay for the KITAP and so, there is more chance of getting a job.
Secondly, they can choose to start a business as a sole entrepreneur, meaning you cannot hire anyone, but you will be avoiding the hassle of getting work permits and such.
How to Apply for a KITAP?
Although the application requirements differ, all eligible candidates need to have a sponsor. This can be your Indonesian spouse, a PT PMA company or a trustable agent like Cekindo. It does take a lot of paperwork, time, and effort but in the end, it is more than worth it!
Retirees and foreign investors need the same documents for their applications. The following are the most important:
Your Passport
Your KITAS/ITAS
Sponsor letter
Indonesian ID (KTP) of your sponsor
Tax Obligation Main Number (NPWP)
Foreign investors also need to bring their work permit (RPTKA) and the legal documents of the sponsoring company.
Benefits
Well, the most obvious benefit of the KITAP is that you are allowed to stay in the country without extending the visa every time again which is a costly and time-consuming thing, but there are many more advantages. You can apply for the following:
Indonesian ID with a validity of five years
local driver's license (SIM) with a validity of five years
bank account
credit card
loan
local prices to tourist attractions, paying only a fraction of what tourists pay
MERP with a validity of two years, allowing you to enter and exit the country as you like
For those married to an Indonesian: Eligible for joint ownership of property with your spouse
How Long Does the Process Take?
The process usually takes approximately three months.
With the help of an agency like Cekindo, you can do it the fastest way possible, smoothly and easily. We know that a visa application can be a headache, going here and there, finding out something is missing at the last minute, unclarity about rules, and so on.
Our advice is to take a lot of time and dive into the pile of requirements and needed documents way before your KITAS/ITAS expires to avoid unnecessary disappointment. Also, make sure to check the latest regulations with your agency or the local immigration office as rules might change.
Sponsorship
Like many other visas in Indonesia, to get the KITAP, you need a local sponsor. Those married to an Indonesian have their partner to be their sponsor, but retirees have to look elsewhere. Cekindo can be your sponsor. Fill in the form below, and we will get back to you soon.